According to Bojo, we can officially grab a drink down the local boozer now. Which is good news for all the lesbian singletons who can finally embark on a real-life lesbian date. We've put together a list of London's finest drinking establishments that have now re-opened and are perfect for a first, second, third or five-hundred and fifty-seventh lesbian date.
Just to note, the pubs and bars that we've mentioned aren't out and out lesbian bars, but, they are tried and tested lesbian-friendly pubs that we love, and hope you'll love too!
However, before we get too carried away with the excitement of drinking in a fucking pub!!! We're going to get a tad serious… I know right, when are we ever serious?!
Anyway, as COVID-19 is very much still a thing right now, we just wanted to run through a few precautions that everyone should be taking before venturing to a bar. We know you're probably already doing all of these things, but we wouldn't be doing our job properly if we didn't have ya back hun!
Precautions:
Carry hand sanitiser with you AT ALL TIMES. All pubs will have plenty available to all customers, but it's always good to have your own. Especially when travelling there and back.
Try as best as you possibly can to keep that 1-2 metre distance between yourself and others.
DO NOT do that thing we're all guilty of when we're drunk and start hugging and befriending strangers in the bar. As tempting as it may be when you're a bottle of the house red deep into your date. Just don't do it chick.
Take a mask. You MUST wear a mask if you have to take public transport to the pub anyway. But, even if the pub is walking distance, it's always best to take your mask with you. You may end up in a situation where you cannot keep a 1-2 metres distance between yourself and others. Better to be safe than sarryyy hun!
Don't be a dick to the staff if things aren't going as smoothly as planned. We're all trying to get used to this new way of life, lets work together on this one. (Plus you don't want to look like a dick in front of your date do ya?)
If you're not feeling it, don't push it. Not everyone is feeling ready to go out yet. Don't worry about what everyone else is doing, only do what you feel comfortable doing :).
Handy time-saver tips:
Leave yourself ample time to pre-book ahead of your planned date. Pubs have a much stricter capacity post-pandemic. Which means it's unlikely that you'll be able to show up on the night and get a seat. If you can, good for you girl!
Most pubs and bars have set up ordering to now happen via your phone, either on an app or on their website. We suggest that you sign yourself up to this before you arrive. That way, you can pretty much have a pint in hand, the moment you step through the door!
Number 90 is located in trendy Hackney Wick, and is perhaps a bit more of a pub-bar hybrid, as it has a bit more going on than some other places. It's location alongside the canal, makes it an excellent place for a more chilled date on a summers day. A few drinks, food, great music, lush weather (choose your days wisely living in the UK n'all) – BOOM!
And, if the dates going well, stick around to see what's happening in the evening. Number 90 has a pretty great atmosphere on the weekends, though it's hard to say what that'll be like with the new social distancing restriction in place.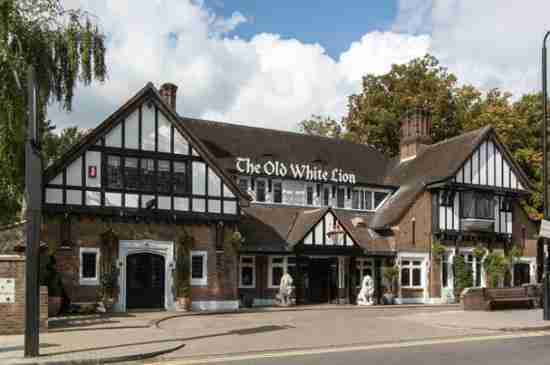 What appears to be a very traditional, outdated pub on the exterior, has actually been kitted out with a rather boujee interior. Oh and it's pretty damn big inside too, split across four sections you can always find a different area to suit the current mood of your date.
Also, if you're still not sure how comfortable you feel venturing inside a pub right now, when everything is still a little uncertain, it has a very generously sized beer garden.
As with Number 90, this probably has more of a pub by day, bar by night kinda vibe. Although, with the new restrictions in place, there's no longer a dance-floor and capacity is limited (which is actually music to our ears).
The best time of the year to visit Queen of Hoxton is definitely in the summer. Because the rooftop bar is one of very few sun traps in central London where you can feel the rays4days (weather permitted, of course).
Hosting what must be one of the biggest beer gardens in London, the Duke of Edinburgh, one of our favourite summertime pubs south of the river. Yes we know, it's a little bit run down on the inside, but the beer garden is incredible for sunny days. It's a great choice if you're not sure how you feel about being inside right now.
It's a great spot for some 'casual' drinks, and the drinks aren't too expensive either. If you go on the weekend, it's guaranteed to have a great atmosphere, making it a wicked date spot.
Lockside is perfectly summarised as a canalside gastro-pub that can be found at Camden Locks. However, pre-lockdown it would regularly host club nights throughout the week (we're betting it's a while before this happens again). Regardless of club night or no club night, you'll still have a great night here.
It's spacious, has an outside area, serves great food and drinks… Why not, ey?
If you aren't quite ready to head out to the pub yet then why not try an indoor date?
Your Say…
Let us know in the comments if you have any suggestions for lesbian-friendly pubs in London that should be added to the list.
If you are heading out to any of the pubs mentioned above, please do be safe and take all relevant precautions! 🙂
Stay safe and happy dating!
Love Nonchalant x