'Cos it's 11:30 and the club is brunchin' brunchin'…
Hello London, hello bottomless brunch. Of course, we are biased, but London really does know how to do a fucking great bottomless brunch; free-flowing alcohol for up to 120 minutes combined with some delicious food and alright company, what more could you ask for? Whether you're a mimosa kinda momma or if you go wild for a Bloody Mary, we have the most perfect BB for you right here, sweet cheeks.
Lantana
Location: Shoreditch / Fitzrovia / London Bridge
Time Limit: 1.5 hours
Lantana Cafe describes itself as 'a little bit of Australia in London' and has a whole host of plant-based offerings on the brunch menu. From wholesome bowls filled with avocado, chilli potation, quinoa and other tasty morsels to tiramisu french toast, there's plenty to choose from.
The menus change with the seasons and always focus on wholesome, local and fresh produce. If you're wanting to eat el fresco, you can get a takeaway brunch from 'Lantana Out', next to the Fitzrovia branch and find a nice bit of grass to enjoy it on.
The Sea Containers
Location: South Bank
Time Limit: 1.5 hours
The Sea Containers have real variety to their brunch menu, from classic crushed avocado to a hearty bacon cheeseburger, packed full of cheddar and red onions. If you're looking for somewhere offering more than just brunch choices, this is the place for you.
You can order anything off the main menu, which includes fish dishes, steaks and egg-based meals to accompany your choice of alcohol (Laurent-Perrier Brut £59, Mimosa £19, Rossini £19, Prosecco £19 or Grey Goose Bloody Mary £19).
Weekend brunch and roast menu have been designed to be shared and you can troff down together between 12 and 4 pm Saturday and Sunday, every weekend. The Sea Containers is situated on the side of the South Bank and you can request a table out on the terrace with some beaut views across the River Thames. Fancy.
Megans Bottomless Brunch
Locations
Megan's Fulham | 571 Kings Road, SW6 2EB
Megan's by the Green | 57-69 Parsons Green Lane, SW6 4JA
Megan's on the Hill | 41-43 Bedford Hill, SW12 9EY
Megan's Old Town | 55-57 The Pavement, SW4 0JQ
Megan's Battersea Power Station | 27 Circus West Village, SW11 8NN
Time Limit: 1.5 hours
Megan, Megan, who the fuck is Megan? Truth is, we don't know, but what we do know is they do one hell of a bottomless brunch. At Megan's you can choose either Pimm's, Prosecco or Bloody Megan's whilst you sit back and enjoy the foliage inside; there's a full-on tree inside Megan's Old Town and a flower wall adorning Megan's on the Hill.
Megan's Bottomless brunch runs from 2 pm- 6 pm on Saturdays and Sundays (last sitting at 4.30 pm). The menu showcases a whole host of tasty looking delights, including an array of egg choices, including Shakshouka, Shakshoumi and Shakshorizo (spiced tomato with baked eggs, helium or chorizo).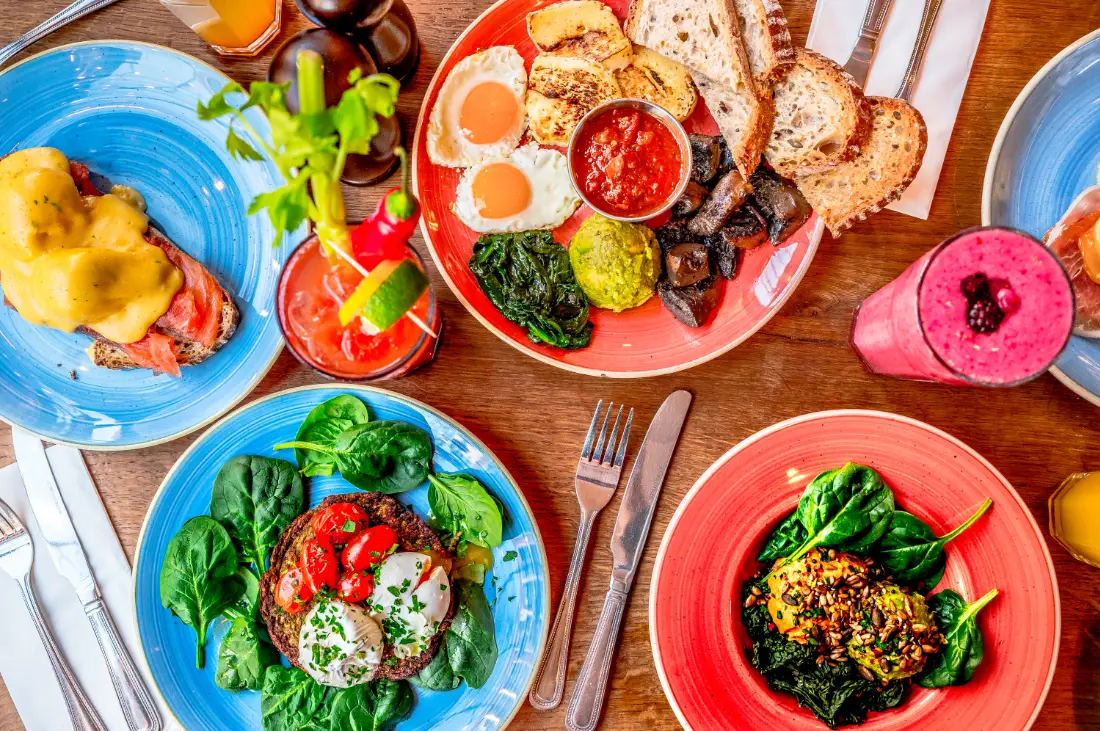 Scarlett Green
Location: SOHO
Time Limit: 100 minutes
Part of the Daisy Green Australian group, Scarlett Green is located in central SOHO. You can reserve your table in advance, or just rock up and keep all things crossed for a spare table. Scarlett Green allows you to enjoy one sweet dish, one savoury dish and free-flowing Prosecco and/or Mimosas for up to 100 minutes.
The menu has offerings from classic eggy brunches to unicorn pancakes, perfect for those with a sweet or savoury tooth. In the evening this place gets buzzy with a late-night bar accompanied by live acoustic music and DJ sets daily from 4 pm. Scarlett Green is pretty vast, over two floors there's plenty of space for everyone without feeling too squished in.
Happy brunchin'

Love Team Nonchalant x
Last Updated on 20th January 2023 by Nonchalant Magazine