Flipping through history books isn't exactly a slap in the face by a rainbow flag. If anything, it might seem like very few of the heroes (and villains) of our past identified as queer, or anything other than strictly heterosexual.
Of course, we now understand that this apparent scarcity is a product of contemporary societal norms, as well as the result of censorship. LGBTQIA+ people have existed for as long as people have, but it'd be difficult to recall a time when they were encouraged, or even allowed, to come out of the closet. And, even when they braved the often disastrous outcomes of going against traditional gender expectations, this was often concealed by the (equally restrictive) writers of history through various acts of straight washing.
Sigh. It's a tale as old as time.
However, recently, there has been a re-evaluation of historical figures and a reclaiming of history by the queer community. The more we understand about the past, and the more unbound we become by heteronormative ideals, the more clarity we have over the characters that shaped our lives and the easier we can see them for who they really are: humans, just like us, with sexual identities that were as diverse as the personalities themselves.
So, without further ado, here are just a few historical figures that were (almost) definitely queer.
Joan of Arc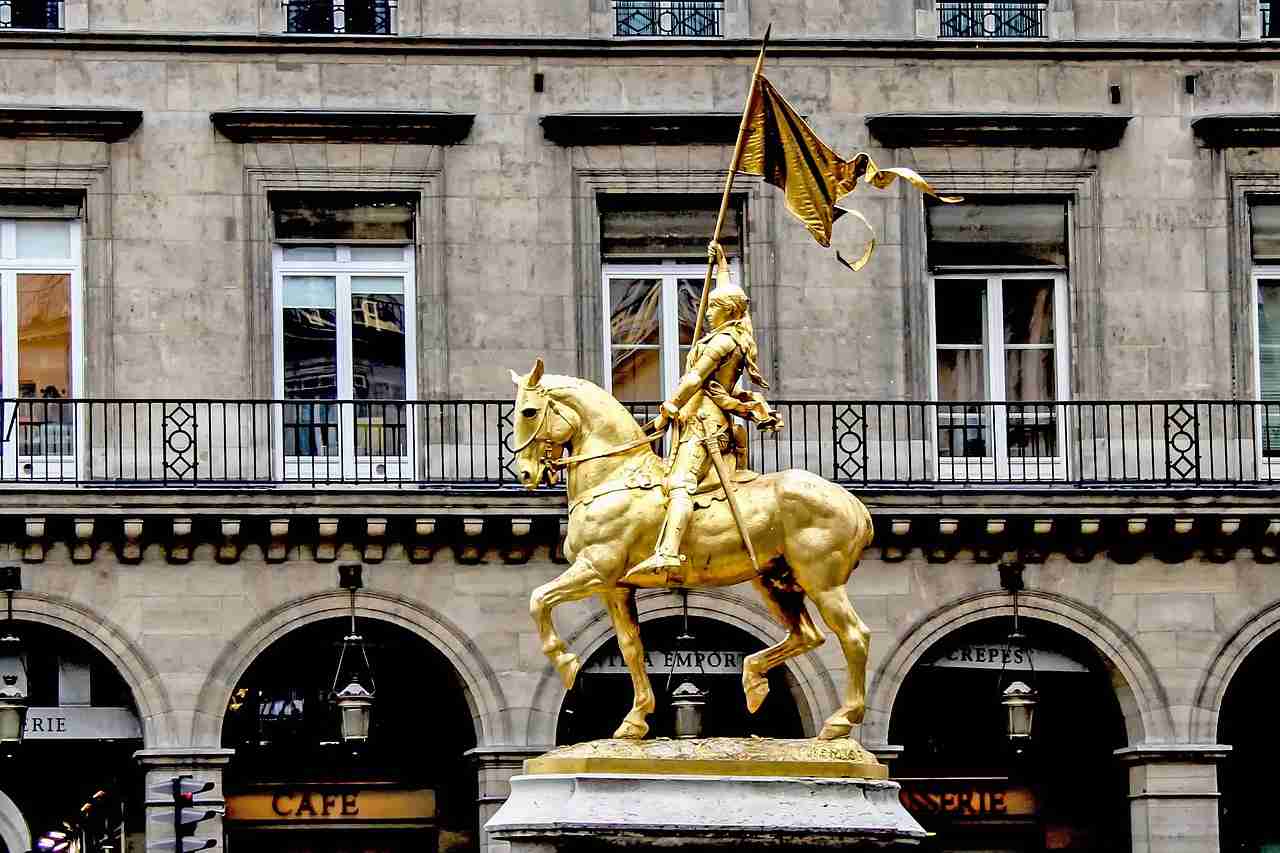 Joan of Arc needs no introduction. Known in French as Jeanne d'Arc, she is a canonical figure in French and wider European history, known as the patron saint of France and a fierce defender of the French nation who completely defied the social constructs of the 15th century. As well as her military successes, including the liberation of Orleans from English rule in 1429 (when she was only seventeen – badass much?), she is perhaps best known for her tragic fate of being burned at the stake for the crime of heresy after being captured by England's Burgundian allies.
Though little is known about Joan's exact sexual orientation, her cross-dressing and her abstinence from sex with men are extremely well documented. Many writers and researchers, most famously including the English writer Vita Sackville-West (herself the lover of Virginia Woolf), have speculated about Joan's lesbianism, referencing her habit of sharing a bed with others women. What is certain is that Joan remains revered as a very early symbol of fluid gender expression and as a victim of her fearless commitment to self-identity, which makes her a powerful figure for LGBTQIA+ people to this day.
Emily Dickinson
"Hope is the thing with feathers that perches in the soul – and sings the tunes without the words – and never stops at all." 
This chick really knew her way with words. The American poet might have published only 10 of her 1800-strong oeuvre during her lifetime, but the post-mortem publication of her manuscripts earned her true (and well-deserved) reverence from people around the world. Today, she sits atop the mountain of the American poetic canon with the likes of Walt Whitman and Robert Frost.
But just how queer was she? As with any bygone figure, it's hard to tell exactly. There is little auto-biographical evidence suggesting that Dickinson was a lesbian, but again, this might very well be due to the restrictive standards of her time. Dickinson was known to live a very isolated life, and her work often portrays her poetic personae as depressed, lonesome figures dealing with an oppressive, shadowy presence weighing them down (see "I Felt a Funeral, in my Brain"). Of course, this is pure conjecture, but it could be said that part of the self-imposed loneliness and the lack of intimacy in her life is because the type of close relationships she craved weren't acceptable in her time.
In terms of tangible evidence, Dickinson's close relationship with Susan Gilbert might be a bigger giveaway. Dickinson met Gilbert aged 19, and the pair remained very good friends and eventually became sisters-in-law when Susan married Austin, Emily's brother. (Ouch.)
Dickinson's letters to Gilbert speak of genuine infatuation, and heart-wrenching awareness of a love that is impossible:
"Our luxury! We are the only poets, and everyone else is prose." 
Need we say more?
Sappho
It would be remiss of us not to mention the OG lesbian, who gave us the words for love between women, in a list of queer historical figures. Born around 630 BC on the island of Lesbos, Sappho was an ancient Greek poet known best for her lyric works, most of which only survive in fragmentary form (apart from Hymn to Aphrodite, which you can read intact). Today, she's well known for poems that speak of longing and desire for other women, but hers is a work of true poetic genius regardless of the queer content. In the Greek tradition, she came to be known as the Tenth Muse.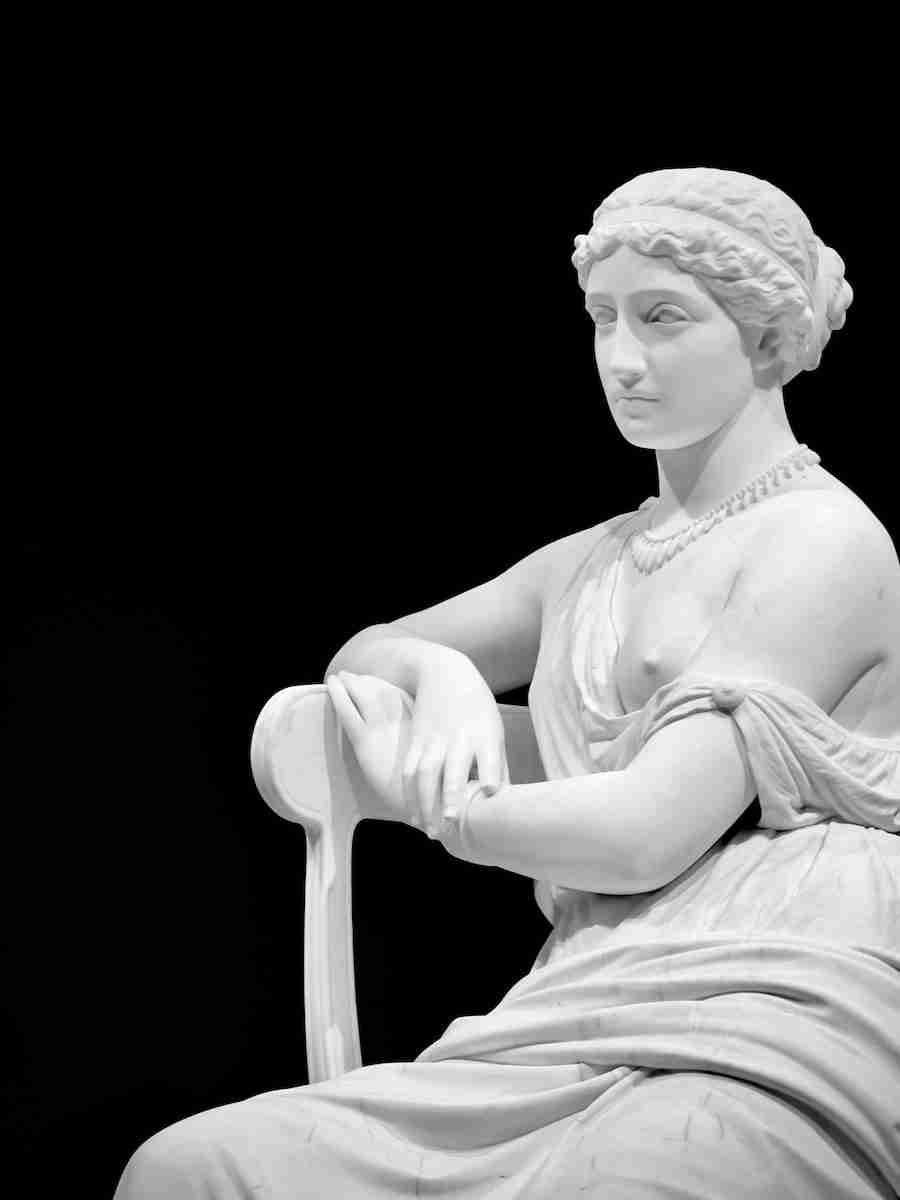 Sappho has been the subject of heated debate for, well, millennia, not least due to the intense homoeroticism of her work, which – surprise, surprise – wasn't seen as acceptable in many periods of history. Notably, the Catholic church allegedly burnt many of her surviving poems in the 11th century. Simultaneously, much of the lady-love apparent in Sappho's poetry was minimised and explained away by subsequent literary canons as either close friendship between women or as Sappho attempting to embody a male persona when portraying love and desire for women.
Cue the largest eye roll of history. Of course, we might never know whether Sappho herself loved other women. However, regardless of her real-life sexual orientation, her poetry is full of tenderness and care for women, which many canonical translators simply disappeared from the text for fear of breaking the boundaries of decency. Modern translations, notably Anne Carson's If Not, Winter, do Sapphic poetry justice by bringing the relevant genders to light. Here's Fragment 27: "what country girl seduces your wits / wearing a country dress / not knowing how to pull the cloth to her ankles?"
If you have the right perspective, it's all there.
Dolly Wilde
If you hear the word "socialite", who comes to mind? If it's Anna Delvey, gallivanting around America convincing rich people that she was one of them, it's time to think again.
Dorothy Ierne "Dolly" Wilde might be your new favourite person you've never heard of. You might be much more familiar with her uncle, Oscar Wilde, the playwright, poet, and overall infinitely quotable legend, one of the many brilliant people convicted of the (super-homophobic) crime of gross indecency by the English court. Though Dolly and Oscar never met, many contemporary accounts record significant similarities between the two Wildes: their eccentricity, bright mind, bubbly personality and infinite wit. And, of course, their queerness.
Dolly was the only child of Oscar Wilde's older brother, Willie. Her early life is not well known, but in 1914, she fled England to become an ambulance driver and help the war effort in France. Badassery runs in the family. After the war, she spent most of her life traveling with wealthy friends, never making financial use of the storytelling talent she shared with her uncle. Though she enjoyed the attention of men, she was exclusively and unflinchingly interested in women. Among her many lovers was the actress Alla Nazimova, who played the lead in Salome, a 1923 adaptation of Oscar Wilde's play. Dolly also reportedly wreaked havoc on the Fitzgeralds by flirting with Zelda one night in Paris. You go, Dolly.
Sadly, Oscaria, as she was nicknamed by her friends, also had a tragic downfall in common with her uncle. Alongside her addictions to cigarettes and alcohol, she also developed a heroin habit later in life, which she tried to kick with a dangerous sleeping pill available without a prescription at the time. She died in 1941, two years after being diagnosed with breast cancer and refusing to undergo surgery. It is unknown whether she died as a result of cancer complications or from a drug overdose. Though her legacy is far less ample than that of her uncle, her unflinching love of life and irresistible personality remain legendary, immortalised by over 200 letters exchanged between her and her various friends and lovers.
If you ask us, someone really oughta make a film about her life.
Frida Kahlo
More than perhaps anyone in modern history, Frida Kahlo has become a representation of many things beyond herself. The Mexican painter's name is now synonymous with political activism, expressions of feminism, complicated relationships, disability in art, and bisexuality.
Frida had a tumultuous, often tragic, life, riddled with physical and emotional pain. Notably, she contracted polio at the age of 6, which caused her right leg to be shorter and thinner than her left. Later, at the age of 18, she suffered near-fatal injuries in a bus accident, which left her with significant health and mobility issues for the rest of her life. Much of her art is concerned with the lasting trauma of these events, intertwined with her relentless desire for pleasure, and love.
In terms of her romantic life, Frida's most well-known relationship is also her most volatile and complicated one. In 1929, she married the muralist Diego Rivera, with whom she had a strained, on-again-off-again relationship until her death. The pair even divorced in 1939 as a result of Diego having an affair with Frida's younger sister (*gasp*); still, they reunited only a year later.
In the course of their marriage, both Diego and Frida had several affairs. For Frida, this meant relationships with both men and women; she often became involved with current and past mistresses of Diego's. Some of Frida's most famous lovers included the American artist Georgia O'Keeffe, our beloved painter of vulva-flowers, and the French singer and dancer Josephine Baker.
One of the less well-known, but perhaps most tender, relationships Frida had was with the Mexican singer Chavela Vargas. Despite being twelve years her senior, Frida became infatuated with Chavela from the moment they met, and spoke of her attraction to her in pretty steamy terms: "Today I met Chavela Vargas. Extraordinary, lesbian; in fact, I felt erotic. (…) [I]f she asked me, I wouldn't hesitate for a second to undress in front of her", she wrote in a letter to her friend, the poet Carlos Pellicer.
Her (reciprocated) affection is apparent in a now-iconic photo of the pair lying on the ground, with Frida's head resting on Chavela's chest, both beaming and radiant with joy. A fun fact: Chavela, who passed away in 2012, features in Julie Taymor's 2002 biopic about Frida's life.
We are obsessed.
If you want to learn more about all things queer history, check out the podcast Queer as Fact, featured in our round-up of Top Podcasts for Queer Women.
Team Nonchalant x
Last Updated on 27th December 2022 by Nonchalant Magazine