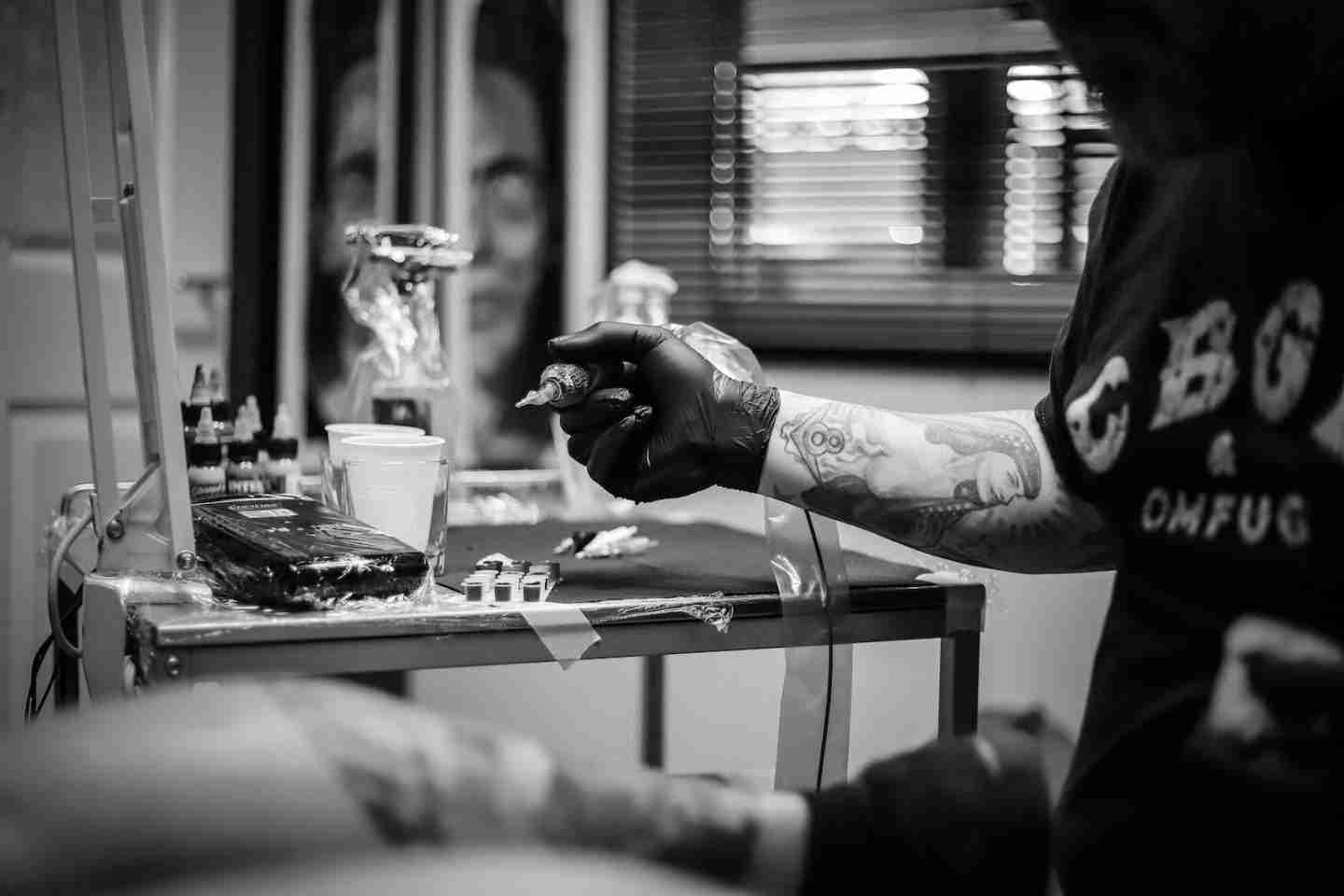 If you're looking for a new tattoo, London is definitely the place to be. Aside from its thriving art scene, London is also home to some of the best tattoo artists the world has seen. There are dozens of amazing tattoo shops in the city, from legendary studios specialising in traditional styles to women-run shops that are breaking stereotypes and changing the game for female artists.
With all that being said, it can be tough to figure out which studio is right for you. That's why we've put together this list of the 10 best tattoo shops in London. Whether you're looking for a traditional design or something completely out of the box, these shops will have you covered.
Femme Fatale
Femme Fatale owner Grace Neutral is arguably the most famous tattoo artist in London. Aside from being a talented tattooist, Neutral is a model and host, presenting series like i-D Magazine's "Beyond Beauty" and Viceland's "Needles and Pins". She's also pretty hard to miss, with her pointed ears, forked tongue, facial scars and tattoos, and purple eyeballs – all of which have garnered her the nickname the "Alien Princess".
This private studio is also home to other popular female tattoo artists like Indigo Forever, who specialises in hand poke tattoos, and Peggy Brown, who boasts an impressive portfolio of bold but delicate black flower work.
Unlike some tattoo studios that can feel like a "boys' club", Femme Fatale is often described as a "safe space for everyone". In Neutral's top tattoo shops guide for Trippin, she describes her studio as, "LGBTQ-friendly, very at-home relaxed vibes. Where womxn rule. But boys are welcome!"
Femme Fatale is located at 4 Broadway Market, London E8 4TS.
Vagabond Tattoo
Traditional tattoo studios get a bad rap for being dark, dingy, and a little bit shady. But Vagabond Tattoo studio on Hackney Road throws all those stereotypes out the window with its whitewashed interiors and chic, minimalist furniture.
The ten resident artists that call Vagabond Tattoo home are just as impressive as their tattoo studio, offering a wide array of styles, from Japanese to neo-traditional to new school to geometric.
Vagabond Tattoo is located at 471 Hackney Road, Cambridge Heath, London, E2 9ED.
Velvet Underground Tattoo
Based out of Barbican, Velvet Underground Tattoo is the first studio in the London tattoo scene to be owned and operated by an all-female team. This friendly team of super-talented girls give customers of all backgrounds and identities a safe, comfortable, and clean space to get their ink.
From colourful designs to clean lines and detailed black work, there is something for everyone at this tattoo studio. On its website, Velvet Underground states that the studio "embraces the individuality of both our clients and tattoo artists and is dedicated to providing bespoke tattooing by appointment". If you're looking for custom work you won't find on any Pinterest board, this is the place to go.
Velvet Underground Tattoo is located at 103 Whitecross Street, Barbican, London, EC1Y 8JD.
One By One
No other tattoo parlour in London makes as much of a commitment to being climate positive as One By One tattoo studio. This studio only uses vegan, animal-friendly ink and plants approximately 130 trees each month via Ecologi to offset their carbon footprint.
Their artists specialise primarily in fine-line, single needlework, and black work. So, if you're looking for dainty, minimalist pieces, this shop should be right up your alley.
The shop also features world-class guest artists and holds pop-up collabs with artists like Kehlani and Travis Scott.
One By One is located at 70 Berwick Street, Soho, London, W1F 8TA.
The Family Business
Founded in 2003, The Family Business has long been regarded as one of the best studios in London's tattoo scene. Just paying a visit to the shop is an experience in itself, with its Roman Catholic imagery, Japanese-style privacy screens separating work areas, and vintage swing music playing in the background.
The resident tattoo artists can cover a range of styles, from old school to new school to contemporary and abstract colour work. The main through-line is that they all do custom pieces. So, if you want a piece that's truly one of a kind, check out The Family Business.
The Family Business is located at 58 Exmouth Market, London, EC1R 4QE.
Red Point Tattoo
It's go big or go home at Red Point. Though the studio itself is relatively new (it opened in 2018), Red Point boasts a truly impressive roster made up of some of the best tattoo artists in all of London – Claudia de Sabe, Yutaro or Warriorism, and Teide. These three London tattoo artists are all well-known for painting what can only be described as large-scale explosions of colour and movement, often done in neo-traditional and traditional styles. 
Red Point is located at 9 Penton Street, London N1 9PT.
Sticks Not Stones
The traditional hand-poke tattoo technique has experienced a revival of sorts in the past few years, thanks in part to all the amazing hand-poke artists who are breathing new life into the craft.
One such tattoo artist is East London-based Charlotte from Sticks Not Stones. Despite the daunting process, Charlotte and her pastel-coloured studio can make all your worries melt away. Scroll through her portfolio and you'll find that her work is mostly nature-inspired – she's tattooed countless dainty flowers, stars, leaves, fruit, and tiny animals.
So, if you've never been inked before and aren't too keen on getting something big and bold just yet, consider starting small at Sticks Not Stones.
Sticks Not Stones is located at The Gossamer City Project, Gossamer Gardens (Unit 59), London, E29FN.
Good Times
As its name suggests, this London tattoo studio offers nothing but good times. Tucked behind an unassuming black door somewhere in Shoreditch, entering Good Times is like stepping into a top-secret speakeasy for VIPs. But this isn't some shady club – once you step inside, you'll find it's just a bright, spacious loft with some of the best tattoo artists this side of London.
The studio is owned by New Zealander Nikole Lowe, whose speciality lies in Japanese traditional designs. She's also a fantastic watercolour artist who posts mesmerising time-lapses of her work on Instagram.
Good Times is located on the 1st floor, 147 Curtain Road, Shoreditch, London EC2A 3QE.
Sang Bleu London
This upscale tattoo studio in Dalston is spearheaded by head tattooist Maxime Plescia-Buchi, whose impressive client list consists of Kanye West, Skepta, and Joja co-founder Josephine Skriver.
Plescia-Buchi is joined by a roster of other renowned artists, including Lukey Wolf, who specialises in intricate black work; George Bonner, who does bold, traditional tattoos; and Jay Le Hégarat, who specialises in fine-line and portrait work.
Sang Bleu London is located at 29b Dalston Lane, London E8 3DF.
Jolie Rouge
Nerds, TV buffs, goths, and pop culture aficionados will feel at home in Jolie Rouge. Specialising in bright, bold, graffiti-inspired designs and with a shop that's dripping in gothic splendour (think ornate wallpaper and hanging candelabras), Jolie Rouge is something of a haven for those looking for a shop that won't judge their out-of-the-box taste in tattoos.
Jolie Rouge is located at 364 Caledonian Road, London N1 1DU.
The Bottom Line
London is a great city for tattoos, with plenty of talented artists and studios to choose from. If you're looking for your next tattoo, be sure to check out one of these top shops in the city.
Let us know if we've missed any epic Tattoo shops by commenting below.

Enjoy,

Team Nonchalant x
Last Updated on 25th October 2022 by Nonchalant Magazine