As we are part way through pride month, we are surrounded by the increase of flags and business support. The shop windows are full of colour and we don't need the Great British weather to mess with our outfit choice to see a rainbow.
Heads up: Some of our articles are sponsored and/or may contain sponsored links, meaning we get a commission if you decide to make a purchase through the links, at no cost to you. This is how we keep the Nonchalant magic alive. We only work with brands we truly love.
However, we all know too well that on the 1st of July it changes back to 'normal' and if you are anything like us, you might wonder why can't businesses be our allies all year round?
Well, Hilton Hotels have listened and done just that. Pride 365 is an organisation which recognises companies which make efforts to end pinkwashing. Hilton has been given this seal of approval and Pride 365 accreditation. We have to admit – we love it. 
Hilton Hotels are promising to be inclusive, and promote diversity for their staff and the communities that they offer solace to, and they are going to do that all year round.
Thankfully it's not a year-long pride event – no one could hack that amount of excitement. Let's face it, the liver damage would creep in and the bank account would scream offensive things every time you paid for something.  
It's extremely refreshing to see such a big business group like the Hilton, make this change for not only their customers but their staff too. An exciting time for anyone who's packing a bag this summer and still hasn't secured accommodation. And if you are anything like us it is usually last minute…
Various pride events are upon us and for those who need a place to perfect their glitter and put their aching limbs to bed at the end of the festivities, Hilton has you covered with some suggestions mentioned below. 
Just a heads up before you read ahead, some of our content is sponsored, however, we only work with the very best brands that we love, have checked out, and highly recommend. As you were babe.
Waldorf Astoria Edinburgh – The Caledonian
Edinburgh is kicking off its events on the 25th June. Perhaps you're in the mood to dip your toe in a good time but are more guided towards a spa break with a 5-star stay at the Waldorf Astoria Edinburgh – The Caledonian! Pass the pamper pack darling it looks incredible.
Conrad Dublin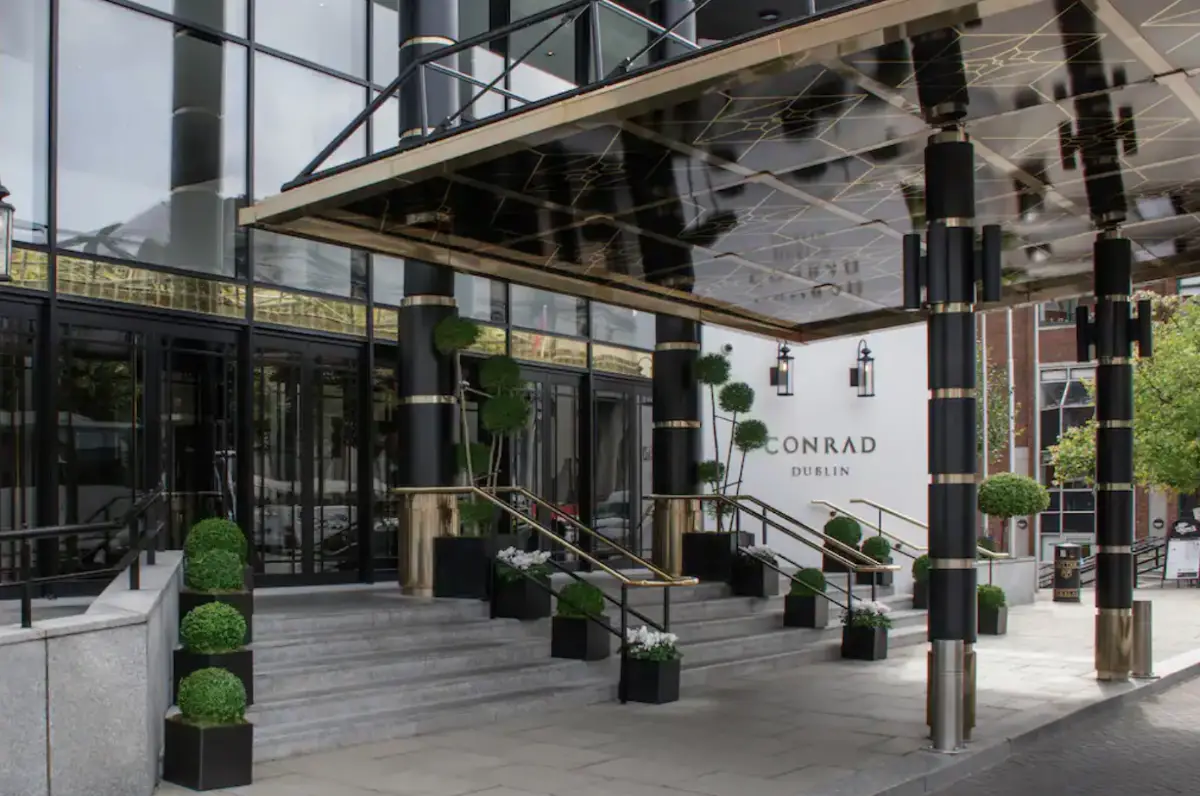 Maybe you have the luck of the Irish!? Dublin kicks off their annual LGBTQ+ party on 25th June. Grab a shamrock and treat it like mistletoe Hun, then impress with a room at Conrad Dublin! 
The Biltmore Mayfair
For those heading to London Pride on the 2nd July, check out the possibilities of staying at Hilton on Park Lane, or The Biltmore Mayfair, LXR hotels by Hilton. All walking distance from Soho. If, however, you prefer to explore the edgy delights of our marvellous capital, maybe Hart Shoreditch is more your trend. It may be the edgy side of town but you will still get that classic Hilton hospitality. They can provide you with a room to sleep in almost all corners of our lovely little city! So if hazy-eyed sightseeing is on your agenda too you can guarantee there are some LGBTQ+ friendly Hilton hotels there too. If you like the historical side of London, check out the DoubleTree by Hilton London – Tower of London or if you like city lights book a night or two at their Hilton London Bankside.
Hilton Brighton Metropole
Perhaps a seaside trip is on the cards? Brighton Pride on 6th August has your name all over it. Book at the Hilton Brighton Metropole and impress your partner when you turn up and don't get asked if your double bed is a mistake. We've all had that right!? They kindly offer to split the beds so your 'friend' doesn't have to share. With Pride 365 Hilton that will become a thing of the past as they are educating their staff and upholding their mission to be inclusive. So, kick off the sliders and enjoy!
Hilton Manchester Deansgate
Maybe the weekend-long celebrations of Manchester Pride over the August Bank Holiday is more your thang! Great chance to clock up your Hilton Honors! Gather your mates and laugh so hard that if you wet yourself it doesn't matter.. because Hilton Manchester Deansgate is just a short stumble away for a quick outfit change! 
However you spend your summer, may it be full of Pride and a good night's sleep (which you will be guaranteed to get at a Hilton). 
If you want to read more about the Hilton 365 pledge and their commitment to the LGBTQ+ community, get all the information here. 
Go check out the extensive list of Hilton hotels that are included in the 365 pledge. 
If you want to read something before you rest your weary head, try our Best Queer Reads: Summer 2022 to get some inspiration.

We will see you at Pride gang, and of course, we'll be sure to stay in a Hilton Hotel.
Team Nonchalant x
Last Updated on 1st June 2023 by Nonchalant Magazine