What do women want? In 2021, after a year of social hibernation, we believe it's a good suit. But not just any suit. The women's suit maintains its iconic legacy in fashion history. Rebellious icons of eras passed challenged quintessential gender norms and took risks in donning suits with androgynous flair. This revolutionary act now bestows pioneers such as bisexual legend of the screen Marlene Dietrich – the first woman in Hollywood to wear trousers and to kiss a woman onscreen – with the dazzling crown of gender-bending style and suitspiration, among other fashion moments such as Yves Saint Laurent's Le Smoking tuxedo suit, created in 1966. This century's trailblazer, however, for donning power suits with a charm of rebellion, comes in the form of Daisy Knatchbull, founder of The Deck – the first women's-only tailor to have a storefront on London's historic Savile Row.
Daisy is rewriting the narrative of the women's suit, repurposing it from businesswear to a luxurious, powerful, and sexy 'modern armour', fit for any purpose, but most importantly, fit to you. Having fitted suits for the likes of Gillian Anderson and Elizabeth Hurley, Daisy is redrafting the blueprint of women's tailoring, keeping always one step ahead of what's around the corner. Nonchalant was ecstatic to discuss all things power suits and craftswomanship with the tailoring-royalty entrepreneur and how she threaded her way to Savile Row. If you've ever dreamed of owning the perfect power suit, have gauped over Cate Blanchett in one of her many tailored numbers, or have been fantasising about that dream wedding outfit, then read on. Go forth and invest in yourself; as The Deck will know better than anyone, a stitch in time saves nine.

Tell us a bit about yourself. How did you get into tailoring for women?
I was very interested in fashion from a young age, but I didn't know how I wanted to get into it, so I did work experience in all kinds of areas of fashion across PR, styling and journalism. I always wanted to find the gap in the market and change womenswear in some way. To leave my mark on it. From working in the womenswear industry, I understood how saturated it was. I thought there were no opportunities, so I tried moving into menswear to understand it quite literally from the stitch, up.
I took a job in Huntsman's PR department on Savile Row and worked my way up to becoming Communications Director where I was for four and a half years. Moving into menswear, I was able to see the gap in the womenswear market, which was suiting for women and offering this same experience that already existed for men. The Savile Row tailors did do this, but it was 5%, if any, of the Savile Row businesses. I couldn't understand why they weren't giving women the same opportunity men had had for centuries. To have beautiful cloth and designs, but have a woman fit them, and have an empathetic outlet only for women in the same way men had in hundreds of tailors.
In 2016 I was the first woman to wear a top hat and tails at Royal Ascot. It got a big reaction from the press and people, it was a mixture of different things such as female empowerment being on the rise and it never being a better time to be a woman. It was around the time of #MeToo and lots of other issues coming to the forefront. Suiting was also coming back, not as a trend, but as an essential wardrobe staple. I remember when I started, every store on the planet having suits. You had Armani, Yves Saint Laurent, Dolce and Gabbana and others selling a suit in a season, but it wasn't as we know it today.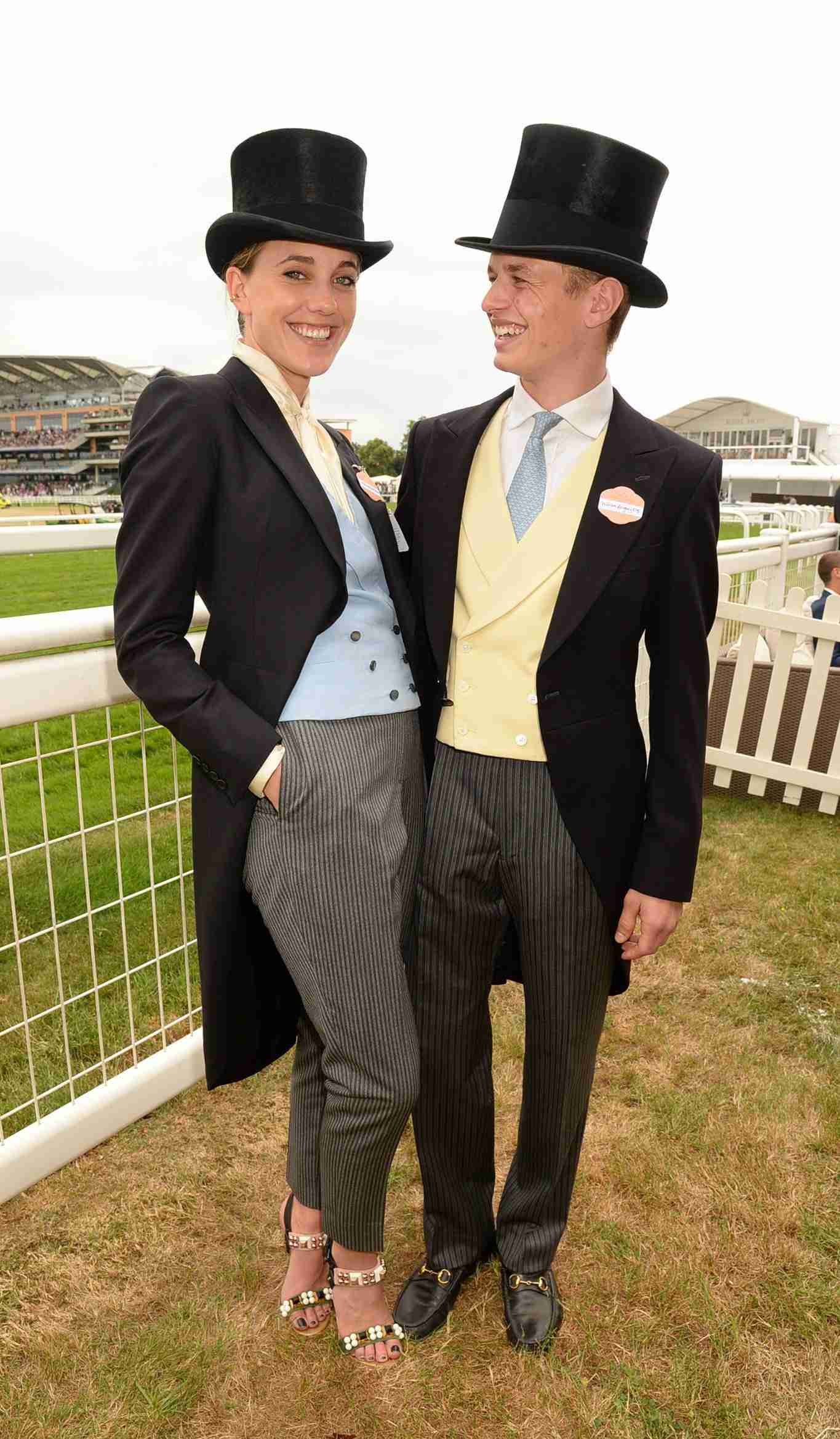 What inspired you to found The Deck?
It was a combination of those things. Savile Row is bespoke, so the starting prices are £5,500 for a lot of the houses. I wanted to create something beautiful, that celebrates craftsmanship, women and diversity – in shape, size, race, sexuality, whatever it may be – and celebrates all women – regardless of age, everything – where they can come and feel safe, understood, represented and they can have the best quality cloths and the best craftsmanship but also that won't be £5,500.
I started on a made-to-measure tailoring business for women, which is like bespoke but it's not bespoke in the sense that we don't start from scratch and build you a pattern. We start from a block pattern, but it is still made to your unique measurements. The block does a lot of the main body of work and then we change that block entirely to you. It's not just a case of altering the cuffs and the hems, it's made to every figuration of your body. By doing that, we were able to take the price right down. Making them in Portugal at a beautiful atelier in the heart of Porto, we were able to take the price down to £2200. Of course, it is still a lot of money, but it's more attainable and it's really undercutting what's out there.

There's nothing worse than finding your suit of dreams but it doesn't fit your body shape.
Exactly. Do you know how many women come to me and say, 'Never in my life have I found a pair of trousers that fit me?' Or 'a great jacket I've owned is too short for me' or 'because I have boobs, the jacket bows out', or 'because I have an arse…' We all have our own insecurities and needs and we don't fit into these brackets that we're put into by the ready-to-wear industry. Not everyone is this size so it's a reality we need to face. Why is this not being done by more people? There is a need here. People want to invest in themselves.
The beauty of what we do is it's durable, it's versatile, it's long-lasting. It's all sorts of things. It's something you can pass down to the next generation – to sisters, grandmothers, daughters, friends, whoever it may be. You can make alterations over the years. It's a lot of money, sure, but if you consider the cost for wear, it's an investment for life. You will wear it a number of different ways, whether it's just to go on a lockdown walk, or to a business meeting, a black-tie event, lunch, or picking the kids up from school, whether you're just wearing a t-shirt and trainers or a silk shirt and heels or just the trousers and just the jacket.

It's more sustainable to purchase that way, right? And buying a suit is like buying multiple outfits in one.
We say you get five different looks. The dream is you want to invest in staples, right? You want your suit, a good white shirt, a good t-shirt, a good pair of trainers, maybe a good pair of heels – if you wear them – a polo neck and a pair of jeans. Suddenly you've got five looks. It seems nearly everyone has those staples in their wardrobe. That's the fun of it as well. I love wearing my three-piece suit with a white t-shirt and trainers and I'll wear that same suit to a black-tie event with stilettos and nothing underneath or a silk shirt and it will look entirely different.

Who is the usual customer coming to The Deck?
Oh my gosh, all sorts. Our youngest is 18 and our oldest is 92. It's working women, women who've never worked in their life, women who can afford five in one go, the woman that saved up for years. It's everyone. The stories are amazing. Whether they're buying because they're transgender, or because they're getting married, or whether they want to get their Maid of Honour a suit, or it's a mother of the bride, someone's 50th, their graduation suit, or they just had a mastectomy and they want to have something fitted, or they're going through the menopause and they feel crap about themselves and nothing fits them.
The beauty of what I do is, unlike when you purchase online, I build this incredible relationship with my clients. I have an hour with them at the consultation, then the first and second fittings, so it's a minimum of three hours that I spend with these women. That's if they order once, once we have your pattern we can remake it again and again. We learn about pregnancies before anyone else, we learn about the troubles people going through IVF have and so it makes their body change or the menopause or they've had a breast reduction or they've had an operation, whatever it may be, we learn all of these things and they're private things but they're so important to say.

With anything in life, it's refreshing as a woman to have that space and to be listened to and to share those personal things, let alone for something that's going to make you feel incredible afterwards.
Exactly. It's about understanding, you might not want to tell a male tailor that. You want a female team around you. You want to talk about things like, 'I sweat, so I don't like any light fabrics and that's a stress for me', or 'I want to talk about how my thighs are bigger than my waist', or 'yes, I'm skinny, but don't tell me that I'm skinny and I can't complain about what I want, because there are parts of my body that I don't like, and I don't want to tell people that I might be having IVF'.
All these things, it's so many things that are so private, or that 'when I'm on my period, I bloat massively, and so trousers don't fit me the same', and there are ways we can get around all these things. I'm someone who bloats incredibly badly so I put side adjusters on all my trousers, which means it keeps that beautiful shape, but at the start of the meal, when my stomach is slightly flatter, I have them all nipped in and tight, and then I can loosen them without having to undo the top of my trousers.

You're speaking our language! We so often end up blaming our bodies for not fitting into the clothes we wear, when perhaps we just don't know what's right for us?
It's little things like that. If you're self-conscious about your thighs then maybe stay away from this cloth and don't put a pleat here. And if you're conscious you've got really broad shoulders, or if you feel that you've got big boobs, perhaps stay away from double-breasted. It's about really understanding and listening to these women. Because if you have something you love, you're going to wear it for the rest of your life. How many times have you felt awkward with the shop assistant? So many plus-size women come in and say they're too scared to even try trousers on because they're embarrassed and don't want to go through that conversation in the fitting room with a snooty shop assistant that's judging you because you don't fit into the clothes, you know?

Giving that advice to people might be the first time they've been advised on how to find the clothes to fit them, such as not using certain material or cuts for a certain body type.
One in three women, according to research, don't know what clothes properly fit their body shape.

Because, as you said, we're expected to all fit into the same numbers.
Exactly.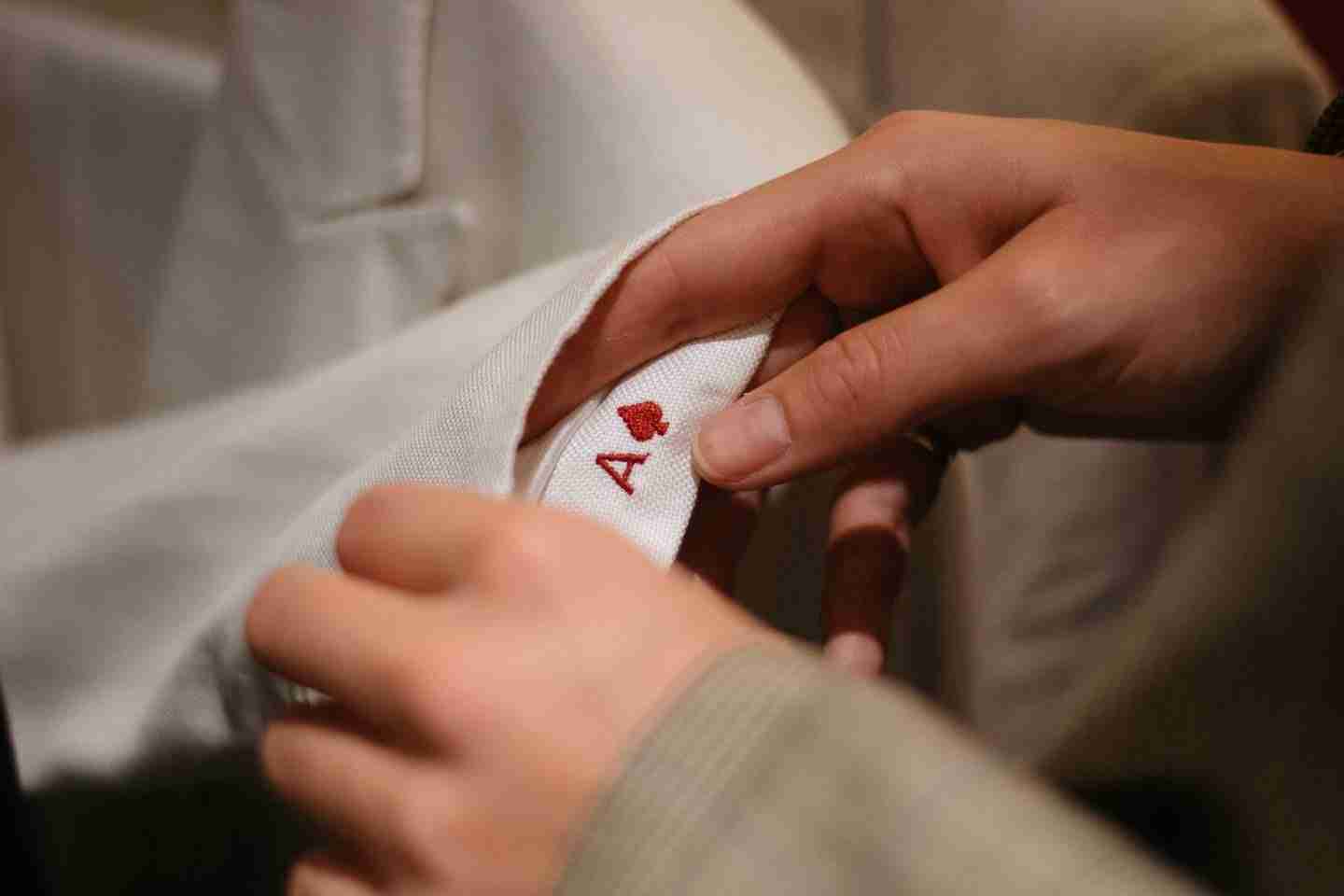 Do you own a favourite suit? One that is your ultimate favourite that you save for special occasions or that you wear all the time?
The one I wear all the time is the three-piece pinstripe. I love it because I just wear it smart, casual, separately, relaxed, whatever it may be. It's a showstopper in the sense that people stop me in the street always, and ask me where it's from, which is a lovely thing.
We've just done our latest samples we use for press and in the windows and there's some pretty mega ones coming out. One is, we've taken an old interior cloth, it's a 'toile du jouy', that 16th-century French agricultural scene that's done in only blue, red or green. I've done a three-piece suit in that in blue with blue velvet edging. My tailor does think I'll look like her grandma's sofa. But so many, purple velvet, tweeds, corduroys linens, petrol blue, petrol blue linen I love, aubergine velvet, really amazing cloths and colours. There are so many, the opportunities are endless.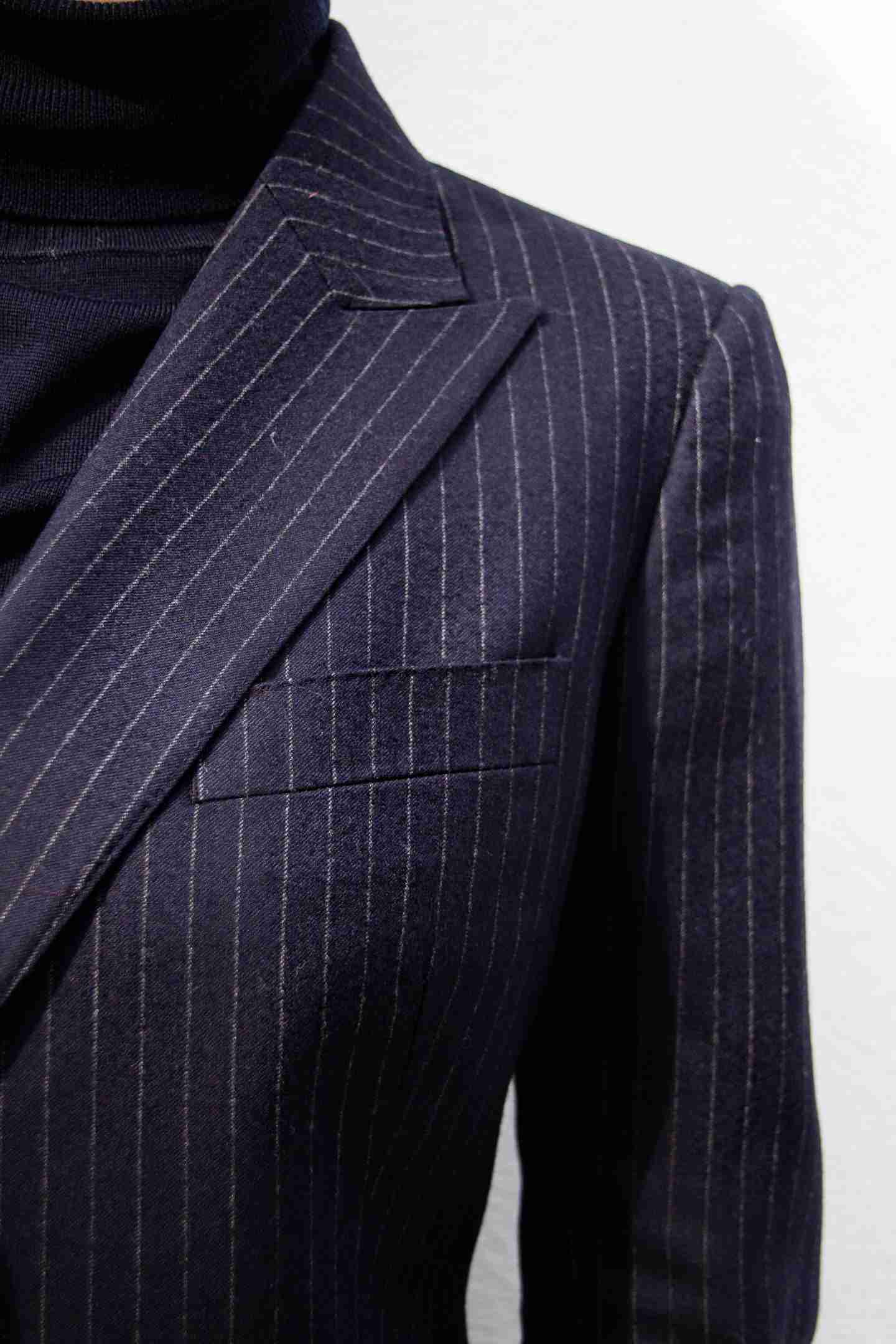 Do you have a first suit you ever owned that inspired your pursuit of good tailoring?
The one I started off with was when I was at Huntsman. I had a black tuxedo made for me and that really set off that feeling of 'Oh my god'. I never felt comfortable in a dress, ever. I'm not particularly 'girly', it takes about three seconds to do my makeup. And I hate wearing floral dresses. I always felt sexier and more elegant in a three-piece suit, which is funny because it's one of the most covered up things you can wear. There's something so sexy about it. I think it's something about what it does to the person that makes it even more sexy.

After the lockdowns, do you think people will want to be dressing up again?
Oh yes, revenge spending. You only have to look at China post-pandemic, when it opened up they saw sales soaring. I'm speaking for myself, but I want to look nice again. I'm gagging to wear a bit of make-up and feel myself, and really go out on the razz and dress up. It's not even like I want to wear a ballgown and whatever. I just want to rock my suits again. I want to look great, I want to feel great and my suits are like modern armour.

Modern armour is a great way to put it. How has coronavirus challenged The Deck?
They make you feel so powerful. Coronavirus has massively impacted my business because it's a face-to-face business, it's the antithesis of social distancing. It requires incredible attention to detail, face-to-face contact, precise measurements, so we've really been hit with seven months in total, I think that we've been closed. But we've stayed in constant communication with all our clients. The pandemic has actually allowed them to really have the time to review their wardrobe, work out what they wear, what they love, what they don't love, what they're looking for, and then clear space to invest in something this year, that really will take them from day to night, and we'll take them from whatever it may be, whatever occasion.
I think black-tie events may have changed and people aren't going to offices, sure, but it doesn't matter, because our suits are for every occasion. It doesn't need to be one set occasion. I think luxury will take a hit in the sense that I don't think people will be spending £2000 on a dress for one event anymore, but what we are going to see is that same £2000 being redirected to a business like The Deck, where they want that hyper-personalised, conscious consumerism approach. That's what's really exciting. We've got something quite cool in the pipeline on the digital side, where we're going to – I can't say much – but essentially give ourselves more of a global reach.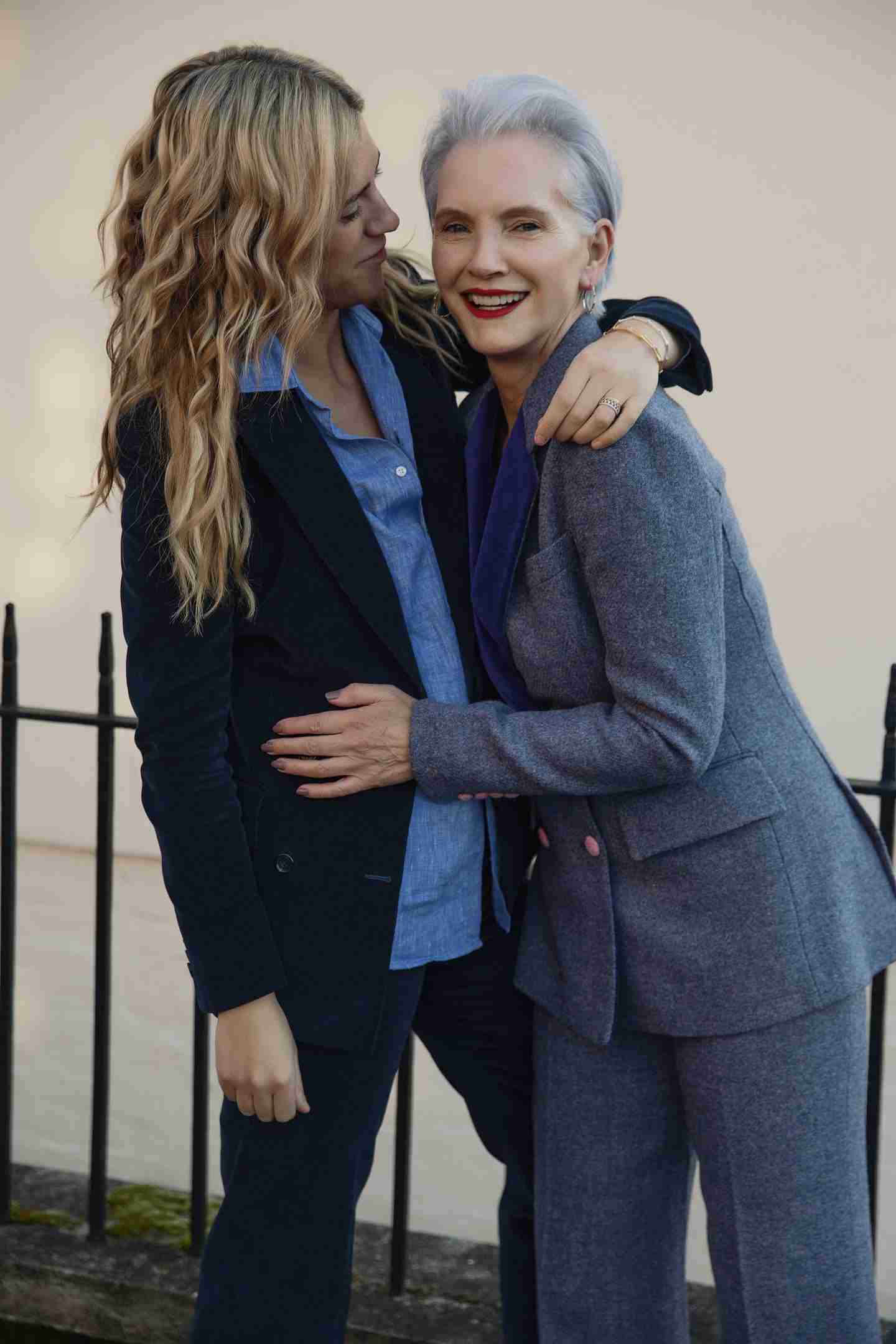 What has been the most challenging aspect of your career, as founder of The Deck specifically or the ongoings of running a business?
I think starting a business is a challenge in itself – the highs are incredibly high and the lows are incredibly low. I think not having a co-founder, doing it on my own, even with my amazing team around me, can be quite lonely. You don't have someone that shares that same sense of responsibility as you and needs to be the leader that you are to your employees.
We've definitely faced challenges, like any business. Not forgetting Brexit, that's just another wave that has come crashing down on us, as well as the pandemic. It's all new territory. Leaving the European Union, meddling through a global pandemic. These are things that people haven't had before, and don't know how to advise you on it. We're sailing through the storm to try and get to calmer seas, and just praying that the seas are calmer on the other end, and trusting in the process that they will be.
These are scary times, but there's light at the end of the tunnel. I can see a way through it now. It's only thanks to our amazing, loyal clients, and the press and celebrities and our followers on Instagram, and all of these people that have got us through these times, because when we're open, we flourish. After the first lockdown, we had record sales. If anything, I think people realise the importance and the value of thinking about what they're purchasing and making sure that it's something that's not going to destroy the planet. It will give them a good cost-per-wear ratio and make them look good and feel good for a very long time.

Fashion feels quite gender ambiguous these days and suits are becoming more popular in a modern sense, even though they've always been there. Would you agree?
Totally, and I think they've become such a symbol of independence and empowerment. They allow the person to be whoever they want to be in it. I think that's the important thing, it is quite a neutral look as such.

If you don't feel good in the suit, then it's not the suit for you.
Exactly.

What inspired the theme of a deck of cards?
There are four suits in a deck of cards, and we start with the four iterations of a suit. That's the single breasted or the double breasted, the more classic look, then the boyfriend, that more oversize, more fashionable 'baggier look', and then the safari jacket. That was four fun ways that we thought made up the four suits of our deck. Then we expand on that. From that, our clients can choose cloth lining buttons, styling details, everything. If they want a boyfriend look but more tapered at the waist, they can do that, or have a skinnier lapel.
With every suit comes with a little 'ace' stitched inside the sleeve. It's is a reminder that as women we all have an ace up our sleeve. Then there's the idea that you reshuffle a deck of cards. We're reshuffling the way we think about tailoring and it was time to reshuffle the way we thought about that.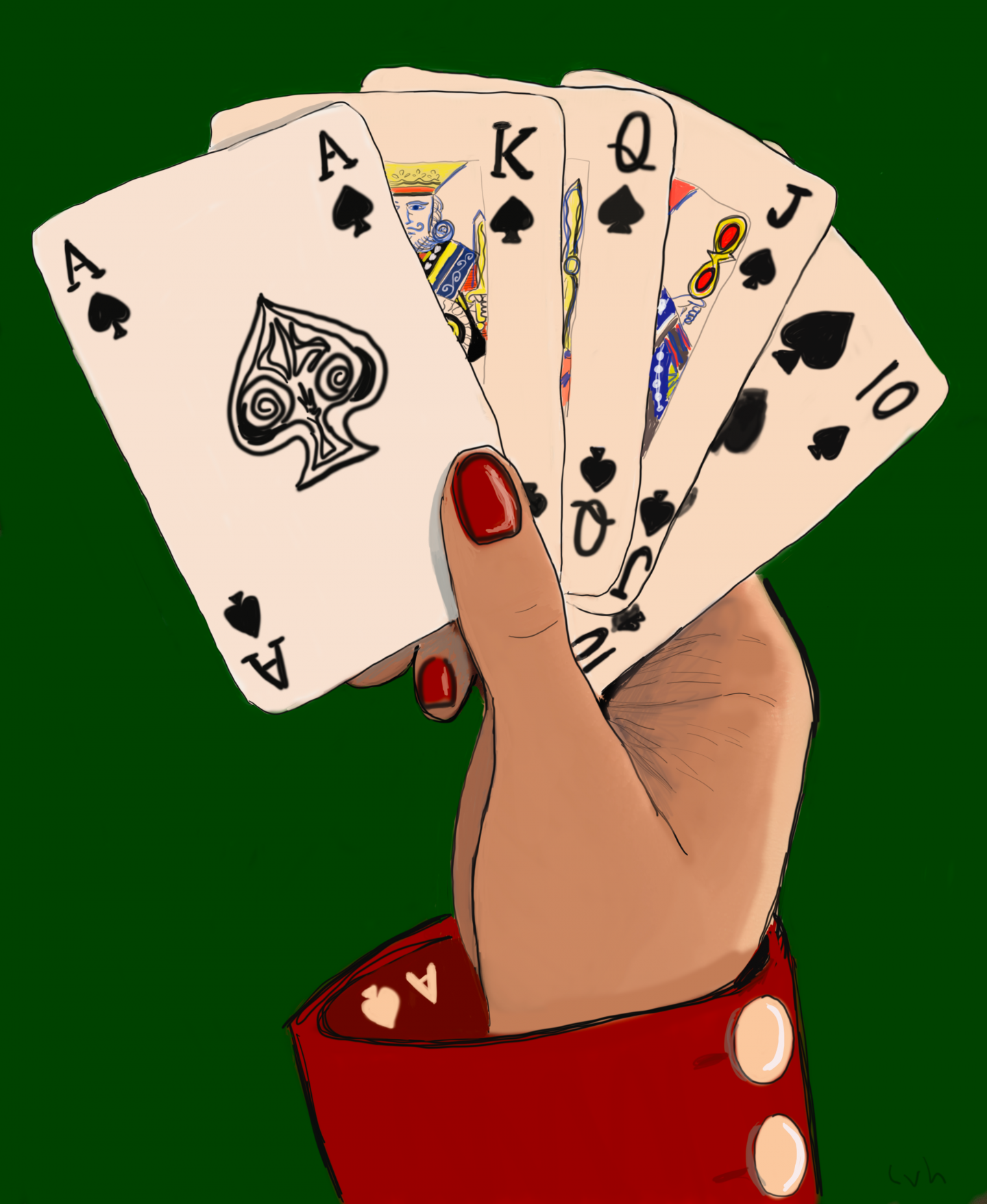 What's your favourite thing about having a storefront on historical Savile Row?
I think it is literally just the epitome of tailoring, isn't it? The bastions of tailoring are there, it's a street that's steeped in history and heritage, and it's globally known. I think, to be amongst that prowess, but also to make our own little corner of it, and stamp our mark on it. For women, it's just such an incredible thing that for a street with such history and heritage, The Deck is the first women's tailor to have a shop front. It's crazy. We only moved in September 2020. So, there had been female tailors before on it, but we're the first to have a shop front.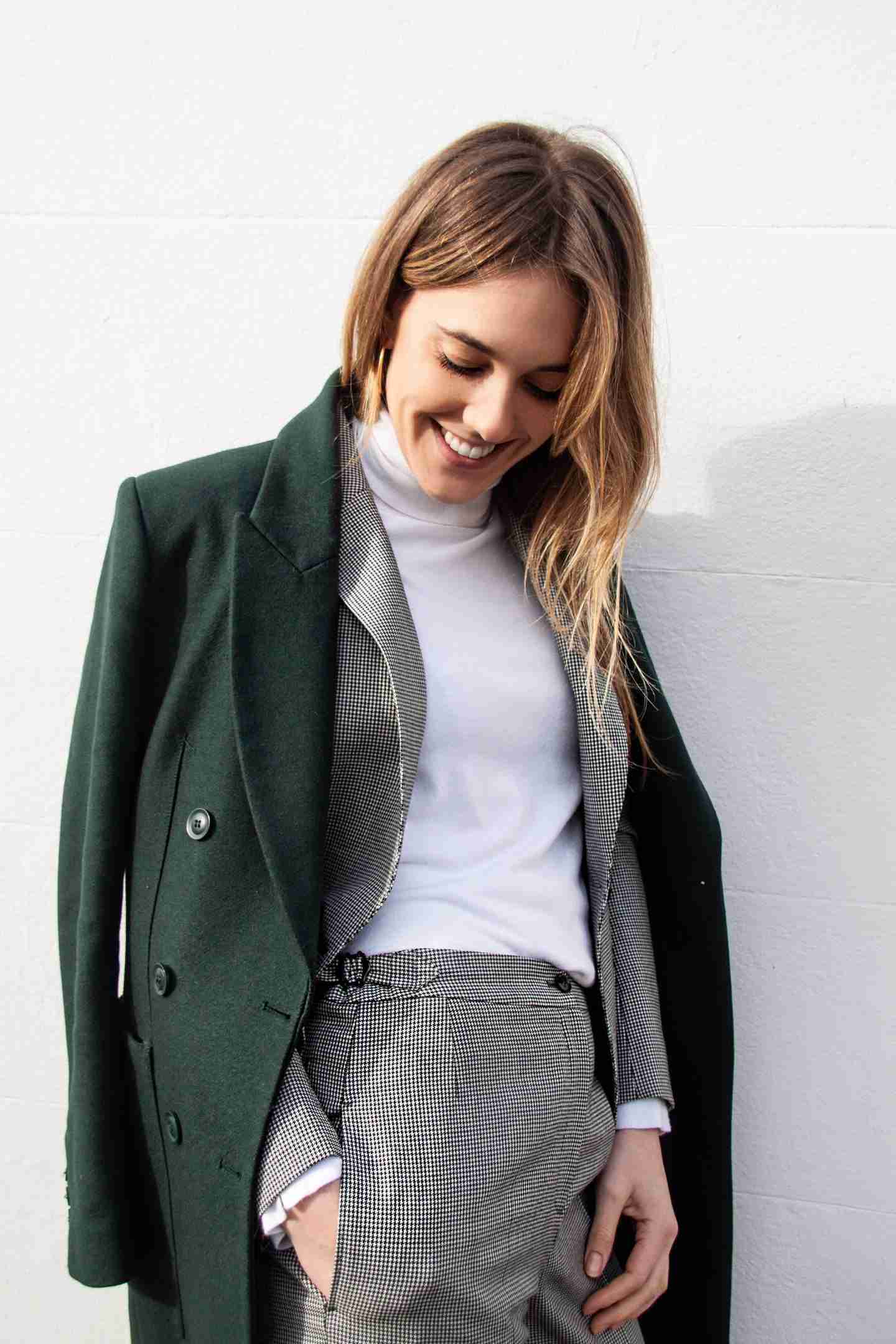 Who have you loved working with?
We've been very lucky that we've dressed a lot of celebrities over time for different events. Elle Macpherson, Lauren Hutton, AJ Odudu, Nicola Adams, Maggie Gyllenhaal, Elizabeth Hurley, Arizona Muse, Gillian Anderson. A lot of great people. And such a lovely diverse range of age, race, sexuality, whatever it may be. It's fantastic. I love it.

What have been your favourite career moments?
I think, getting through this. One in 10 businesses make it through the first year, let alone with a global pandemic and Brexit. It's hard sometimes when you're a founder. You don't look back. You only look forward and look at how you can improve the company and yourself. So to take time to look back and be proud of how we've got this far is amazing. We've just been made a Brand of Tomorrow by Walpole, this luxury body, which is pretty amazing. It's a list of brands to watch, who'll be the next big thing.
We've had a couple of pinch-me moments, moving to Savile Row has to be the best. Being on BBC News and Sky News and all of that was fantastic. All the celebrities we've dressed. I've had moments where I burst into tears, because other women who are clients have burst into tears seeing themselves for the first time where they actually genuinely fall in love with how they look again. Or mothers of the bride or brides. Just so many incredible moments, really.

It must be amazing to have weddings where both people getting married are wearing a suit from The Deck.
We've had that, it's pretty magic. We had two women that got married and wore The Deck. It was amazing. A massive market for us is bridal, straight and gay weddings. It's really become huge for us. It's not a dress that's going to sit in your wardrobe for the rest of time. You're investing in a suit and you can wear it for the rest of your life. You can have fun with it and put your own little details on or embroidery to remember the day. Or put you and your partner's initials. Then, once the weddings happen you can change the buttons, update it, make it more casual, whatever it may be. That's something I love.

I don't doubt people reading Nonchalant will probably start planning their wedding outfits after this.
Well, we are the place to go. I have to say it's great fun. We always have champagne and the whole family comes and bridesmaids or friends, it's heaven. It's really nice.

Now we want to get married just so we can wear a suit from The Deck! Do you ever have people send you the photos of them wearing the suits at the events?
Yes, it's amazing. Just before Christmas, I got an email from a client. It said 'Got a major job interview today and, of course, the only thing I'm wearing is The Deck'. You know, like, 'the only thing to give me the confidence was wearing The Deck', and I thought, how lovely. Or people saying 'Never in my life have I ever felt beautiful the way I have in this suit.' It is amazing.

How does it feel to be told it's your work that's doing that for people? The knock-on effect that that would have, making someone confident enough to smash an interview, or know that they looked a million dollars on their big day or event. It's such a positive effect. That must feel amazing.
Exactly. It's amazing and that should be happening so much more. That's really what the priority for us now is. People ask us, 'what's your goal in life of The Deck?' and it's just to suit as many fantastic women from around the globe as possible. There are so many people that want what we want. But they don't know we exist. So we rely on the press and our clients and all these people to share it. A lot of people like to keep us their little secret as well, which is lovely but kind of annoying!

Suit wearers everywhere are really struggling now with WFH and not getting to dress up anymore. We'll all have to start wearing them around the house.
I know, it's so depressing. I can't wait to be back rocking my suits in stores, I wear a lot of the trousers. Or sometimes just pop a jacket on for a zoom meeting over pyjamas or tracksuits.

How do you think about making your suits more accessible?
We're really looking at doing payment plans so partnering with a Laybuy or a Klarna. Something to enable paying in installments, because we really want to make it as accessible as possible. But we also want to pay for our wages and work with the best quality cloth and artisans and, unfortunately, that does come at a price, right?

You want to remember the day you buy The Deck suit! In the next five or 10 years, what would you love The Deck to be doing? Do you have any ideas that you would love to have rolled out by then?
I think more styles. We're definitely going to move into building the ultimate tailored capsule wardrobe of all the perfect essentials that one needs. Also perhaps having a global outpost, stores in various cities or abilities to reach people in various cities across the globe. I'd like to do a lot of mentorship around disadvantaged young women trying to start their own businesses. That's something I'm really passionate about. I'd love to work around that and The Deck to provide funding for that, expanding this digital project, and, not destroying the planet. Making it a better place to be, one little tiny step at a time.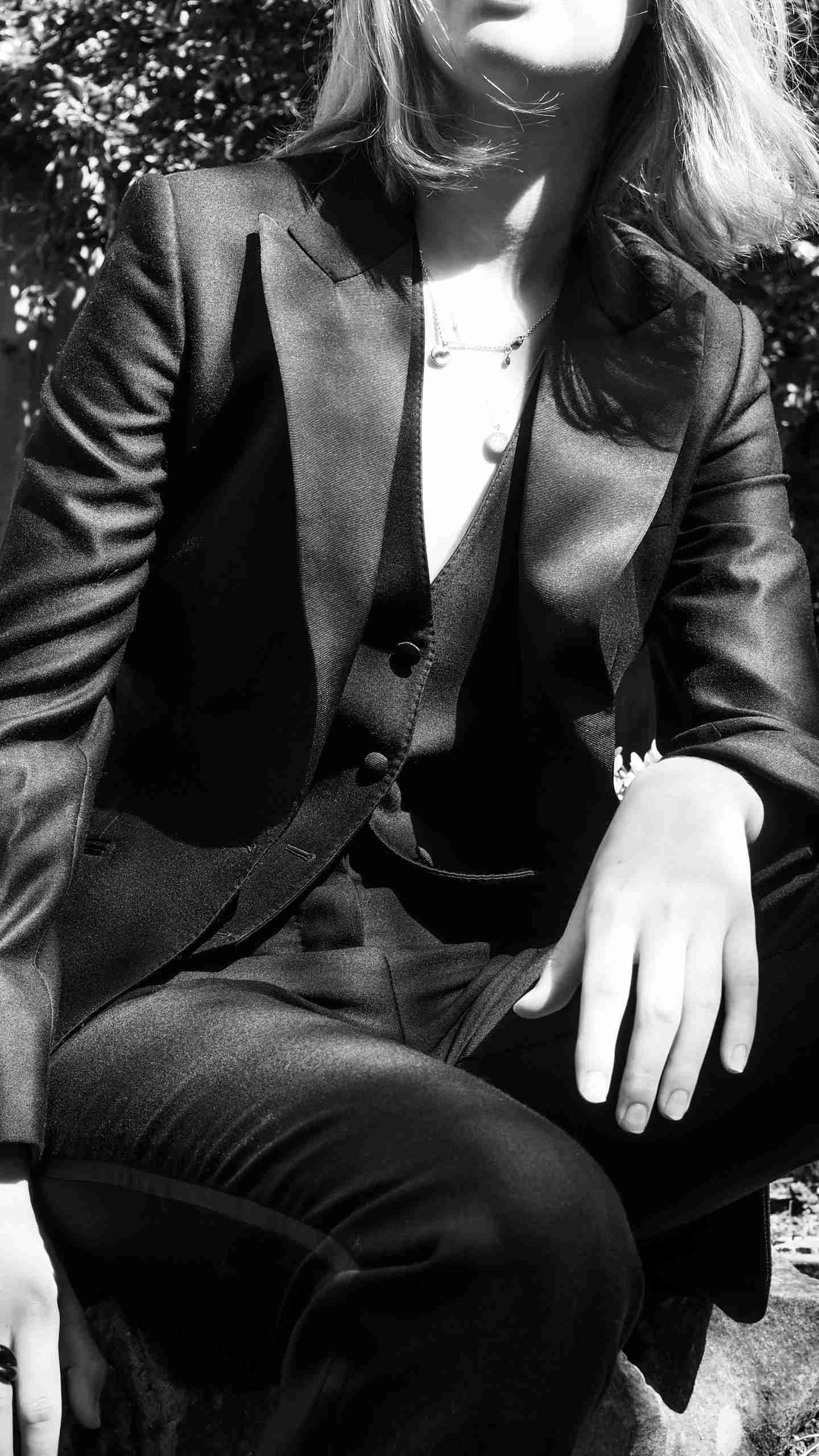 If, like us, you're now fantasising about your dream suit from The Deck, tailored to your own dream style and body shape, or if you've got a wedding on the horizon, then Daisy might just be the ticket to your dreams coming true. You can follow The Deck via Instagram or subscribe to their newsletter for more exciting updates on their beautiful tailoring. In the meantime, why not check out our other fashion articles?
Team Nonchalant xx
Last Updated on 24th March 2023 by Nonchalant Magazine