With the release of Foxgluvvs new single 'Don't Text Back' on Friday 5th June we caught up with her to ask her what her thoughts were on the gay scene in London and (most importantly) who she is crushing on right now.
Heads up: Some of our articles are sponsored and/or may contain sponsored links, meaning we get a commission if you decide to make a purchase through the links, at no cost to you. This is how we keep the Nonchalant magic alive. We only work with brands we truly love.
So, tell us a bit about yourself, how did you get into music?
My name's Foxgluvv and I'm an openly gay pop artist. I first got into music when I was young, my mom and dad used to play a lot of music in the house and I was introduced to many different genres from an early age! As a child, I was part of the school choirs, and musical performances and I really found my feet through being creative and performing music.
For any of our readers that would like to get into your profession, what advice would you give to them?
My one piece of advice that I'll always stick by is: make music for you. It sounds really simple, but it's so easy to slip into making what you think will "sell". You won't find any true success by doing that, it's so much more important to have the belief in yourself that what you're making is authentic for you, and when that's clear, people will be more invested in what you have to offer.
Did you consider a different career path at any point in your journey so far?
Up until I studied songwriting in university, I for sure had my doubts. So many people used to ask me what my "back-up" career would be, but I could never settle on anything in particular that felt right for me. I did want to be on the west end, at one point – I'm a huge musical theatre fan, but i've got two left feet so that idea went out the window haha.
Where do you find your inspiration for your pieces?
Like many songwriters, I find inspiration in my daily life via the things that happen to me, or have happened. My identity as a gay woman and my journey of discovering that influenced a whole EP that I released last year. I also love being creative though, and would never want the truth to stop me from making a great song.
An obvious question from a lesbian magazine, are you seeing anyone at the moment?
I've been with my girlfriend Abby for seven years now – our first date was a Tegan and Sara concert, how very gay is that?
What's your coming out story? Sorry, but everyone wants to know.. 🙂
I told a few of my friends that I was questioning my sexuality and that I was interested in girls around the age of 15, but essentially stayed in the closet until my first year of college. I told my family via a letter (I'm such a pisces lol) and shortly after, realised I was in fact a lesbian, not just a bit gay as I previously assumed.
Who are your role models and why?
I'm super inspired by Lady Gaga and Madonna. Not only are they both strong, bad ass, members of our community and activists – but their creativity and artistry is on another level.
East London or West London?
Ooooof. This is a difficult decision. I live in West London, but I love the gay scene in East. I think if I had to pick one, I'd probably choose East.
Out of all of your pieces of work, which piece did you enjoy the most?
I am so proud of my debut E.P 'I Never Felt Hollywood'. That body of work collectively describes my gay journey from questioning my sexuality through to being the out and proud, gay woman that I am today.
If you could use a magic telephone to call yourself at 15 years old what would you say?
You're gay – and that's okay! You'll find a wonderful partner in a few years and you'll be proud of who you are, and you'll be proud to love her. Take your time to figure out where you want to be with your music and career, there's no rush, you'll find your voice.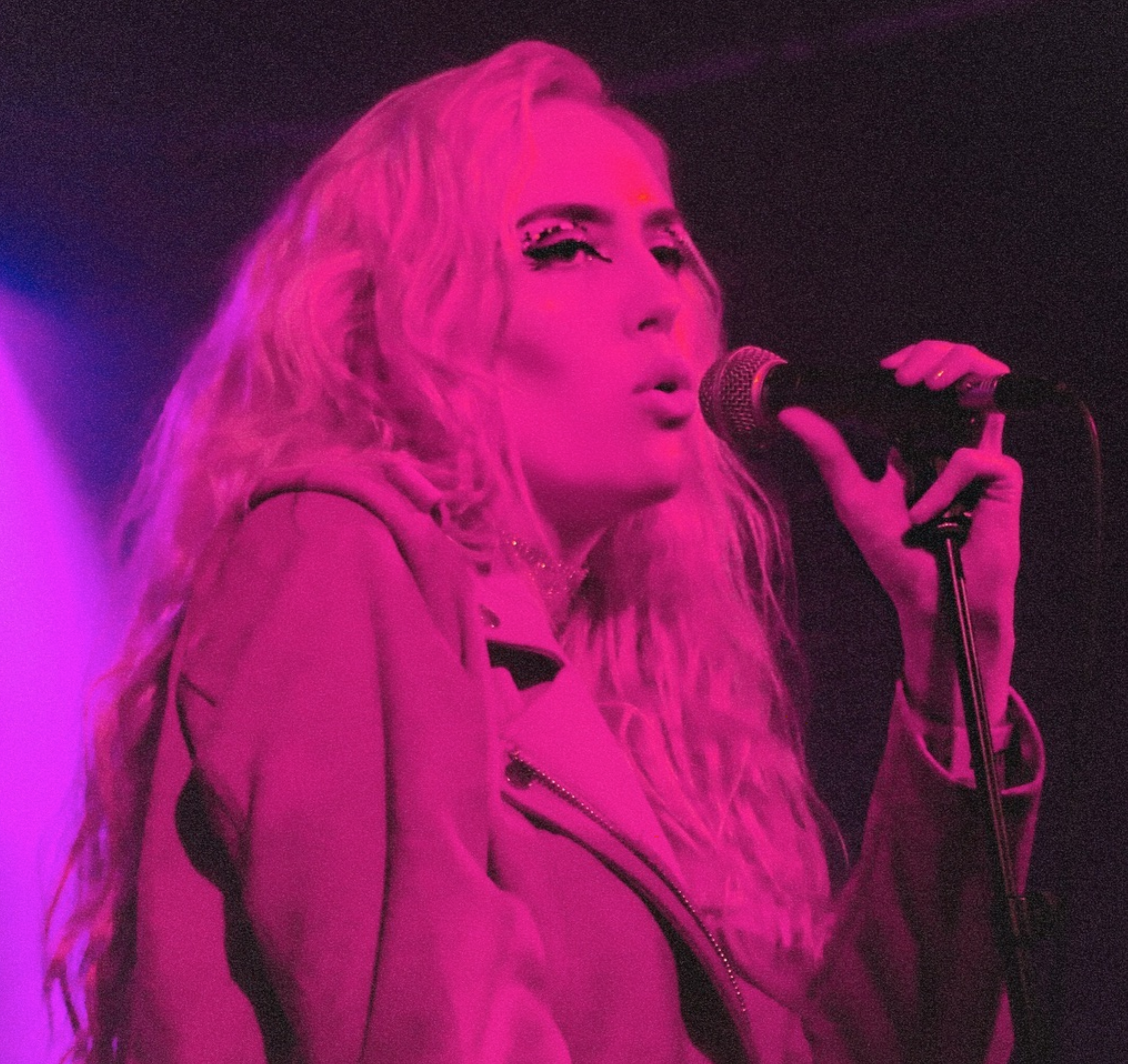 What's the best piece of advice you've ever been given?
Although it wasn't given directly to me – this Madonna quote really inspires me."I'm tough, I'm ambitious, and I know exactly what I want. If that makes me a bitch, okay."
Talk us through your average working day?
I'm lucky enough that I live with my producer, Scott, so on a day when we're making music we tend to take it pretty easy and just see what happens. It's nice not having the pressure of meeting somebody for the first time and feeling like you have to create something worthwhile with your time. There's no stress, we can just write and if it doesn't go to plan, we can revisit it on another day when we're more in the zone.
Who's your favourite singer at the moment and why?
The answer will always be Lady Gaga. Her voice is incredible. I feel like there's a depth to her vocals that comes through in every track, and she can sing pretty much any genre flawlessly.
What do you think of the Lesbian scene in London?
I've had some bad experiences trying to enter the bigger gay bars in London, with bouncer literally telling me and my friends that we're not allowed in because we're women. Even though we're all gay. It seems like so many places see a femme lesbian and assume we're straight girls -and unless we're with gay men we won't get in. That being said, I love going to Gal Pals whenever it's in London, it's an inclusive space primarily for LGBTQ+ womxn and the TGNC community and it feels so welcoming as soon as you walk through the door.
Where can we see your work, and when's your next gig?
You can find my music on all streaming platforms, and across my social medias (@Foxgluvv). My next gig will be June 20th for LGBTQ+ blog Unite UK's online Unity Pride. It's going to be fun!
Who's your celebrity crush and why?
I have way too many… at the moment, I'm particularly obsessed with Jodie Comer in Killing Eve though. I mean those outfits! I can't.
Who's the most memorable person you've worked with and why?
It was so great having GIRLI join me for my headline show back in February. She's so sweet and she really bought such a great atmosphere to the show with her performance.
Thanks for talking to us Foxgluvv. By the way, we fully endorse your celeb crush, Jodie Comer. In fact we love her outfits so much we've written a whole article about them!
Here's an additional message from Foxgluvv herself in light of current events:
"With the importance of uplifting the BLM movement and also wanting to recognise Pride Month, I wanted to attempt to use the release of "Don't Text Back" for some good. My new single is now on Bandcamp to purchase, with an exclusive B side track "Crush 2.0", to raise money for UK Black Pride @ukblackpride. Black Lives Matter, Black LGBTQ+ Lives Matter. Please visit foxgluvv.bandcamp.com to donate and support."
If you liked this interview and want to read up on more inspiring Queer women head over to all our live interviews page.
Love Team Nonchalant xx
Liked this? Have a read of these latest articles from Nonchalant
Last Updated on 21st December 2022 by Nonchalant Magazine