The wait is over and finally, the Tokyo Olympics are here. There is no doubt that these Games will be very different for lots of reasons. At Nonchalant HQ what has caught our attention is that over 160 LGBTQ+ athletes are competing. This fantastic feat will make these the most inclusive games ever. This is HUGE news for our community, especially as many nations and states continue to erode queer and trans rights.
Heads up: Some of our articles are sponsored and/or may contain sponsored links, meaning we get a commission if you decide to make a purchase through the links, at no cost to you. This is how we keep the Nonchalant magic alive. We only work with brands we truly love.
The increase in openly out athletes in the last three games alone is staggering. Just 9 years ago at the London 2012 games, there were 23 LGBTQ+ out athletes on the roster. This increased to 48 in Rio 2016 and has trebled again to (at last count) 168 in Tokyo. It's worth noting the majority are female, with a staggering ratio of eight females to every one openly queer male. We're very happy about the ample opportunity this provides to wave our pride flags alongside supporting our national teams.
Tokyo is the first Olympics where the Pride House has received official recognition from the International Olympic Committee. Unofficially, similar hospitality suites for LGBTQ+ athletes and visitors have existed since the 2010 Vancouver Winter Games (except Sochi 2014). Importantly, Pride House Tokyo will create a lasting legacy by becoming a permanent community centre after the Olympics ends.
The Queer Athlete Stats:
The nationalities of our queer sports heroes are also impressive, with 27 different countries represented by one or more publicly queer athlete across 30 sports. Team USA is leading the way with 47, including one of the greatest power couples on the planet – the phenomenal Women's football captain and activist Megan Rapinoe and all-round basketball megastar Sue Bird. Also of note amongst their ranks are swimmer Erica Sullivan and wrestler Kayla Miracle.
Representing Canada are at least 33 queer athletes, 30 from the Netherlands and 13 from Team GB, including diving sensation Tom Daly It's also notable that there are a number of athletes openly out from countries with less liberal LGBTQ+ rights including Hungary, Poland, Brazil, India, and Venezuela. Here's a quick intro to some of our queer fan faves for you to follow:
Alexis Sablone (She/Her) Team USA – Skateboarding
Trailblazer and skateboarding legend Alexis Sablone will be making her Olympic debut in Tokyo. She already has several X-Games titles and her own Converse clothing line. Oh and a masters degree from MIT in architecture.
Alexis self-identifies as queer as she thinks the word is more ambiguous and less restricting than more "gendered" words like Lesbian. In an interview talking about the number of LGBTQ+ athletes heading to Tokyo Alexis commented: 'It's about time that everyone was able to be who they are and celebrated for it. What I hope that means is that even outside of sports, kids are raised not just under the assumption that they are heterosexual.'
Quinn (They/Them) Team Canada – Football
Talented footballer Quinn made history last week when they walked onto the pitch, their second Olympics for Canada's Woman's football team. The reason: this was the first time an openly trans athlete has competed in the Olympics.
Toronto-born Quinn came out as non-binary and transgender via Instagram in 2020 and uses the pronouns they/them.
For Quinn, the opening match of the Tokyo Games carried more emotional weight than their previous Olympic appearances. When speaking about their feelings on Instagram, Quinn said: 'I feel proud seeing 'Quinn' up on the line-up and on my accreditation. It's sad knowing there were Olympians before me unable to live their truth. I feel optimistic for change. Change in legislature, changes in rules, structures, and mindsets.'
Later in this games, we will also see women's weightlifter Laurel Hubbard competing for Team New Zealand. Technically Laurel was selected to compete in this Olympics before Quinn – also a historical first.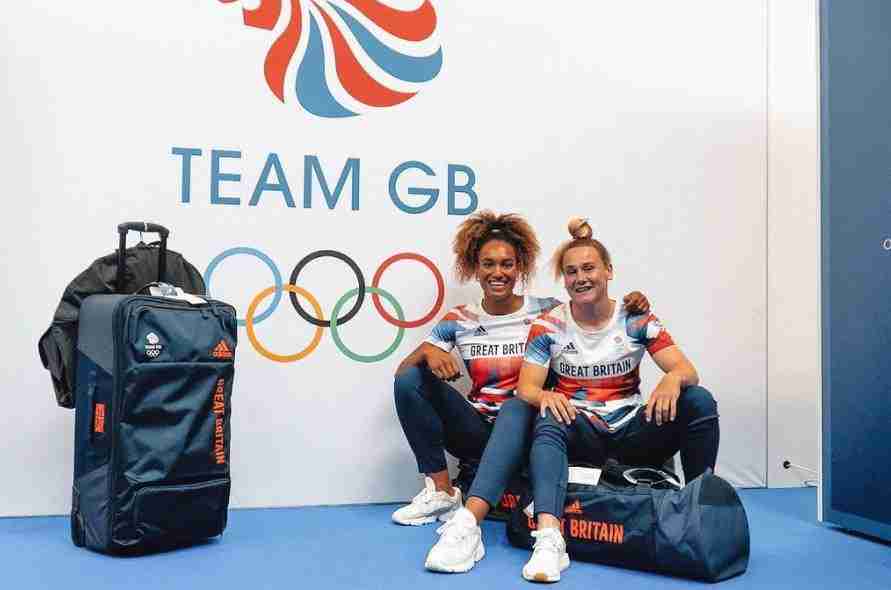 Megan Jones (She/Her) & Celia Quansah (She/Her) Team GB – Rugby Sevens
Rugby Sevens duo Megan Jones & girlfriend Celia Quansah will be representing Team GB in the women's team. This fab professional sporting couple have been sharing their experiences via Instagram, showcasing the highs of training, games and date nights in London.
In a recent BBC interview, they commented on the positive impact of sharing and speaking openly about their relationship on their social pages.
'We never spoke out about it initially but when we did the response was incredible, everyone was like this is amazing, you're helping so many people by doing this. We didn't even think about it before. If we can help one person feel like they can be themselves, it just makes you want to do it more.'
Megan & Celia are not Team GB's first queer Olympian couple. Hockey players Kate Richardson-Walsh and her wife Helen Richardson-Walsh competed in Rio 2016 and were also the first same-sex married couple to win Olympic gold.
Dutee Chand (She/Her) Team India – Athletics
Sprinter Dutee Chand is not only India's first Indian woman to win a sprinting gold medal on the global stage. She is also India's first openly LGBTQ+ sports person.
Dutee came out publicly in 2019 by stating she was in a same-sex relationship, noting that she was encouraged to do so by the country's decision to decriminalise homosexuality in 2018. At the time of the announcement, she stated: 'I have found someone who is my soulmate. I have always believed that everyone should have the freedom to love. There is no greater emotion than love and it should not be denied.'
She also successfully fought the IAAF in 2015 overrules on hyperandrogenism. Fighting for the right to compete in athletics due to her naturally occurring, high levels of testosterone. Sadly this ruling only currently extends to the sprint events, meaning that other athletes such as Caster Semenya are still banned from international competition at Tokyo.
Aleksandra Jarmolińska (She/Her) Team Poland – Shooting
Polish Shooter Aleksandra Jarmolińska is competing in this year's games in the Skeet event. Ranked at 6th in the world rankings she is no doubt a medal contender in Rio. A publicly out athlete, Aleksandra is not shy about her sexuality, or her desire to be able to legally marry her partner in Poland.
Currently, same-sex marriage is not recognised and last week she was featured in a video about her experience. This was reposted on her socials for Miłość Nie Wyklucza, an organization that is fighting for same-sex marriage rights in Poland.
We hope you are enjoying the Olympic Ga(y)mes as much as we are.
Team Nonchalant x
Last Updated on 13th December 2022 by Nonchalant Magazine