Summer is well and truly here and what better way to while away these long lazy days than with a new page turner. In the last year, more publishers are championing diverse writers, enabling them to share their different experiences with the world. For us here at Nonchalant, this means an abundance of both fiction and non-fiction LGBTQA+ works – hurray! So, dear reader, we've hand selected some of our favourite queer reads for you to delve into! Sit back and enjoy – hopefully with the sun shining.
We Can Do Better Than This: 35 Voices on the Future of LGBTQ+ Rights
By Amelia Abraham (Editor)
Abraham has invited high profile queer voices to individually explore a range of issues affecting the LGBTQ+ community globally. Each essay is both personal and moving, with thought provoking arguments including topics such as safety, visibility and community.
Opening with Beth Ditto (The Gossip) calls for a revolution in representation, whilst Olly Alexander (Years & Years, It's a Sin) champions more inclusive sex education in schools. Subsequently, Owen Jones (Chavs, This Land) discusses the importance of LGBTQ+ mental health services and Travis Alabanza (Burgerz, Overflow) imagines a world in which everyone identifies as trans. Later, Naoise Dolan (Exciting Times) discusses the labels, perceptions and expectations of growing up queer and autistic. Shura (Forevher, Nothing's Real) speaks up about the negative experiences of publicly displaying affection with her queer partners.
The editor has successfully collated diverse global perspectives from European, American, Russian, Bangladeshi authors. The result: a collection of unique insights into many obstacles LGBTQ+ people still experience today. This book celebrates our community and how far we have come. It also reminds us of the vital support provided within the community and how far we have come. The key takeaway – how all of us can start to build a better future for members of the LGBTQA+ family globally.
Love Is an Ex-Country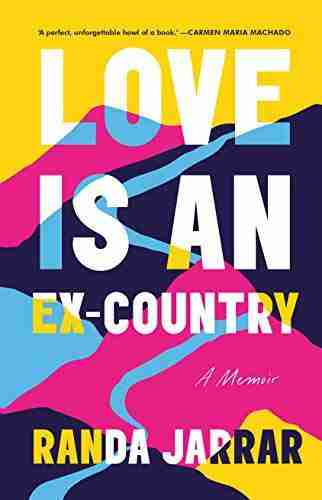 By Randa Jarrar
Imagine a great American road trip story, but where (finally) the car is being driven by a proudly fat, queer, Muslim-Arabic single mother. This memoir is profound, emotive and funny in droves.  The author regales her 2016 journey from California to Connecticut to visit her parents, including pit stops to topple Confederate flags in the desert. Whilst on the road she reflects upon her traumatic childhood memories and experiences of domestic abuse. One part scathing critique of American culture, one part joyful celebration of life.
Queens of Geek
By Jen Wilde
This book is a fun, feminist love letter to geek culture, told through the accounts of three friends and two love stories. It is about fandom, friendship, and finding the courage to be yourself. Whilst an immediately familiar genre on the one hand, in this love story the characters are anything but vanilla. The trio are nerdy, anxious, smart, self aware, queer and super into cosplay!
Additionally, the broader intersectionality at play is really refreshing, considering the predominantly hetero, white (vampire?!) dominance of 21st-century teen genre. Still not sold? Well, there's also a wealth of excellent pop culture references chucked in which bought us a lot of nerdy satisfaction.
In Their Shoes
By Jamie Windust
We're delighted that Jamie Windust, the non-binary influencer/model/activist, has released their debut book. This fantastic memoir is at times brutal, honest, heartbreaking and utterly hilarious. Throughout, his writing is witty and engaging and feels more like sharing intimate anecdotes with a long-lost friend over a bottle of wine.
Jamie recounts their experiences of growing up as a non-binary teen in a small town on the English south coast. Even now, this is a much under-represented voice in the literary world, yet the tales are incredibly relatable. Early on, they recount tales of being a teen exploring their identity at a comprehensive school, including coming out as non-binary to friends and family. Then later, Jamie shares their more recent life in London including finding their voice and embarking on a successful career as a model and influencer. Throughout, the anecdotes document a refreshing and rarely heard perspective of the trials and tribulations of navigating life living outside the gender binary.
Exciting Times
By Naoise Dolan
This intelligent, coming-of-age novel by Naoise Dolan focuses on the story of Ava, a young Irish TEFL teacher, living in Hong Kong – drawing from many of her own experiences of living in Asia as an Irish ex-pat. Ava quickly becomes entangled in a messy relationship with Julian, a rich, intelligent yet emotionally unavailable English banker.
When Julian suddenly relocates back to the UK for work, Ava meets Edith, a sophisticated, elegant Hong Konger lawyer. The two enter into an intimate relationship with Edith providing a lot of what was missing from Ava's relationship with Julian. The two relationships remain blurred, with the book charting her continually evolving feelings for both Julian and Edith.
Ava grapples with these feelings with a hefty dose of over analysis and some self sabotage that anyone with experience of being in their twenties is likely to find hugely relatable.
Girl, Woman, Other
By Bernardine Evaristo
This book is, to put it mildly, our personal favourite of the lot. Girl, Woman, Other was the well-deserved winner of the Booker Prize 2019 and we urge you to fast-track it to the top of your reading list. South Londoner Evaristo's novel follows the lives of twelve diverse characters and how they intersect. The characters are mostly women, black and British and each one tells you their story in their own distinctive voice. Chapters chart tales of friends, families and their vivid experiences of life in the capital.
The characters are authentic, complex, engaging and totally unique. Bummi is a migrant from Nigeria who struggles to settle in London after her husband passes away. Eventually, through a huge amount of hard work and determination, she establishes her own successful business.
Alma, a theatre director, tells us about the opening night of her big break at the National Theatre. Outside of work, this long-time creative is also an activist. Further, and much to her teenage daughters' embarrassment, she is totally promiscuous. She has seemingly dated half the women in London.
Other favourites include Shirley, a teacher of 30 years in a rough South London school, who tells us about her changing relationship with education and the pupils she teaches. Finally, Megan/Morgan who identifies as gender-free, who shares their journey of self-acceptance and discovery to influencer and activist.

Happy Reading.

Love, Nonchalant xx
Lastly, if you're looking for more queer reads? Check out these articles:
Last Updated on 30th November 2022 by Nonchalant Magazine