Serial Killer come Fashion Icon Villanelle stole our hearts with her killer wardrobe, and we're dying to get our hands on it.
Let's face it, this alluring assassin does not fail to get our hearts racing. Some of us want to be her, most of us fancy the f*cking pants off her. Whether that's despite, or because of her serial killer habits, is entirely up to you. And, although your deepest darkest desires about Villanelle will never come true, that doesn't mean you can't get your hands on her… outfits.
Just a little heads up, there may be a couple of spoilers in here if you've not seen the whole series, so, if you haven't started watching the latest series of Killing Eve then… 1) Why the hell not? And 2) Continue reading at your own peril.
Torturous Tuxedo
Let's start with the opening scene of the series, the Wedding. We're big fans of Villanelle's elegant ensemble. Of course, she's suited and booted in top-to-toe designer: Simone Rocha blouse, Jimmy Choo Shoes and the show stopper, Comme Des Garçons tuxedo blazer (pictured below).
However, before you go asking us where the Villanelle suit is from, we feel kind of obliged to tell you that the tuxedo jacket alone costs £1,200. And, even if you are feeling Boujee AF, it's currently sold out. But hey, here's the good news: We've picked out some high street alternatives, that won't break the bank.
Starting off with All Saints, spenny but worth it, here are some Villanelle suit alternatives.
But if you need a more budget version, H&M still does the job…
Protagonist in PJ's
This look is a particular favourite of ours because it's not too far off our current quarantine wardrobe and ticks all the boxes: comfy, stylish, practical and sexy. Just put on a pair of floral silk PJs and transform yourself to Villanelle's Velour sofa, or you know, her bed…your imagination, your choice chick. Unfortunately, the pattern Jodie Comer wears in the series isn't available anymore. But, there are many other wicked patterns to choose from the same designer brand Olivia Von Halle, like the pair we've chosen below:
But, if £400 PJ's aren't your thing, which we totally get, here's our cute high street picks below.
Death by Dungaree's
One of her more casual looks of the series, but certainly not one of her worst, was the stripy-T and baggy dungarees that Villanelle rocked while assassinating two of her victims with a piano tuning fork. Although we've not been able to track down the pair Jodie Comer was wearing in the show, here's our high street pick.
Tommy Hilfiger Dungarees are £100-£150, so we have some alternatives below…
Guilty in Grey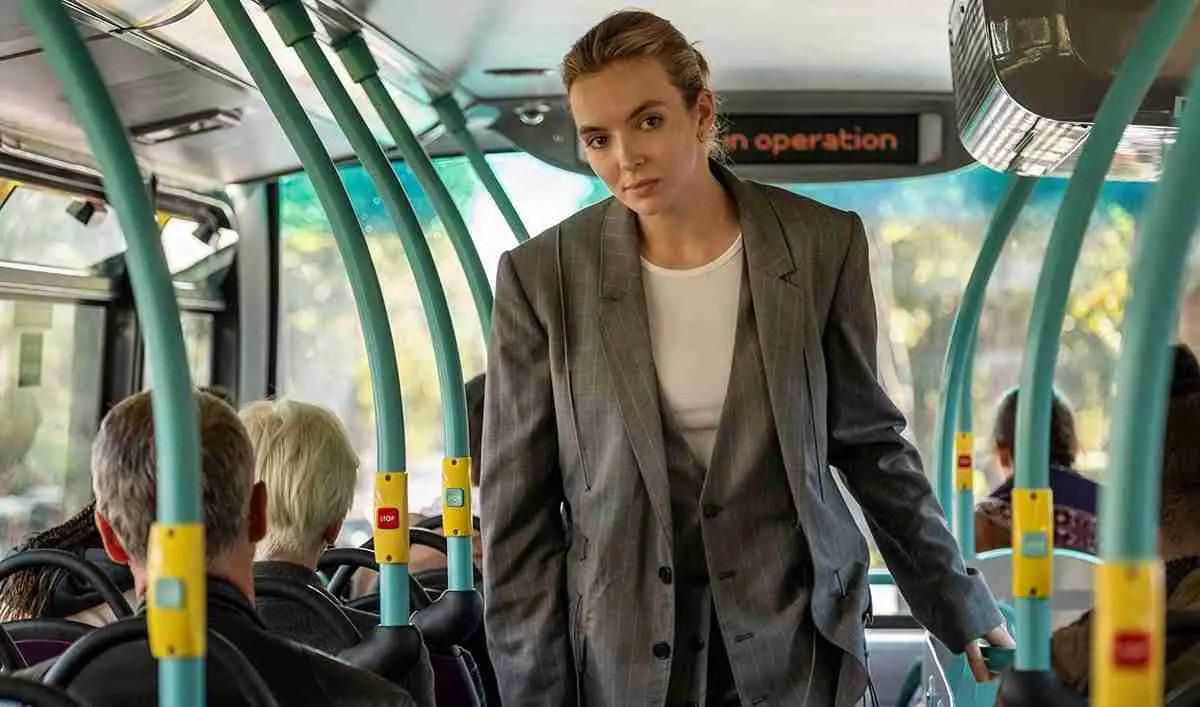 You remember the bus scene in Ep. 3 yeah? Sure you do, how could you forget? Villanelle certainly rocked that androgynous grey suit, and so can you. Well… perhaps not the exact Villanelle suit, as this Chalayan suit combined total comes in at around £600. Oh, and it's completely sold out.
But if you still want to slay in this two-piece, we've found a pretty excellent selection of affordable high-street alternatives of Villanelle suits below.
We're back at All Saints, okay confession, the below suit is working out at approx £350 (without the shoes, shirt and tie), but Jesus Christ it's nice…
If you're not sure on the All Saints option above, then COS is where it's at for suits…
Fearlessly Floral
Kid you not, this piece is actually called 'The Villanelle dress'. It was made by The Vampire's Wife for Villanelle and surprise, surprise, it's completely sold out. Keeping your eyes peeled though; who knows, by the time we're able to socialise again, it might be back in stock.
We hope you're enjoying the new series as much as us. If you're worried about what to watch when the series is over, then check out our best lesbian show recommendations.
Let us know in the comments if there are any scenes we missed and we'll track down the high street version for you.
Love Nonchalant x
Last Updated on 14th September 2023 by Nonchalant Magazine