Whether you find yourself marooned in this buzzing city-state for business, pleasure or a mix of both there is always something to do. We love Singapore and you should too! Scratch at the polished surface and this South Eat Asian Hub is teeming with colour, vibrancy and cool.
Heads up: Some of our articles are sponsored and/or may contain sponsored links, meaning we get a commission if you decide to make a purchase through the links, at no cost to you. This is how we keep the Nonchalant magic alive. We only work with brands we truly love.
Passing through? Off on a far-flung city break? Whether you're looking for love or exploring the slick, city sites with your bae, here's a list of excellent date days/ cosy nights guaranteed to ensure you leave Singapore with your heart a little more full and a smile on your face. Jam-packed with a tonne of insider, knowledge. Complied to match any style, mood or budget.
Active
McRichie Reservoir
Less concrete more jungle. Beautiful hiking trails surrounding Singapore's oldest reservoir (fun fact). You can while away for a couple of hours strolling through the scenic greenery appreciating the blissful chill and some of the local wildlife. Trails range from 3km to about 12km. They are all well-signposted so you won't get lost. If you are looking for something a little more active then you can rent boats and kayaks on the waters front. Don't miss the beautiful treetop walk. The highest trail at McRitchie. A succession of suspension bridges elevated 25 meters from the forest floor, transporting you through 4.5km of the beautiful tropical canopies.
Slap on some sun cream. Get yourselves to East Coast Park, rent bikes. Cycle up and down the beautiful coastal paths. Stop for a paddle in the sea, grab an ice cream or food. Do some more cycling. Feel great, sweat, take in the views. What a great way to spend a day. If you and your date are still feeling fresh then you can rent kayaks, wakeboard, rock climb, play beach volleyball, even complete a cheeky high ropes course, sail, run… Or, of course, picnic/BBQ and chill. BBQ pits and even tent pitches are available to rent. Perks include palm trees, the sound of the ocean and total bliss whilst watching the tankers roll in and out of the South East coast.
This beautiful little island off the North East Coast just past the airport. A two-dollar tug boat motors across the little square to this sleepy Island from dawn until dusk. It's a great place to bike and hike (mountain bikes available to rent there), loads of cool wildlife from wild boar to monkeys punctuate the scenery it's quite simply where the wild things are. If you're craving some city rest-bite this is the place. Once you've worked up a sweat you can stop off from some local tucker in the tiny beach shack restaurants. Or, on the mainland ferry side, there is an epic microbrewery too!
Little Island Brewing Co is a little slice of hipster heaven. Live music, open area terrace strew with ferry lights and a huge variety of local beer on draft which you pour yourself with their cool cashless self-service. Great pizzas, slow-cooked brisket and mouth-watering burgers are served up throughout the day and into the night.
Rave music, drinks and mini-golf. Right in the heart of Clarke Quay, perfect for some wholesome date night fun. Head down on Wednesday for Ladies Night. Buy One Get one free for ladies on all food and drink. Plus 9 wholes of mini golf and a free pink visor for each of you. You know your putting will improve exponentially with one of these freebies.
Drinks
Sitting snugly on the corner of Ann Saing Road, White Label sells vinyl by day, drinks by night. Music fans revel and rejoice. Beers are cold, cocktails are fresh and DJs spin late into the night. If you are looking for a particular jam, check out what's happening each night on their Instagram. But trust me, you won't be disappointed whichever night you pick. Events and sets include 80s HipHop, an all-vinyl line up of 90's indie and rock or… wait for it's…. UK Garage Take Over. So cuddle up in the corner with a drink and enjoy tune after tune. Sambuca anyone?
This cosy cocktail bar is a treat for all the senses. Each drink crafted to celebrate local and regional flavour.
A dreamy, almost hedonistic scent of cinnamon and turmeric greets you at the door. The friendly and talented bar staff are happy to talk you through their seasonal drinks menu including foraged ingredients and carefully curated artisan spirit combinations. Perfect spot for a pre or post-dinner drink.
Foodie
Newton is the top of the list for tourists and locals alike. If you're looking for top quality, Hawkers food this is the place for you. Vendors surround a big open courtyard serving hot, great value, fresh food all hours of the day. Hawkers centres like this are famous the world over. What started off as collections of tiny eateries where migrants were able to find a small slice of home. Now boast some of the best food in the world, some of which can be found here. (Also featured in the movie Crazy Rich Asians)
So Newton- cheap beers, casual dining, Singaporean seafood specialities. Need I say more? Try the BBQ stingray it's insanely good. Get involved with the satay or any number of the 30-50 other stalls. Sit back enjoy the hustle, sights and smells. (cash payment only) dishes and plates range from $4 to $60 SGD. The fresh seafood and fish is sold by uncooked weight they will price it up before cooking, no worries. Beers $10SGD for a large bottle.
Khansama 
Classic curry, sometimes you can't beat it and the food, OMG the food in this place. Just wow. Beautiful woman on the other side of the table and a basket of delicious naan bread between you. What more do you need for in life? Happiness starts with carbs and hotties right?
This is a great option for the veggie in your life. Try the Dal Makhani, or any of their paneer dishes. Wash the delicious food down with some spiced Chai tea. This total gem is also right in the heart of Little India and no better way to walk off a near food coma than with a wander around the beautiful bustling streets. Very reasonable, extensive menu, great customer service.
Violet Oon is Something of a Singaporean National Treasure so any trip to Singapore wouldn't be complete without a stop at one of her beautiful Art Deco-inspired restaurants. This family-run business celebrating the very best of Peranakan heritage. This celebrated Singaporean Chef and writer now have five beautiful eateries in Singapore. From the original in Bukit Timah to the latest opening in The National Gallery.
Savour the rich, authentic Nyonya cuisine and local fare at any of her restaurants. Every dish upheld to time-honoured recipes, cooked without shortcuts or compromise, and served with a hearty dose of Peranakan hospitality.
Singapore Sites
LAVO is on the top of one of the most famous landmarks in Singapore. Perched 57 floors up on top of Tower One of Marina Bay Sands. This swanky Italian restaurant and bar is a great location to sit and watch the world go by. The whole of the CBD twinkles in all its splendid is at any time of day but head there around sunset and you're in for a real treat. Happy hours run 5-7 pm where cocktails are buy one get one free. Wednesday is again Ladies night 6-9 pm $30 free flow prosecco.
Upmarket Craft Brewery boasting some of the best views of Marina Bay Sands and the rest of the bay. If you are looking to eat, make sure you book, actually book regardless, it's a pretty busy place especially around sunset on the weekends. Extensive range of beers, ales, wines cocktails and spirits. Great atmosphere and stunning views.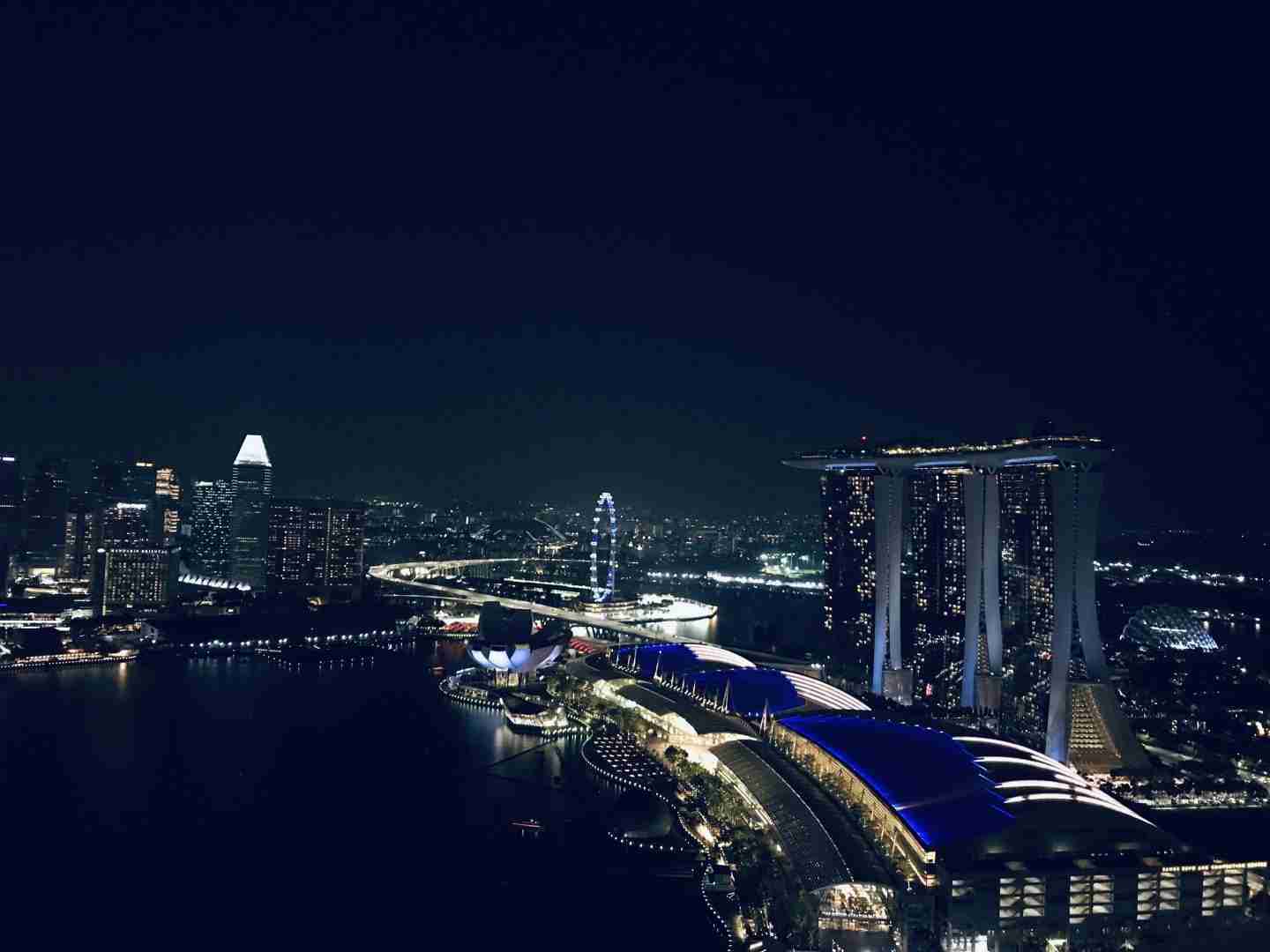 Brunch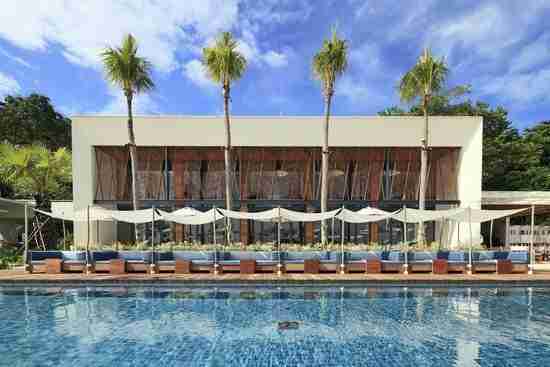 Until the last few years' Singapore's coffee game was not it's best. So let's raise a flat white it's new players like Grounded who have finally helped drag Singapore into global great coffee contention.
This light and bright eatery exudes positive vibes and great food. Alfresco dining option for the endless summer. Try the bowls, packed with colour and vitamins they will leave you full and smug with virtue. Another good option for the veggie crowd.
P.S Cafe has several locations across Singapore, and in a cafe market that is crowded, to say the very least. The fact that P.S Cafe has been around for 18 years and now onto its ninth location is a testimony to the quality and likeability of its each smart yet casual dining experience. Each restaurant has a warm ambience, great service and most importantly great food. Please don't leave without ordering the Truffle Shoe String Fries. They are Epic.
Last by no means least we have the Tanjong Beach Club. A classic Singaporean hang out on Sentosa Island. Book a day bed on the beautiful sandy beach. Watch the waves roll in. Lap up the music, have some cocktails and just chiiiiilll.
So there you have it, Singapore. Enjoy guys. Team Nonchalant xx
Last Updated on 1st June 2023 by Nonchalant Magazine