London's restaurants are FINALLY reopening; properly open, not just takeaway open or outdoor-dining-only open. Single? Grab a date. Been living together since lockdown 1? Relegate your 'daytime pyjamas' to the washing basket and get your gladrags on. Missing your mates? Round them up on Whatsapp and LET'S GO EAT!
But, I hear you say, where to start with all that researching shenanigans? Well, we've done all the hard work and rounded up some of our favourite Asian food fixes, with dishes' destinations dotted around the big smoke from a continent that packs some serious punch in terms of food culture, variety and flavour. Whatever your cravings and budget, we have an option guaranteed to provide you and your crew with some fresh and seriously tasty food.
Location: Old Spitalfields Market & Soho
Price: Cheap eats at under £10 per person.
This traditional Chinese breakfast food is an explosion of taste and texture. We have no idea why this street food isn't more widely available outside of China! Luckily for us Pleasant Lady, with trading stalls based in both Old Spitalfields Market and Soho, sell an authentic version of the savoury crepe. This street food delight is made from a wheat or mung bean-based batter spread perfectly around a circular hot plate and egg wash. Once bubbling, the pancake's surface is covered with a sweet and spicy chilli paste, then filled with a crunchy, deep-fried wonton wrapper and optional egg or pork, and finished with fresh spring onions, coriander and sesame seeds. The outcome: a moorish, fresh, heartwarming and slightly spicy taste explosion – perfect at any time of day.
Menu must haves: Jian Bing Original Veg (Vegetarian)
Location: 171 Holloway Rd, Highbury & Islington, London N7 8LX
Price: A very reasonable £9-£13 per bowl of steaming hot laksa.
Laksa. In our humble opinion, no Asian food list would be complete without this Malaysian or Peranakan (Singaporean) spicy noodle soup, and Sambal Shiok's version is a winner. Malaysian chef Mandy Yin did the rounds on London's foodie pop up scene, before setting up this awesome stylish eatery on Holloway Road in 2018. we loved her veggie laksa, which is quite simply outstanding. A steaming hot bowl of happiness, heat and colour.
Menu must haves: Standard laksa (vegetarian). Vegan laksa. Sambal prawn rice bowl.
Location: 117 Benwell Rd, Arsenal, N7 7BW
Price: Reasonable £10-£12 per giant bowl of belt strap noodles.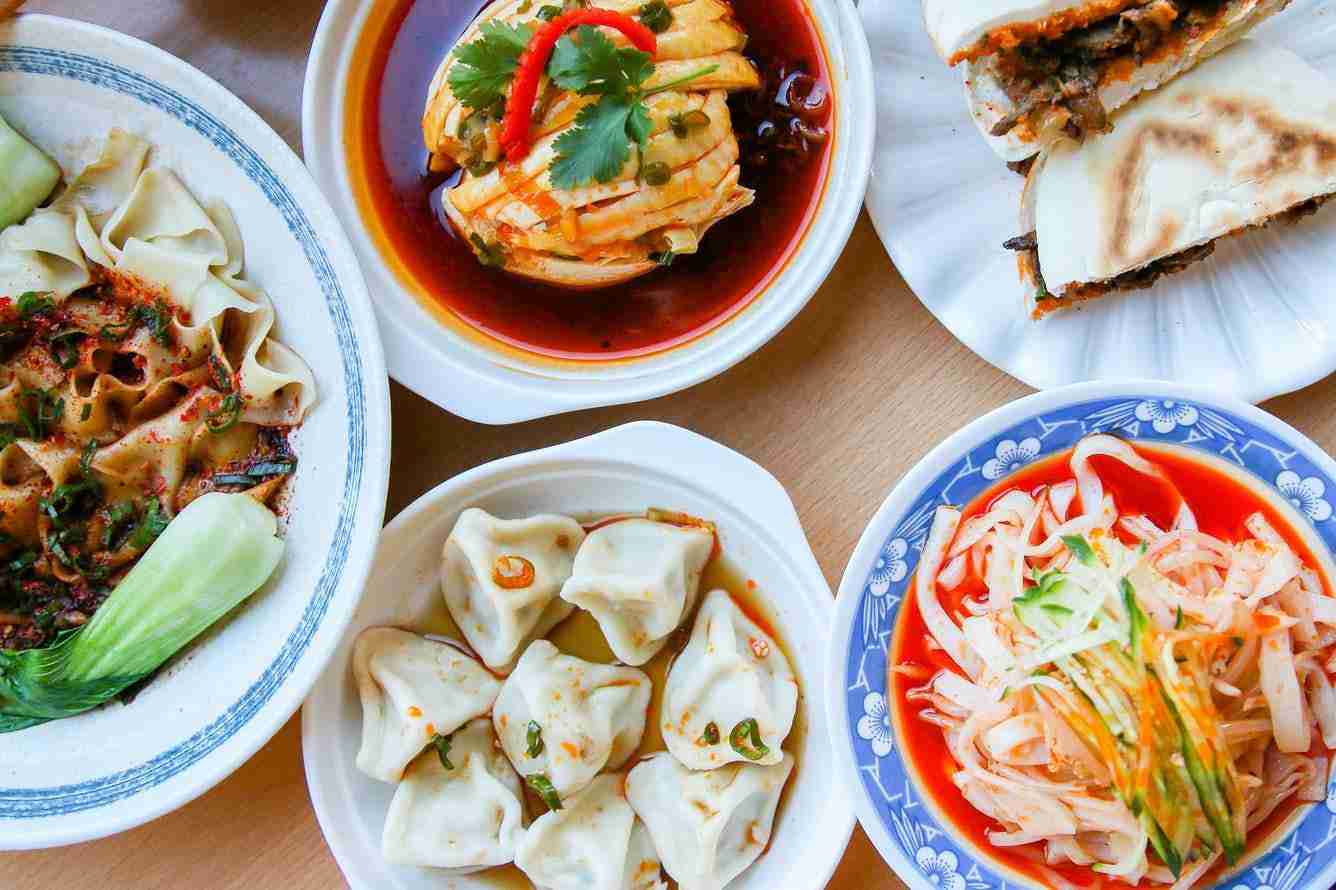 Another North London fave of ours is Xi'an Impressions, one of the first places we want to return to. Their Biang Biang noodles are the best we have eaten outside of China. For the uninitiated, these are homemade, 'belt strap' thickness noodles, named after the 'bang bang' noise made when they are masterfully slapped against the counter to stretch them out to over a metre long. Don't believe us? Go catch a glimpse. A hearty, spicy yet numbing (that will be the Sichuan peppers working their magic!) pile of goodness which goes well with a side of the 'smacked cucumber'. Perfect before or after a few outdoor beers with your mates in Highbury Fields.
They also have some great, refreshing cold noodle dishes if you are looking for something a little lighter. We know that Chinese cuisine is not synonymous with healthy and light dishes, but this is a real oversight of the analogised versions of the Chinese dishes most commonly available across the UK. Xi'an Impressions serves up more traditional Shanxi style food and if you are yet to try this Northern Chinese style food, trust us you are in for a treat!
Must haves: (腊汁肉夹馍) Xi'an pork burger with chef special sauce, (西安凉皮原味) Xi'an cold noodles. (Vegan) (西安油泼面 ) Xi'an biang biang noodles in special chilli sauce (Vegan), Smacked cucumber (Vegan)
Dosa: Chettinad Restaurant
Location: 16 Percy St, Oxford Street, London W1T 1DT
Price: Reasonable £6 – £13 a dish
We know what you are thinking. Who knew there were so many different and delicious styles of pancakes available around the world, aren't they just the preserve of Shrove Tuesday and those random little crepe stalls? Well, call these what you like – dosai, dosa or dose – these South Indian, super thin, crepes are both delicious and Instagrammable in equal measure. They are also the perfect, buttery vehicles for all the dipping. Chettinad Restaurant is a self described no frills, no fuss, laid back eatery that is all about bringing the authentic, traditional flavours of Tamil Nadu (South India) to Central London.
Menu must haves: Onion Rava Masala Dosa (Vegetarian). Paneer Dosa
Location: 767 High Road, Leytonstone, E11 4QS
Price: Reasonable £2.50 -£5 per dish for DimSum £8- £12.50 for mains
There is a hell of a lot of bao and bun hype happening in London right now, with M&S food even in on the game. So, here at Nonchalant we couldn't possibly compile a list of our favourite Asian food without including some epic Hong Kong-style dim sum, and oh boy does Panda DimSum nail that brief. This local eatery serves up steamer after steamer of delicious dim sum with a few other Chinese dishes available to complete your order.
Menu must haves: Pork Cha Siu Buns, Pork & Prawn Siu Mai, Dry-fried GreenBeans, MaPo Tofu (Ask for veggie/vegan options)
Location: Surrey Quays Shopping Centre, Redriff Road, SE16 7LL
Price: Reasonable Cheap eats at under £10.00 per roll.
Banh Mi. For those who haven't seen the legendary Anthony Bourdain Vietnam episode, what can we say? They are basically the perfect food at any time of day. This is an unassuming sandwich, with its French baguette style exterior, dating from French colonisation of Vietnam, typically filled with pork based (or for veggies egg) pates and with a pile of fresh salad and coriander crammed in. What's not to love? Bahn Mi Bay is a family run, mini-chain of Vietnamese eateries dotted about the city, and each sandwich is lovingly prepared with a range of fresh ingredients. The taste will transport you back to the backpacker trails of Vietnam, leaving the memories of the dazzling Asian sites, sounds, tiny plastic chairs and bia hoi swirling round your brain.
Menu must haves: Banh Mi Tau Hu (Vegan Tofu), Banh Mi Thit Bo Nuong (Grilled Lemongrass Beef), Banh Mi Dac Biet Bay Special (Pate, spiced pork and pork roll)
Ramen: Bonedaddies
Location: Soho, Bermondsey, Bond St, Old St, Victoria & Putney
Price: Reasonable £11 – £13 per bowl of ramen
Menu must haves: Tantanmen 3 (vegetarian), Notkotsu (vegan), Yuzu Tonkotsu
Bonedaddies really do know how to nail their ramen – the classic Japanese noodle soup. The layers of flavour and texture in their beautiful bowls are just so, so satisfyingly tasty and have led to a small cluster of restaurants opening across London in recent years. This hipster outfit are not mucking around; they take serious pride and care to craft each element, ensuring the result is a mouth watering, rich, umami flavoured broth synonymous with the Japanese dish. We feel that they have earned their way onto this list, especially as their vegan dishes are just as great as their meaty counterparts.
Okonomiyaki: OKAN
Location: Unit 39, Brixton Village, Coldharbour Ln, London SW9 8PS
Price: Reasonable main dishes under £10
Just one more pancake style dish, we promise. Our last, but by no means least pancake pick is okonomiyaki, the Japanese dining option hailing from Kansai or Hiroshima. This dish is made from a savoury batter mixed with a range of different ingredients, which is then fried and finished with a sweet, tangy sauce and Japanese mayo. The name comes from the Japanese word 'okonomi', meaning 'how you like', relating to the choice of fillings then available – though it is most commonly filled with shredded cabbage, seafood or meat. Brixton's Okan is the perfect venue to enjoy this delectable savoury treat, as the restaurant is tiny but perfectly formed, making for a very intimate dining experience.
Menu must haves: Okan Special (prawn, squid, kimchi and sweetcorn)
Location: 15 Goulston Street, Shoreditch, London, E1 7TP
Price: Cheap eats at £6.50 -£8.95 per satay set
A little controversial option here, as this is not satay in it's true Indonesian form and describes itself as 'Thai inspired'. However, we felt the delectable, authentic SE Asian street food flavours were in abundance and Satay Street Cafe has been serving customers at East London's foodie markets for just shy of 15 years, so we feel it is worthy of a mention. Our favourite thing about their menu is how easy everything is to customise and build, personally we have a food fetish for the tofu with peanut sauce! So regardless of dietary requirements you can enjoy all the epic flavour. Note: it's very much more a lunch vibe so head out early and build your own dreamy satay inspired meal.
Menu must haves: Tofu & grilled veg, chicken, prawns with jasmine rice. Then with peanut or massaman sauce.
Location: 13 St Swinthin's Lane, Soho, London EC4N 8AL
Price: Cheap eats at £8 per bibimbap bowl
Bibimbap: One of our stand out favourites from South Korea – delicious, healthy, nutritious and oh so pretty. Big bowls of rice with all sorts of excellent toppings that range from crunchy to spicy and everything in between. Bibimbap in Soho beats out some serious competition on the London food scene. This compact little restaurant serves up some excellent bibimbap with some excellent veggie variations. Go for….one of the Bibimbaps!
Menu Must haves: beef bulgogi bibimbap or mixed mushrooms bibimbap (vegetarian)
Filipino Style BBQ & Street Food: BBQ Dreamz/ Bong Bong's Manilla Kanteen
Location: Kerb, Seven Dials Market, Covent Garden – 35 Earlham Street, WC2H 9LD
Price: Reasonable £12.50-ish a main.
Filipino food is sadly overlooked and underrepresented on the global stage. We back Bong Bong's Manilla Canteen to change that. This foodie market favourite is building on its success with a permanent location at Kerb in Seven Dials Market, with food that will have you longing for a trip to the Philippines. Really working all the fresh, zesty and fragrant flavours from Filipino favourites, incorporating them into moreish and exciting dishes. If you are new to Filipino cuisine, there is really one important thing to say. It is delicious!
Menu must haves: Adobo glazed cauliflower (vegetarian). Satay curry with peas and jasmine rice. Crispy Pata pancakes & calamansi sorbet.
If you liked this article why not check out the other articles on restaurants and food and drinks.
Love Team Nonchalant xx
Last Updated on 1st June 2023 by Nonchalant Magazine