Are you in search of an alcohol free date night idea? Well we'd like to intro you to Coco Grill and Lounge, a completely alcohol free restaurant, with delicious food and redemption cocktails.
Heads up: Some of our articles are sponsored and/or may contain sponsored links, meaning we get a commission if you decide to make a purchase through the links, at no cost to you. This is how we keep the Nonchalant magic alive. We only work with brands we truly love.
It's January, and although we would be lying if we said we were partaking in dry-Jan (don't judge us, we do sober October okaaaay!), we decided to check out Coco Grill and Lounge, an alcohol-free restaurant with the most epic views of Tower Bridge. To be clear, there is absolutely no alcohol options on the menu at all, and this establishment does not allow BYOB (bring your own booze). It really really is an alcohol free experience. So if you are doing dry-Jan, or you're a sober queen (respect to you hun) this place is worth checking out. It's a stones throw away from London Bridge station, with incredible views by the Thames so makes for a great date spot too.
Read on as we tell you all about the non-alcoholic cocktails and "booze" we tried out, along side some very delicious food.
The Non-Alcoholic Drinks: What We Tried
Before we get on to telling you what we tried out, we must say that Coco Grill and Lounge are known for their stunning collection of non-alcoholic cocktails. From Daiquiri's through to Martini – they have all the classics in non-alcohol format. Plus, the staff put on extra special displays including dry ice and plenty of pretty decorations.
We tried the Royal Spirit Dakari and the Amaretti Sour from the long list. Both lovely and sweet, and they do make you feel like you're drinking a cocktail – regardless of the lack of alcohol in them.
On top of the large amount of non-alcoholic cocktails on the menu, they also have alcohol free wine and champagne. We just had to try the Merlot red wine, being wine lovers ourselves. We were both pleasantly surprised by the taste. It does make you feel like you're having something special with dinner, however you of course don't get the buzz of the alcohol. Our only criticism here is that the bottle of red wine should have been served at room temperature, being "red wine" after all. The redemption cocktails (the special ones) and mocktails are priced between £10 – £12.50 each. Bottles of wine are £28 per bottle, and they even have a £150 bottle of alcohol champagne on the menu – if you're feeling extra bougie.
If you don't need to mimic alcohol then they have that covered too with milkshakes, soft drinks, hot drinks and herbal teas.
The Food: What We Tried
CoCo Restaurant London Bridge Menu
The menu consists of an array of Anatolian dishes, including steaks, burgers, mixed grills, and lots of side and starter options. They also cater for veggies and vegans too – phew. To start we tried the Slow Cooked Duck Tacos, Glazed Cauliflower and as a recommendation from our lovely waiter, we also tried the Crispy Spiced Shrimps. Our favourite was the Duck Tacos, but it was hard to choose as all three plates were super moreish. We were also glad we took the recommendation from the waiter, as the Shrimps come with a visual display of dry ice, which makes for an epic Instagram story, gotta keep those 212 fans happy. Jokes aside, it is a lot of fun and makes the experience even more interesting.
Talking of Instagrammable, we'll tell you more about the atmosphere in the next section but first, on to the mains. We tried the Black Cod, the Mixed Coco Shish, with mains with a Kale Apple Salad and Coco Rice on the side. All portions are huge, and especially any shish dishes, these should defo be shared. The code is a highlight for sure, but we regret not trying the steaks.
Lastly, the desserts. We have no idea how we managed to have desserts as we were super full, but as you do, we found the space. We tried the Lotus Cheesecake and the Coco Brownie.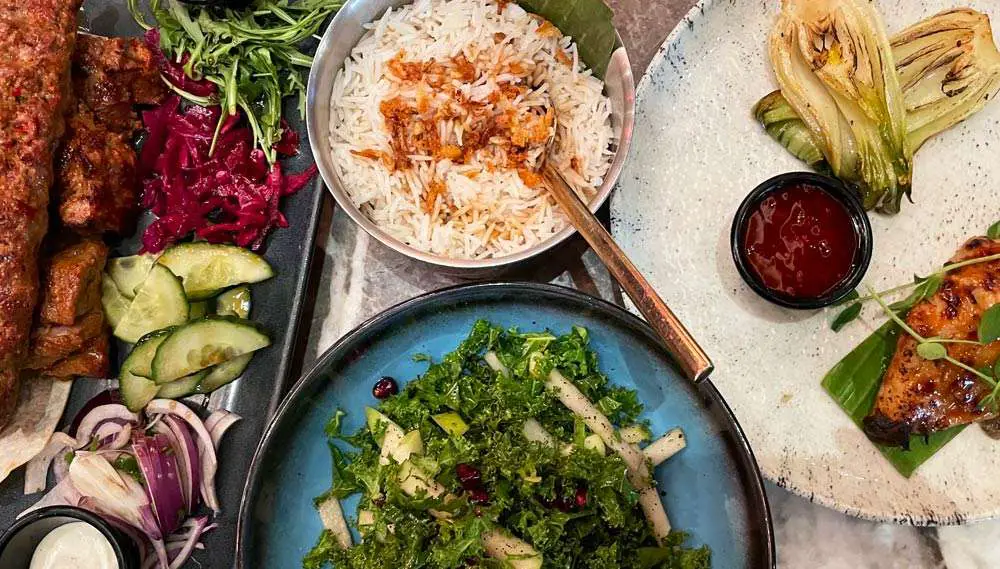 The Atmosphere
The whole experience and restaurant is an Instagrammers heaven, and potentially verging on the Gen Z heavy side but fun all the same.
Walking from London Bridge to the venue is approx a 15min walk. The walk is stunning with the Tower Bridge lights and gorgeous views of the Tower of London. As you approach the restaurant, it's light by outside fire heaters, with people smoking shisha pipes in the outside lounge area. We should mention at this point that you can also book the shisha lounge too.
With faux flowers all along the ceiling, a dark interior and a sprinkling of neon lights amidst the walls, it's a cosy and cool atmosphere. As we've mentioned above, there's no doubt you'll get pictures for your Instagram and TikTok here.
Aside from the decor, they also have a DJ which makes it feel more like a party atmosphere, with the music super loud – we kinda loved this, but if you're thinking of having a deep and meaningful over your din dins – you won't get that here. We also heard through the grape vine that they have a magician on certain nights of the week, fun.
To Sum Up
All in all, we really enjoyed the drinks, food, and experience. We both felt that it was a relief to not have the temptation or pressure to order alcohol – that decision is truly taken away from you. It's an Instagrammers dream, so if that's your bag, then you'll be super pleased and you'll get all the neon-filled content for a month's worth of posts. If it's not your bag however then you'll at least love the food and music.
If you visit, let us know your thoughts by commenting below.
Much sober love,
Team Nonchalant x
Last Updated on 21st August 2023 by Nonchalant Magazine