Every now and then a film bestows on its spectator the magical sensation of experiencing something previously unsatisfied. A feminist gem among glorious films of the past, Desert Hearts (1985) is a love story about two women. It was made and directed entirely independently, on a self-financed shoestring budget, by a woman. Based on Jane Rule's 1964 novel of a similar title, Desert Hearts is the queer women's film you didn't know you needed.
Heads up: Some of our articles are sponsored and/or may contain sponsored links, meaning we get a commission if you decide to make a purchase through the links, at no cost to you. This is how we keep the Nonchalant magic alive. We only work with brands we truly love.
This professor-come-cowgirl romance is set against the dusty blue skies and country landscapes of Reno, Nevada in the late 1950s. Straight-laced English literature professor Vivian Bell (Helen Shaver) comes from New York to the ranch. She is in a high-and-dry period of her life, in which she awaits her divorce papers. Her stiffly refined sensibility in the wake of her failed marriage implies she is bereft of spontaneity and the pursuit of desire as she tries to make ends meet as an alternative to an uninspiring marriage.
Meanwhile, between interrupted gazes and surprising moments of intimacy, Viv unexpectedly flickers into her true self in the company of a free-spirited young woman named Cay (Patricia Charbonneau). Cay's fervour and spriteliness humanise Viv to blossom into a younger, happier form of herself.
A love story ensues, and yes – it has a happy ending.
No spoilers, though, except for that one.
The unmentioned character in the movie is the incredible soundtrack. It works hard to displace you and drop you into a timeless romance such as this one. The film opens with Patsy Cline's 'Leavin' On Your Mind' during the scene of a train pulling up to the station in dusty Reno. Modern technology leaves our minds. The smells of oiled machinery, freshly printed newspapers and smoky bars take its place. We pull up a chair and enter 1959, embedded in the anticipation of this story.
Viv
We first meet Vivian in her two-piece tailored suit stepping off the train. She is picked up by Frances (Audra Lindley) the ranch owner, with whom she makes small talk as they drive through the desert landscape. Viv's voice is raspy, grainy and restrained. This contrasts with Frances' wild-hearted and unconventional denim-wearing daughter, Cay, whom we meet on the road only several moments later, making an explosively heightened entrance into Viv's world.
Some lesbian film tropes teeter on the surface. A professor, an age gap, an oppressive context, a failed marriage and so on. This film, however, appears to execute them with better responsibility than many of the modern films of this kind that follow it. Heterosexuality obnoxiously flirts at the edges, taking heed to interrupt these women at any moment. A man at the bar, a suggestive comment or a dismissal said under one's breath. They do not succeed.
Desert Hearts draws many parallels in aesthetic and theme to Carol (2015). It even shares some of the styles and fashion of the protagonists. It almost seems as though Desert Hearts might be the country precursor to Carol. Or a lesbian blueprint to Thelma and Louise (1991). Perhaps it idyllically sits somewhere in the middle.
Viv even vaguely resembles a tenuous blueprint to the character of Bette Porter from The L Word. Her scholarly fitted blouses and wide-leg trouser combinations encourage us to believe that she means business. Meanwhile, her astute self-control suggests a life disciplined by the preference of order. Or, at least, it harnesses the desire for us to perceive her as such.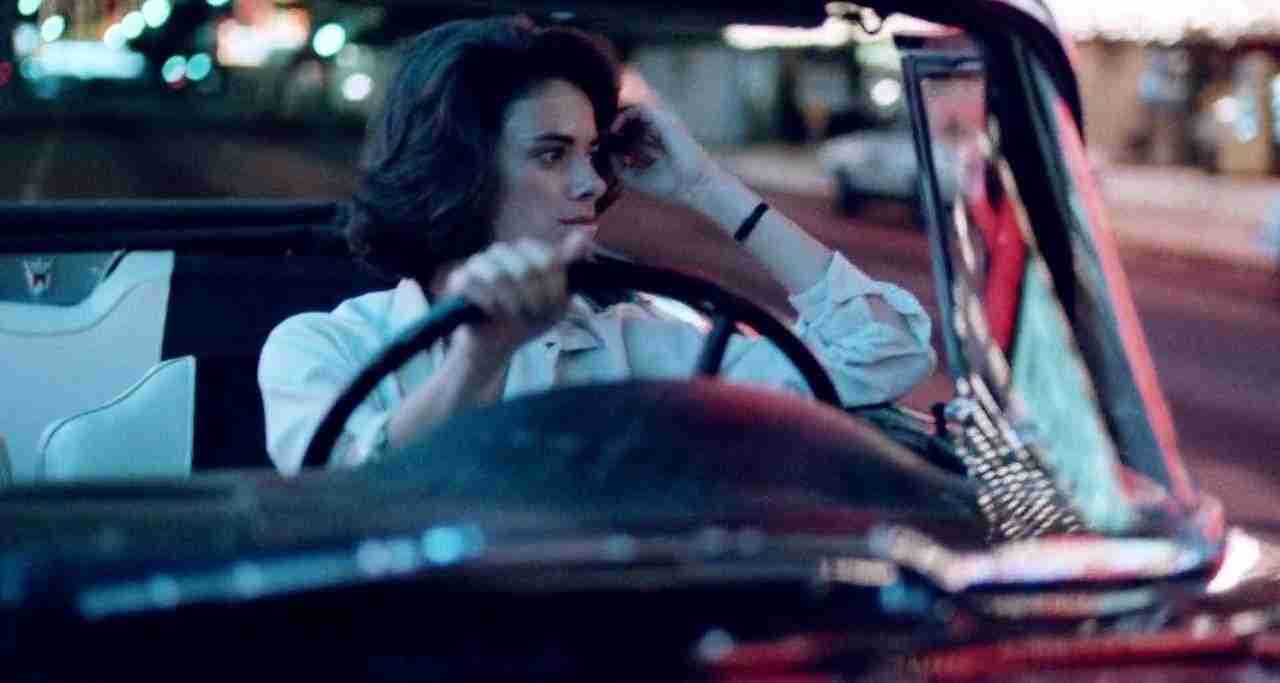 1950s Western Charm
The film portrays beautiful mid-and long shots capturing the dusty country landscape in which these women interject and shapeshift into an unfolding and alluring romance. Among the sultry charm of 1950s interior décor, tendrils of cigarette smoke in cafes, bars and living rooms, matador blouses and jukeboxes, these two women set up a string of lights in one another's hearts. At this time, lesbianism was considered to be an unnatural behaviour in the US. Proximity to such antics could 'get people talking' and bring shame upon one's reputation.
The script is punctual, sharp and rhythmic with culturally specific phrases in southern drawls that lay on thick like honey or come as a warning to sling your hook. This creates a symbiosis with the western backdrop and the game-like romance that brews between the two women, and its dismissive or discerning spectators.
So, have you ever yearned for a nostalgic cowgirl western with lesbian protagonists to pull at your heartstrings? While driving sexy cars in beautiful, aesthetically pleasing scenes? This magical film is your answer. And what's more, it would be perfect for date night… For more date-night-in watching suggestions, click here!
Enjoy! Love Nonchalant x
Last Updated on 1st September 2021 by Nonchalant Magazine