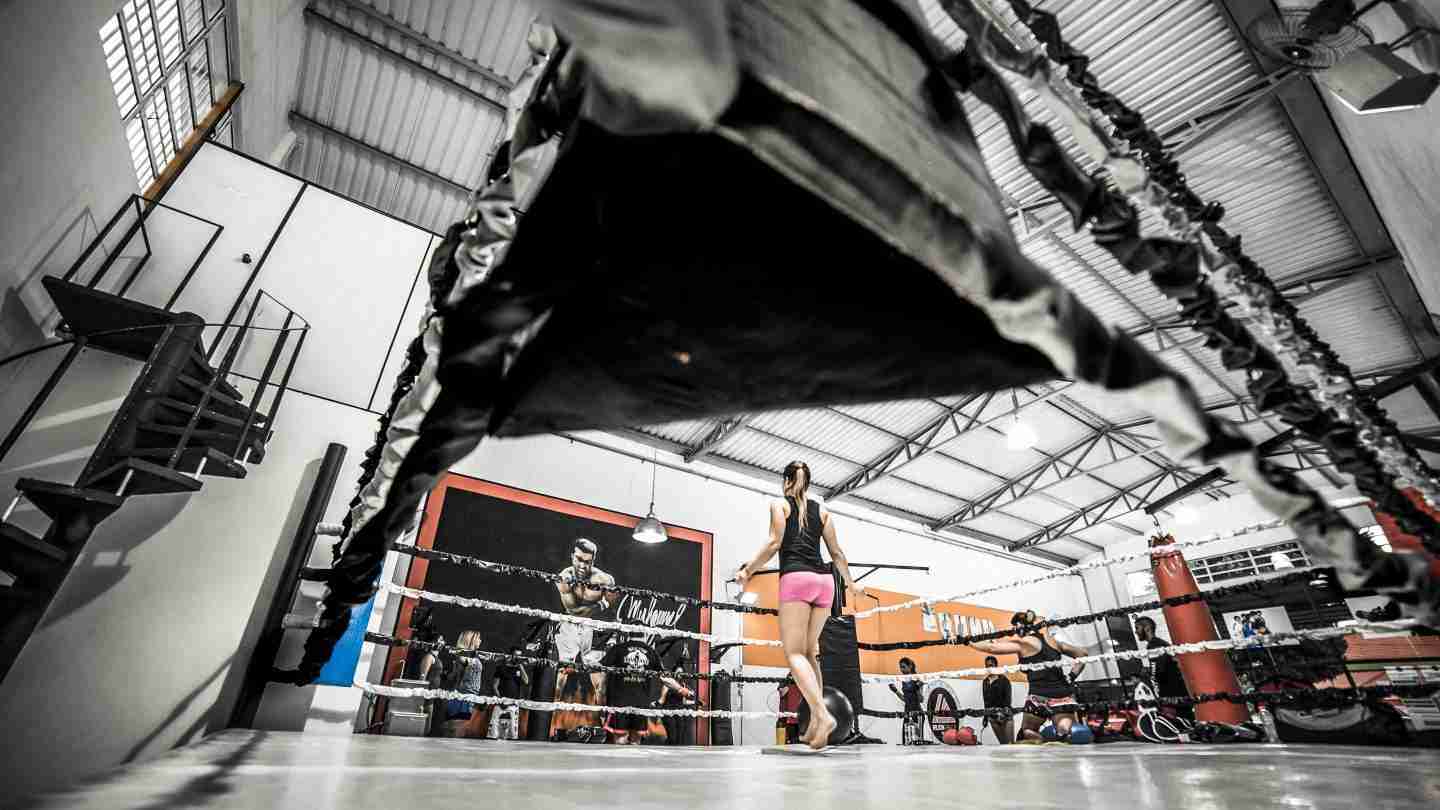 Fed up with the boring gym classes? Find yourself doing the same thing at the gym every time. Good news sweetheart, we've found the very best boxing & kickboxing classes in London for women (well… both women-only and mixed classes) to provide some fitness inspiration for you, because no one really wants to run on a dry treadmill for hours. Beating the crap out of a punching bag sounds like a much better way to slip into that summer bod. Read on to discover women's boxing London classes, self-defence and women's kickboxing in London too.
Heads up: Some of our articles are sponsored and/or may contain sponsored links, meaning we get a commission if you decide to make a purchase through the links, at no cost to you. This is how we keep the Nonchalant magic alive. We only work with brands we truly love.
Both boxing and kickboxing classes will have you sweating buckets through an intense cardio session, and provide a great opportunity to relieve any pent-up stress we've stored away – POW POW.
We've chosen classes from all over London – follow the links for more information on prices and timetables. Check them out below, we have a mix of women's boxing classes and kickboxing too.
Women's boxing classes in London
Miguels Boxing Gym
Railway Arches, 261-262 Hardess St, Brixton, London SE24 0HN (Brixton)
A mixture of mixed classes and women-only classes to choose from. The women-specific boxing classes are for beginners, and they offer one-on-one training, diet plans, and circuit classes.
Women's Boxing Classes
By Marianne 'Golden Girl' Marston
PT Workspace, 87-89 Shepperton Road, Islington, N1 3DF
Classes and one-on-one sessions for beginners and intermediates. Designed to teach you about the art of boxing (not like the classes at your gym), you will also get a full workout with conditioning and cardio.
All-Stars Boxing Gym
576 Harrow Road, W10 4NJ (Ladbroke Grove)
Female-only boxing classes, muay Thai, kickboxing & personal training options. Super cheap too!
The Martial Arts Place
TWO VENUES – Swiss Cottage Dojo 88 Avenue Road, London NW3 3HA (Swiss Cottage)
Stoke Newington Dojo Unit 2 Victorian Grove, 35-39 Stoke Newington High Street (Stoke Newington)
The Martial Arts Place teaches a form of kickboxing called Mo-Gei-Do – meaning 'The Way of No Boundaries'. This combines European and Eastern martial arts including karate, kickboxing and boxing.
Don't be intimidated, these guys will make you feel welcome.
Legion Fitness
Unit 5 Transform House, 16 Wellington Road, London E10 7QF (Lea Bridge)
Women-only classes.
Have some 'me' time with our ladies-only sessions – from our qualified coaches to our center staff – no men around.
Gymbox
CLASSES: Krava Maga, Gymbox Technical Sparring, Muay Thai & Sparring, K1 Kickboxing, Gymboxing
GYMS: Bank, Covent Garden, Farringdon, Old Street, Westfield Stratford, Victoria
Pay as you go and 3, 6, 12 & 18-month membership
Offering a variety of classes and a few locations in which to do them in, this is handy for before or after work sessions.
With gym boxing and sparring, you will be coached by the best pro boxers in London, then you get to put those skills to the test in sparring sessions.
Whichever class you choose, you will be sure to get a good workout with some of the best coaches.
KB Boxing
Euston, Belsize Park, and Warren Street
This is a great company, as they also offer women's kickboxing in London. The classes are mixed classes for beginners through to black belt. You can join kickboxing, self-defence, Yoga, or Kung Fu classes. Check out their homepage… quite a few women in the video still, so be assured you will fit right in.
If boxing is not your thing, but you're looking for things to do in London, then check out our date inspiration section.
Enjoy,
Nonchalant x
Last Updated on 21st November 2023 by Nonchalant Magazine