Regardless of your relationship status, sex toys are pivotal to every queer's life however, you may feel like they are not for you and that is totally fine. Head to our article on "are sex toys for everyone? A Women's guide" to help you decide. From spicing things up to just enjoying some personal time, sometimes you want to gain pleasure from something a little different. 
Heads up: Some of our articles are sponsored and/or may contain sponsored links, meaning we get a commission if you decide to make a purchase through the links, at no cost to you. This is how we keep the Nonchalant magic alive. We only work with brands we truly love.
We're going to pre-warn you before you scroll down that this is probably not an article to read at work – unless you work with open-minded legends. In which case, scroll away. 
Let's start by talking about the clitoris. Being in the LGBTQ+ club, we can be thankful we all know where that is! As queer folk, we also know that we like to use our fingers for foreplay, teasing and touching. Who could disagree that they're a significant, invaluable asset?
Like all great things, they occasionally need a rest, or maybe need some help along. For moments such as these, we have curated a few incredible stimulators to get maximum pleasure with minimum effort. Boom!
Clitoris Stimulators
The Satisfyer Pro 2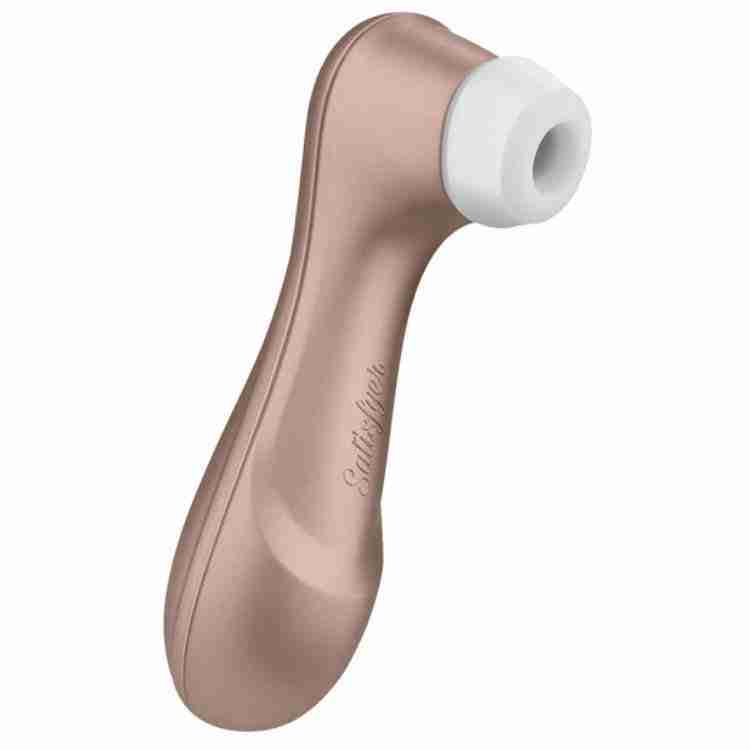 With a silicone head, innovative vacuum technology and a contact-free massage effect, the Satisfyer Pro 2 massages the clitoris using pressure waves and tingling pulsations.
Cable-free, magnetically charged and waterproof, the eleven-programme boasting Satisfyer Pro 2 is perfect for personal or shared pleasure.
Satisfyer Elastic Game 
This one is a gamechanger, folks.
The Satisfyer Elastic Game is a multifunction, aesthetically amiable, waterproofed vibrator of frankly endless possibilities. 
Silicone, beginner-friendly, and bendable to your every whim, the reviews speak for themselves. The Satisfyer Elastic Game has been deemed unbelievable, multi-orgasmic and – by one reviewer – "a sensible couple's toy." 
While we don't love to be sensible in the bedroom, we adore what makes sense – and two power engines, a ribbed end for external pleasure and a narrower, insertable end for G-Spot massage,  with over a hundred vibration potentialities – does. Over at Satisfyer, they estimate over 14 possible gender-inclusive positions, but here at Nonchalant, we reckon you can find a few more.
Whisper mode's possible for the toy, but you, we can't guarantee. 
Gold Finger from Sh!
A favourite of ours, the Gold Finger, is discreet, splash-proof and, with ten vibrations, designed to go onto your finger to stimulate you or your partner.
Finger Stimulators
Maybe the two above are a bit intimidating to those just starting out using toys.
If so, check out these finger stimulators with ribs that add extra flavour to nimble manipulations and bobbles that incite an intense tingly sensation are slightly less intimidating – but every inch as effective.
So there you have some toys that stimulate the clitoris, but maybe you want something a little more vigorous.
How about some toys where you can have some penetrative fun?
Strap-ons
Maybe you want to try a strap-on?
With a strap, what's central is the harness. It needs to be comfortable, sturdy, and easy to put on. You don't want to be faffing around in the heat of the moment, do you?
Fun Factory ShareVibe
Maybe you both want to share the love?
This strapless double dildo means either you or your partner can slip the smaller part inside you, while the longer shaft then goes into the other person, sharing the pleasure together. It also has a vibrator! Double pleasure, double orgasms. Win.
Here are the specs from Sh!
Smaller egg (3.5-inch x 1.6 diams) for a female operator to grip using her PC muscles
External shaft (5-inch x 1.5 diams) with clitoral/ perineum stimulating nub – ideal for lesbian couples or pegging partners
Removable rechargeable bullet with 5 powerful vibrating modes to stimulate both partners.
Leather 2-Strap Dildo Harness
This strap-on harness is from Sh! They are dedicated to female pleasure and on a mission to help women, and those that love them, to discover their true sexual selves, whatever their age, sexuality, health or relationship status. They know their stuff.
Handmade with love by Sh! in London, England, the leather 2-Strap Dildo Harness is top quality, best-selling leather harness with a one year guarantee.
Receiving 5-star customer reviews, it is sensual, practical, secure, and comfortable for all strap-on play. Feel simultaneously secure and sensual as the soft panel holds the dildo securely against you, and experiment with the three interchangeable O-rings supplied for different dildo sizes.
It is also one of our tried-and-tested favourites
Universal Strap- On Harness
Not being leather, this harness is a little more budget-friendly.
A simple harness ring-options for beginner to advanced strap-on play, the strap is adjustable, machine-washable and designed to fit all through UK sizes 10 – 32. The harness also features a pocket into which a bullet vibrator fits.
Now that we've got a grasp on harnesses – let's peek at the good that goes with the sensible.
Dildo wise, your choices will always be endless. We have chosen a basic one to get you started, but we recommend you have a browse yourself and find what strikes your intrigue.
Slimline Silicone Suction Cup Dildo 5 Inch
The Slimline Silicone Suction Cup Dildo 5 Inch is a smooth 5-inch, beginner-suitable silicone dildo Featuring a curved shaft for G-spot stimulation and a firm yet flexible feel. Here at Nonchalant, we promise it is an exceptional place to begin.
Feeling Kink-Friendly?
Fancy getting a bit more adventurous in the bedroom? 
With someone you trust, handcuffs, blindfolds, and the many other (seemingly endless) kink play options are a foolproof way to spice things up. 
Relax into your partner's teasing grip and just let go. Thinking about absolutely nothing other than your pleasure sounds like a solid way to waste a day or so, no?
If that sounds appealing to you, we recommend you start your research on, perhaps, an unlikely site: Etsy. Featuring a range of independent Queer retailers, you can satisfy your pleasure and support your community. Sounds pretty good, no?
So, get searching and merge the element of unpredictability with some of the many pleasure granters you'll find in this piece. Don't worry – you can thank us later. 
Enjoy yourselves all and if you think we missed something from this article then comment below.
Love Nonchalant x
Last Updated on 1st September 2023 by Nonchalant Magazine