'Live, Laugh, Lesbian' is finally here people, the half memoir, half guide, by everyone's lesbian big sister and lipstick femme-in-chief, Helen Scott. You may know Helen Scott from her hilarious TikToks, or you may have seen her hosting on BBC Radio, ITV or Virgin, and lucky for you, you can now grab her new hilarious book as it was released yesterday.
Heads up: Some of our articles are sponsored and/or may contain sponsored links, meaning we get a commission if you decide to make a purchase through the links, at no cost to you. This is how we keep the Nonchalant magic alive. We only work with brands we truly love.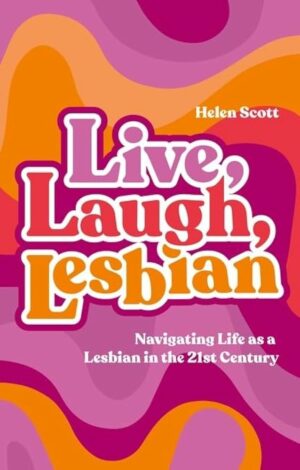 We were lucky enough to get an invite to the book launch and headed there last night which took place at 21Soho. The evening started with a welcome drink and a room full of fabulous people. The venue was decorated with an array of sparkle, balloons and glitter all in lesbian flag colours (nice touch), setting the perfect mood for celebrating all things queer and literary. From cocktails named after your fave celesbians, bubble machines, drag performances, and an artist carrying out portraits, the event had an epic vibe.
Helen Scott, rocking an absolutely stunning high-slit sparkly dress, was the star of the evening. We were chuffed to see her take to the stage to read a section of the book and carry out an inspiring speech.
Her book 'Live Laugh Lesbian' is an absolute must-read, blending humour, heart, and a whole lot of queer wisdom. Exploring common lesbian talking points such as strap-ons and navigating the phenomenon of Lesbian Bed Death, the book allows you to plunge into the highs and lows of
navigating lesbian life. If you're looking for some witty and relatable lesbian truths, then this is the book for you.
All in all, we had an epic night at the 'Live Laugh Lesbian' book launch. Helen Scott's book is a must-add to your reading list, and if you ever get a chance to attend a future event of hers, don't miss it! It's a delightful blend of queer culture, laughter, and, of course, all things fabulous.
Go grab your own copy of 'Live Laugh Lesbian' and dive into the world of queer wisdom, laughter, and a whole lot of love. It's the perfect addition to your lesbian bookshelf.
Happy reading,

Team Nonchalant x
Last Updated on 20th October 2023 by Nonchalant Magazine