The 6 Music Festival is an annual music festival hosted by BBC Radio 6 Music, a digital radio station in the UK that focuses on alternative music. The festival features a diverse lineup of artists and bands across various genres, from indie rock and electronic music to hip-hop and world music.
The festival took place this year from Friday 24 – Sunday 26 March 2023 in Greater Manchester, and we headed up north as a team to see what it's all about! If you're into discovering new music and incredible artists away from the mainstream spots, then this is truly the festival for you. Read on to find out about what acts performed this year (spoiler alert: A LOT identify as part of the queer family, win) and why you need to keep this festival on your radar for next year.
The Format
This festival is different to most. Firstly, it takes place early in the year meaning it's not like your classic summer festival. Oh no no no, you will not need any new wellies for this one. The festival takes place in a mixture of venues across Manchester, with the main hub being the O2 Victoria Warehouse, so all of the gigs are inside. Secondly, it's split across multiple days and you're able to purchase individual tickets for the specific gigs you want to attend. Smart.
This year's festival was set out to have three main gigs across Friday, Saturday and Sunday in O2 Victoria Warehouse, and clubs nights that included Indie Forever at Band on the Wall, Rave Forever at O2 Victoria Warehouse and in addition a Morning After Mix was also held at RAMONA.
The 2023 Line-up
This year's festival kicked off on Friday 24th March with performances from Loyle Carner and Wu-Lu at O2 Victoria Warehouse. With Lava La Ru and Christine and the Queens performing on Saturday night. The Sunday night saw performances from the all-female band The Big Moon. They were followed by the enchanting Arlo Parks who closed the festival with guest appearances from The XX's Romy and drummer Tom Coll. The festival also saw DJ sets from an array of artists including AFRODEUTSCHE, Erol Alkan, Daniel Avery, Don Letts, Good Future, Hot Chip, Jamz Supernova, Steve Lamacq, Tarzsa, The Charlatans' Tim Burgess, Yard Act.
Here are further details on our favourite acts from the weekend.
Christine and the Queens
Christine and the Queens is a French singer-songwriter and performer. They gained prominence with their self-titled debut album in 2014, later released in the United States as "Chaleur humaine". The album was a critical and commercial success in France, winning numerous awards and reaching platinum status. Christine and the Queens' music blends elements of pop, electronic, and R&B, and he sings primarily in French, but also incorporates English into their lyrics. In 2018, Christine and the Queens released his second album, "Chris", which was a more personal and confident record that explored themes of gender identity, sexuality, and self-acceptance. The album was again a critical and commercial success and cemented Christine and the Queens' place as one of the most exciting and innovative artists in the French music scene. In an October 2019 interview with Attitude magazine, he explained that he is genderqueer.
Christine and the Queens performed the global premiere of his new live show at the 6 Music Festival last weekend. Be sure to check it out via BBC iPlayer.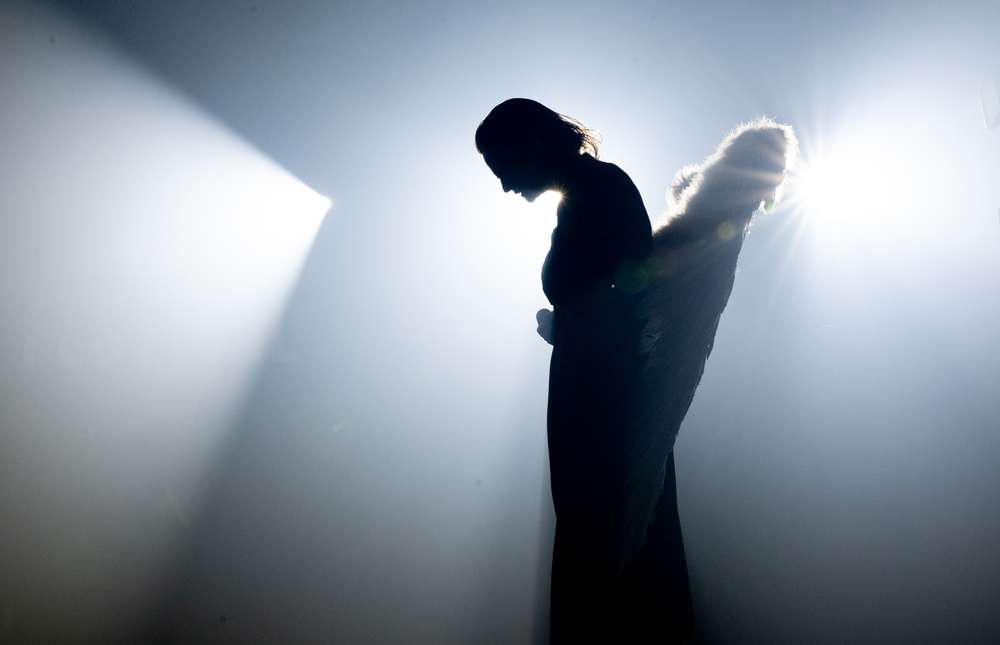 Lava La Ru
Lava La Rue is a British singer, rapper, and songwriter known for their genre-blending music and unique style.
Lava La Rue first gained attention as a member of the Nine8 Collective, a London-based music and art collective that included artists like Biig Piig and Lottie Jade. They later formed their own collective, NiNE8, which includes artists, designers, and filmmakers.
After seeing Lava La Rue perform at the 6 Music festival, it's clear that they are an exciting and boundary-pushing artist who is quickly gaining recognition for their unique sound and vision. Definitely, one to keep an eye on. According to an interview with Cosmopolitan last year, Lava La Ru has previously said that they identify as lesbian, queer and non-binary, and like to use labels fluidly (we are absolutely here for that!).
The Big Moon
The Big Moon is a British indie rock band formed in London in 2014. The band consists of lead vocalist and guitarist Juliette Jackson, guitarist Soph Nathan, bassist Celia Archer, and drummer Fern Ford. They are known for their high-energy live shows and their close-knit friendship, which has been compared to a sisterhood. The Big Moon's music draws from a variety of influences, including indie rock, grunge, and punk, and is characterised by catchy hooks, powerful vocals, and driving guitar riffs. Their lyrics touch on themes of love, heartbreak, and personal growth, with a raw and honest approach that has earned them critical acclaim.
Arlo Parks
Arlo Parks is a British singer-songwriter, poet, and musician. She began writing and performing music in her early teens, and by the age of 18, she had released her first single, "Cola", which gained attention for its soulful vocals and introspective lyrics. She has since released a string of critically acclaimed singles and EPs, including "Super Sad Generation" and "Sophie", which have cemented her reputation as one of the most exciting and promising new artists in the UK.
Arlo Parks came out as bisexual in 2019 during an interview with the music publication, The Line of Best Fit.
Her stage presence at the 6 Music festival was truly enchanting, and we left feeling like we'd just seen a very special performance. We're super excited to see what Parks does next.
Arlo Parks' performance is not one to miss, be sure to catch it on BBC Sounds.
Overall, we had an epic time attending the 6 Music Festival, and feel it's an important event for fans of independent and non-mainstream music in the UK and beyond. So be sure to check it out next year.
Enjoy,
Team Nonchalant x
Last Updated on 1st June 2023 by Nonchalant Magazine