Buckle in, readers: a new bisexual play has hit London and we think it will rock your world.
Heads up: Some of our articles are sponsored and/or may contain sponsored links, meaning we get a commission if you decide to make a purchase through the links, at no cost to you. This is how we keep the Nonchalant magic alive. We only work with brands we truly love.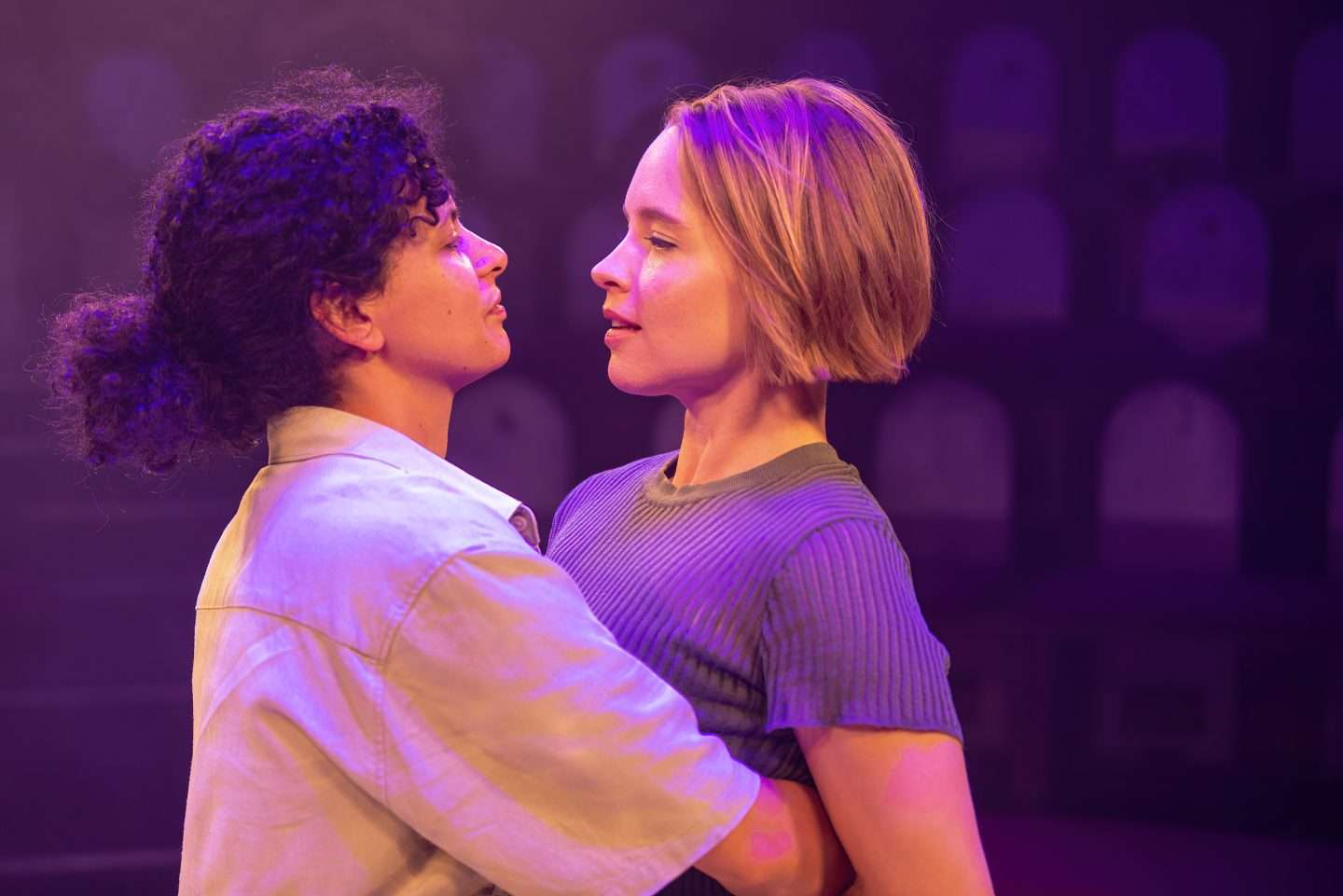 Jessica Lazar, who is behind several successful off-West End shows such as Anna Bella Eema (Arcola Theatre), and Outlying Islands (King's Head Theatre), is directing award-winning actors Jessica Clark and Rebecca Banatvala in SAP, the debut play by Raffaela Marcus.
SAP is a modern, urban fable that has its roots in Greek mythology – think The Song of Achilles meets Killing Eve. It draws inspiration from the original myth of Daphne and Apollo, the heartbreaking transformation story that compels writers to this day. SAP puts a contemporary queer spin on it and places a bisexual character at its core, all the while keeping the mythological references, the key subjects of power and passion, and the floral imagery. What's not to love?
Jessica Clark, who you might know from BBC2's Versailles or Kiln Theatre's The Wife of Willesden, was awarded a Stage Edinburgh award for her performance in the play. She is joined by Rebecca Banatvala, who appeared in RSC's Much Ado About Nothing as well as Netflix's The Princess Switch 3 – a truly versatile actor.
The play will be running at Soho Theatre's Upstairs space, which is dedicated to new writing, emerging companies, and young people hungry for brave stories and spellbinding characters that resonate with them. This was hugely important for both the director and the production company Ellie Keel: "Along the way, [the play] explores coercive control, consent, bisexuality, trauma… Nothing is dealt with superficially. It is hard-hitting, but it is done deftly and with great sensitivity."
The production is extremely audience-focussed: this specific staging takes into account people's changing viewing habits and impacted attention span, especially in a post-pandemic world. As such, it promises to be hugely engaging in its storytelling and characterisation: "A play can be as topical and worthwhile as you like, but people have to come and see it. And that means the characters have to be deeply interesting, things have to keep happening, and it has to hold our attention." We love a consciously developed piece of performance art!
SAP is running from now until 27 May, with tickets available from £13. Catch it if you're interested in exploring an innovative new writer and brilliant actors in a play all about bisexuality – and photosynthesis.
If you're hungry for more theatre, check out our review of the immersive theatre production The Burnt City.
Enjoy,

Team Nonchalant x
Last Updated on 1st June 2023 by Nonchalant Magazine