Korean Grill Kensington (KGK) opened its doors in early September, offering a unique experience for those who love to experience fine dining. KGK is the only restaurant in London to offer an Omakase dining experience. Omakase literally means 'I leave it up to you,' diners leave it up to the chef to select and serve seasonal specialities.
Heads up: Some of our articles are sponsored and/or may contain sponsored links, meaning we get a commission if you decide to make a purchase through the links, at no cost to you. This is how we keep the Nonchalant magic alive. We only work with brands we truly love.
Nestled just a few minutes walk from South Kensington Tube – to be real, you could shave it down to 90 seconds if you step to it. Once inside the restaurant instantly has an authentic aura about it. Each table plays host to a grill in the centre. You all thought BBQ season was over!? No Babes, you can still get your sizzle on. Just remember to trade your flip-flops with something slightly more blue steel to meet their dress code of smart casual. 

What we ate and drank
We went for a late lunch, a set menu for £25: We ordered the Bulgogi Sot bap a totally delicious bowl of rice and incredibly mouth-watering flavours with an egg yolk running through it. Perfect if you've just finished at the gym and need the protein hit. Or if the gym isn't your thing, trust us it's incredible and no one is here to write about the workout anyway!
We paired two set menus together also ordering the Beef Bibimbap. A Korean soup arrived seconds before the main, the table was bursting with little dishes, each a piece of heaven. Once you've finished papping your food for the gram, you'll love the taste each of the dishes provides, all complimenting each other.
You get to watch it all being made in front of you too. Who doesn't love it when you can see the food being prepared? The inner chef and curiosity of edible art in its early stages has a certain appeal about it, right? At the rear of the restaurant, one of the chefs was tinkering with his meat the entire time we were there. Get your mind out of the gutter – it's a women's queer mag for goodness sake.
The BBQ grill isn't available during lunch, which was a massive shame as our original booking was moved from an evening slot to an earlier one, with no explanation. We would hope that this doesn't happen to other guests. The disappointment was real along with the devastation of the king prawns being taken off the menu. If you are vegan, they have a set menu which looks incredible. Be mindful though, there is a lot of meat on offer and in view.
Read articles like this in our to-do section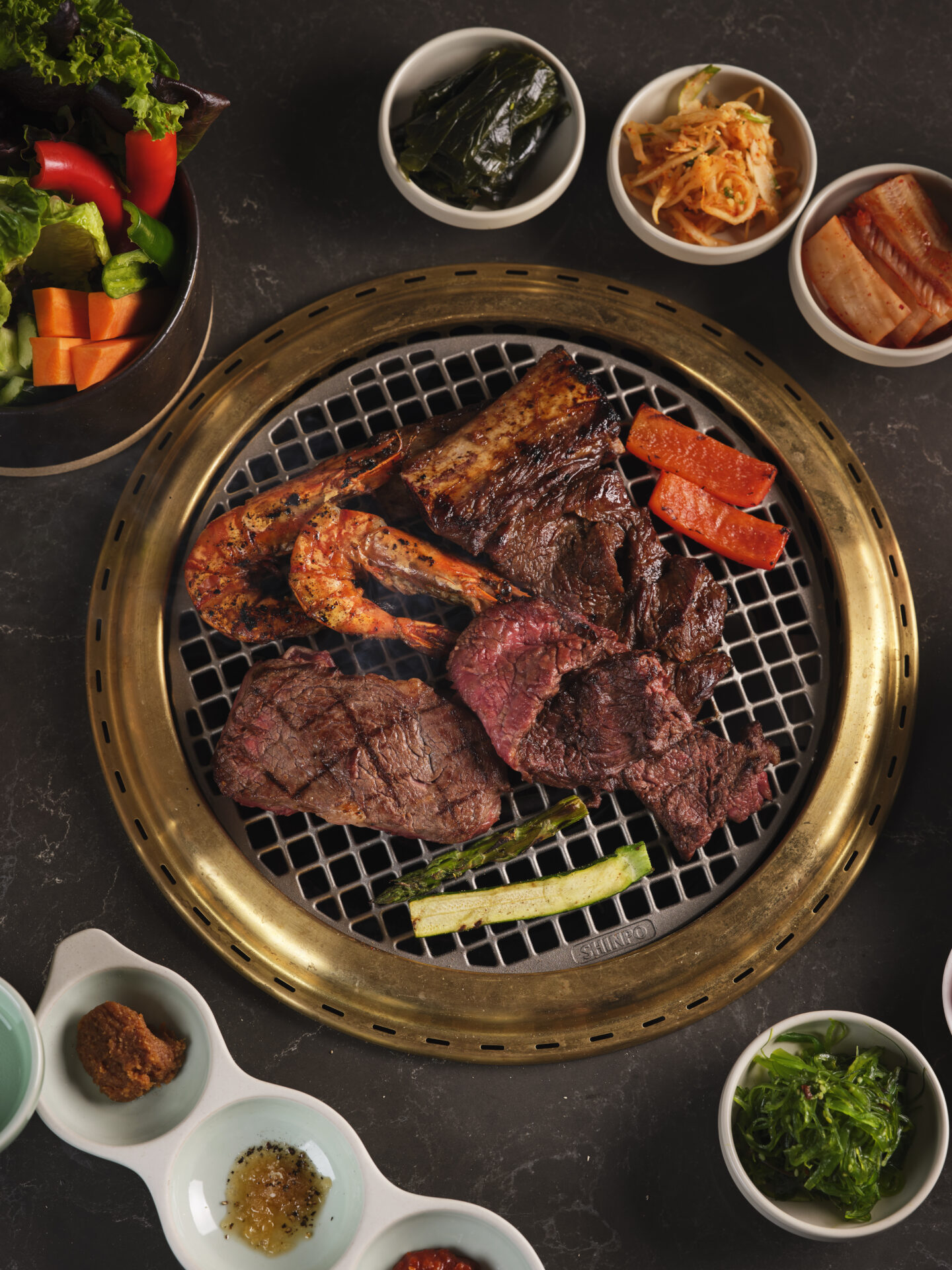 To drink, although the option for traditional Korean shots of soju was on the menu, a historical rice-based spirit made in Korea. We opted for a rose blush, sadly they had sold out of the house so we went for the Whispering Angel. It was 'Chefs Kiss', costing £60 a bottle it's quite pricy but truly was a beautiful wine. Our mindset was, you've worked hard hun, treat yourself. 
To finish the traditional dessert was our least favourite part, the presentation was appreciated however the tastes were a little 'different'. A tower of crispy puffs cereal with a sauce and some miniature biscuits to finalise the dish. Thankfully, we were already content and left pleasantly full from the mains.
The Atmosphere
KGK is quite hidden away, the interior design is slick and modern and meets traditional Korean vibes, we went at lunch so did not get to experience the space at its finest hour. Though we imagine with everyone firing up their grills the excitement and smells would create a lush dining memory for you and your crew. If you decide to take a date, rest assured the bathrooms have lovely sets of hand wash and cream, and you'd be able to scrub up nicely after impressing with your chopstick skills. It would be worth looking up your options for post-food drinks, the venue is quite small and after-dinner drink space is limited.
How it sums up
KGK definitely gets our vote when it comes to taste sensations, the meat was quite possibly the best we've ever had and the set menu felt like a lot of food and variety for its price. We felt the staff could have been a little more knowledgeable about their menu and drinks, the changes in arrival time and choice were hopefully just teething issues. Putting the focus on what they offer, it's a must from us. We'll be going back it's too scrumptious not too.
If you want to check it out for yourself book through their website. Let us know what you think.
Love Team Nonchalant x
Last Updated on 29th October 2023 by Nonchalant Magazine