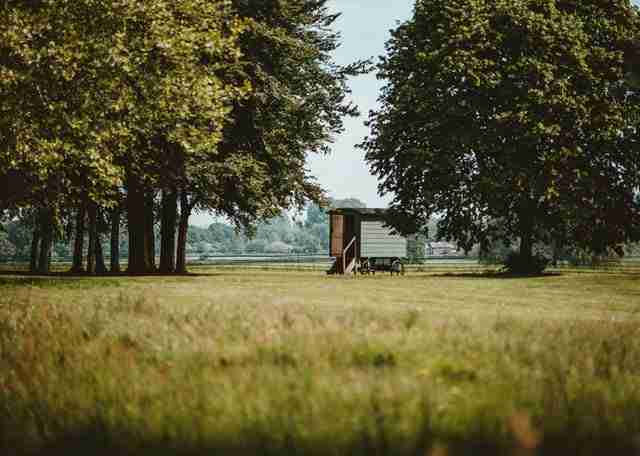 The country is opening up again and that means we can start to explore a little further afield just in time for the August bank holiday. So, whether you're looking for a fun trip with the gals, a romantic reunion getaway with your long-distance lover, or just a solo change of scene, we've got your UK staycation sorted.
Get back to nature with Welsh glamping
Never really liked actual camping? No, us neither. Thankfully, you can still get that outdoor experience with a little bit of luxury in the heart of the Welsh countryside.
If you are looking for a romantic getaway, we highly recommend getting some one-on-one time in south Wales. Under the Oak Glamping offers a gorgeous setting near Caerphilly for you to unwind. Stay in the traditional huts and keep your phone charged up with electricity throughout – you'll need it for all of the excellent Instagram opportunities.
They even offer accommodation in a repurposed vintage train carriage if you're looking for something a bit more quirky. On top of all that, if you are missing civilisation, you'll only be a short distance from Cardiff and it's shops, restaurants and bars.
You can also venture further west for some stunning hiking in the Pembrokeshire hills. You can take in some history in the Victorian town of Tenby, do some whale watching and even have a try at coasteering if you're feeling adventurous.
Cornish coastal luxury
If you are enviably sensible and have been living frugally during lockdown, why not treat yourself to a post-quarantine coastal retreat in Cornwall? With plenty of gorgeous beaches, Newquay is the ideal place to take up surfing, or work on that tan.
For some additional luxury, we recommend a stay in the over-100-year-old Atlantic Hotel. Standing above the town on it's own piece of headland, it has the best scenic views of the ocean. No excuses needed to grab a day pass to the spa and have some drinks while you reconnect with your gal pals after all this time apart.
Looking for something more hands-off? There are loads of self-contained, amazing apartments in and around Newquay from which you can still take advantage of the stunning sea views and coastal comforts, like this one.
Hop on a train to Scotland
Cities might seem a bit daunting at the moment, but they don't have to be. Especially if you're willing to invest a little more in the transport. Perfect for a solo adventure or a couples getaway, Caledonian Sleeper trains from London to a variety of cities in Scotland are about as fancy as rail travel in the UK gets.
You can relax in your own private room and maybe get some reading in or watch Netflix from somewhere other than your bed (we have some film and TV picks here and here). The Club Car is currently closed and the food hot food service is suspended until further notice, however breakfast is still on the cards and having a place to snuggle up definitely beats sitting upright the whole way. Better still, you can reserve a spot to bring your bike with you and open up a whole world of exploration once you arrive at your destination.
With many tourist spots looking towards phased reopening in August, there will still be an abundance of activities. And if all else fails, take yourself on a whiskey tasting – it's the least you deserve, hun.
Give London a go
Whether you live in London or not, there is a lot going on in the capital, even so shortly after the relaxation of lockdown. Treat yourself to a unique stay in the ZSL London Zoo lodges or a couple of nights in the quirky and affordable Qbic Hotel, and explore the city at leisure. With tourist numbers still pretty low, it's a great opportunity to see the city and visit some attractions. Museums and galleries like the Tate Modern and Natural History Museum are already on track to reopen, and this is the perfect chance to get the London experience without the crowds. Just try your best to avoid the Underground and don't forget to check if you need to book.
On top of that, if you were heartbroken by the cancellation of Pride events across the UK, we are pleased to tell you that the queer scene is really coming back to life in London. We recommend a little day drinking at the historic Royal Vauxhall Tavern followed by a vodka cranberry at She Bar Soho later in the day.
Don't forget to bring your mask!
Team Nonchalant x
Last Updated on 22nd April 2023 by Nonchalant Magazine