Hey babes, ever wondered what magazines were like for queer women in the early 2000s? Well, we're going to be delving into the Y2K lesbian world of the discontinued g3 magazine, a beloved publication that catered to queer women in the UK.
In the year 2001, two remarkable women, Lisa Knight and Sarah Garrett, embarked on a bold mission to create a magazine that would resonate with the lesbian and bisexual community.
With a humble circulation of 5,000, g3 emerged as a beacon of representation and empowerment during a time when queer voices were often marginalised. Over the years, the magazine's popularity soared. g3 reached a staggering print run of 40,000 and a total readership of approximately 140,000.
We put together some of our favourite sections from g3 editions, dated from 2004 to 2010. A vibrant tapestry of stories, interviews, and features that celebrated the diverse experiences of lesbian and bisexual women. So, grab your time travelling goggles, and let's take a closer look at what these glossy pages had to offer.
BRITNEY: Pop bitch turns DYKON
g3 was a treasure trove of exclusive celebrity interviews that queer women in the early 2000s adored.
From groundbreaking actresses like Natasha O'Keeffe in Lip Service (the British L Word), to iconic musicians like Britney Spears; g3 provided a platform for these queer-coded luminaries to share their experiences, struggles, and triumphs.
When being asked in her interview what it was like kissing Madonna at the MTV Awards in 2003, Britney responded "Who wouldn't…! I really look up to Madonna. I like her whole projection, she's sexy without trying too hard."
In this edition of g3 from November 2004, Britney was labelled a 'dykon'. We wholeheartedly agree, g3.
STRAIGHT Perceptions of LESBIANS in 2004
In this section from g3 magazine, people on the streets of London were asked about their perceptions of lesbians because of the "noticable surge of lesbians on our TV screens" in 2004.
This was the era in that representation had just started blessing the UK's telly with queer women. Shows like The L Word, Bad Girls, the Zoe/Kelly storyline in Eastenders and Tipping the Velvet that aired on BBC (which, BTW, is still a great watch).
We have a whole section on the best movies and shows to watch as a queer woman, I recommend checking them out.
24-year-old Web Designer, Adrian, told g3 that he'd "love some three way action any day!" Along with 46-year-old Inch being sure to let g3 know that she definitely wasn't a lesbian herself but loves having a drink with them. It's clear to see some things really haven't changed, eh?
I don't think we'll have you, Adrian.
Y2K Candy Bar & 'Ruby Tuesdays'
At the heart of g3 magazine lay its unwavering commitment to the community. The community section acted as a hub of information, providing readers with a dyke-rectory of gay bars, clubs, and LGBTQ+ organisations across the UK. It served as a lifeline, connecting individuals with like-minded souls and fostering a sense of belonging within a society that often marginalised their voices.
One of our favourite sections is the "scene reviews" of bars and clubs, to let all of us know where we needed to go to pull. Most editions of g3 featured the now-closed Candy Bar in Soho (R.I.P), and Ruby Tuesdays for the girls at Ku Bar.
The sections often featured a nostalgic drinks menu, with "drinks 2.00 all night (exc champs and doubles)", as well as a rundown of what you would expect on coming out to the bars. Best of all, g3 emphasised that club nights always had "lots of girls and cheap bar prices". If you ever watched the show Candy Bar Girls that aired on Channel 5 in 2011, you'll see a lot of faces on these pages that you will recognise.
Sign us up.
Y2K CLUBS, GIRLS, SCENE STYLE
A time of flip phones, low-rise jeans, and the rise of the lesbian fashion scene. It was an era that embraced bold expressions of individuality and rebellion against societal norms.
g3's 'scene style' section featured clubbing outfits from all sorts of queer women, letting their readers where they got their pieces from and gave them some inspo for the next time the girls were out in Candy Bar.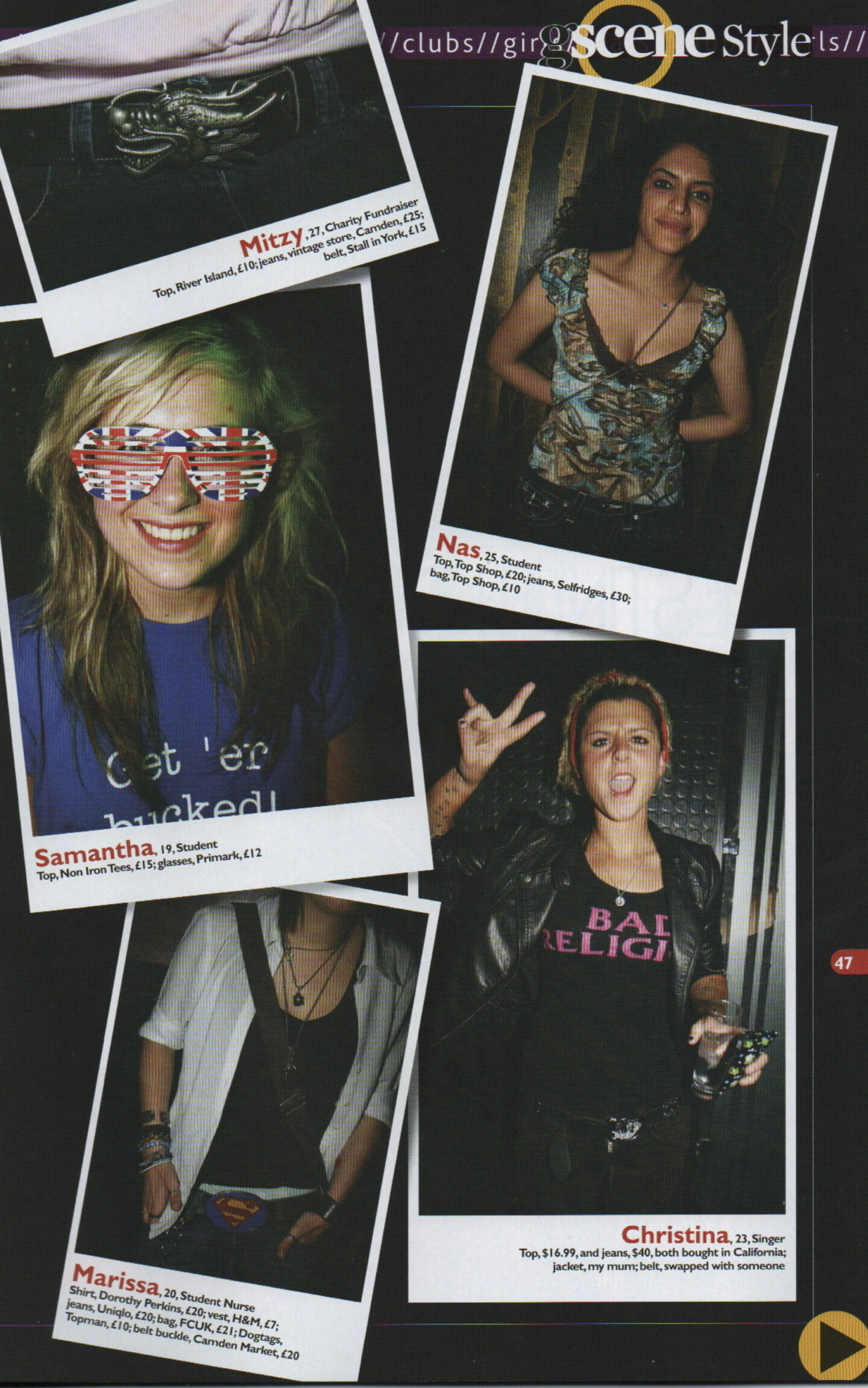 In this style showcase from 2004, g3 shows four different queer women with very different styles – all very much slaying. 20-year-old Marissa has a fit on that Y2K lesbians would die for today, and 27-year-old Mitzy's silver dragon belt buckle from a "stall in York" leaves us very envious.
Streetwear and androgynous fashion became synonymous with the lesbian fashion scene of the early 2000s. g3 showed how women embraced oversized hoodies, baggy jeans, and trainers, creating a gender-neutral style that challenged traditional notions of femininity. It was a fashion revolution that empowered individuals to express themselves authentically, regardless of societal expectations.
Y2K style is coming back in, and the lesbians are loving it.
5 WAYS TO SAY SHE'S CRAP IN BED
In the early 2000s, the lesbian community had a little something to look forward to in the pages of the g3 magazine. Among the vibrant content that covered travel, music, film, fashion, arts, and parenting, there was a section that stood out with its unique blend of cheekiness and irreverence – the Agony Aunt section.
Week after week, readers eagerly turned to this column to find answers to their burning questions, both serious and light-hearted. The g3 agony aunts were known for their no-nonsense approach, infused with a healthy dose of humor and wit. From navigating the complexities of dating to dealing with the challenges of coming out, the agony aunt offered a fresh perspective on lesbian life.
In this Agony Aunt section from 2010, Charlotte Dingle delved into "5 ways to say she's crap in bed", with one of the suggestions being to "shag her best friend". Cheers, Charlotte.
Brooke and Daria answered a query on someone who wrote in thinking her girlfriend is cheating on her. She told Brooke and Daria that "the constant giggling in the other room worried me enough to make me log into her Facebook ad have a look at her messages", and Daria responded "You only checked her Facebook? Doh! You need to check her text messages. That's where the juicy stuff will be."
While g3 magazine may no longer be in print, we can't help but feel a pang of nostalgia for the bygone era of lesbian magazines and their quirky advice columns.
The Discontinuation of g3
Unfortunately, like many print publications, g3 Magazine faced challenges in the digital age. The rise of online media and changing consumer preferences led to its discontinuation. In 2012, g3 Magazine published its final issue, marking the end of an era. The magazine's closure left a void in the community, but its legacy lives on.
Although g3 Magazine may no longer be in circulation, its impact continues to resonate. The magazine paved the way for other LGBTQ+ publications, inspiring a new generation of writers, activists, and content creators. Its influence can be seen in the representation and visibility of lesbian and bisexual women in media today.
Let us know what you think of this blast from the past by commenting below,
Love Team Nonchalant x
Feature image credits to starline, freepik and g3 magazine
All images used in article belong to g3 publications, permission given by Sarah Garrett
Last Updated on 7th August 2023 by Nonchalant Magazine