We continue our lesbian wedding series with Nat & Lindsay's epic, disco-fuelled, retro-styled, autumnal barn wedding in Essex. Nat is another one of our creative writers here at Nonchalant. Our HQ has seen a fair few weddings over the past year, each with its own personal elements and style.
Nat & Lindsay enjoyed unseasonably warm weather for their end-of-October wedding. This meant that they and their guests enjoyed their outdoor ceremony and drinks reception followed by vegan street food served on vintage 70's crockery. All topped off by taking it to the dancefloor with huge mash-ups and medleys. Their wedding band played everything from disco and soul classics to 90s girl bands VS boybands, via UK garage, R&B, 80s synthpop and a spooky Dusty Springfield interlude.
Read all about their wedding in our below interview.
Tell us how you met
We met in 2019 both living and working in Singapore. As we were super new to the city we spent our early dates exploring all the fun and adventures that Singapore has to offer. After Lindsay headed back to London for work we made the decision to see if we could make it work long distance. We knew we had something great together and weren't ready to call it a day.
Originally we thought we would be able to catch up every few weeks in person, meeting in Singapore, the UK or somewhere exotic somewhere in the middle of the 9000-mile distance. Thinking that long-distance London to Singapore sounded a bit mad but hoping it wouldn't be too bad. What was the worst that could happen?
Turns out that a global pandemic was that worst-case scenario… So with all flights grounded, borders closed and each of us on a different continent we had to embrace Zoom dates and a mad time difference. Nat managed to make it back to London for a few weeks in July 2020 but then had to return to Singapore, quarantine and a year of full border closures. This meant a whole other level of Zoom dating.
In summer 2021 Nat finally was able to make the move back to the UK, we bought a house and embarked on a reno project and put down some routes in SE London. The rest is history.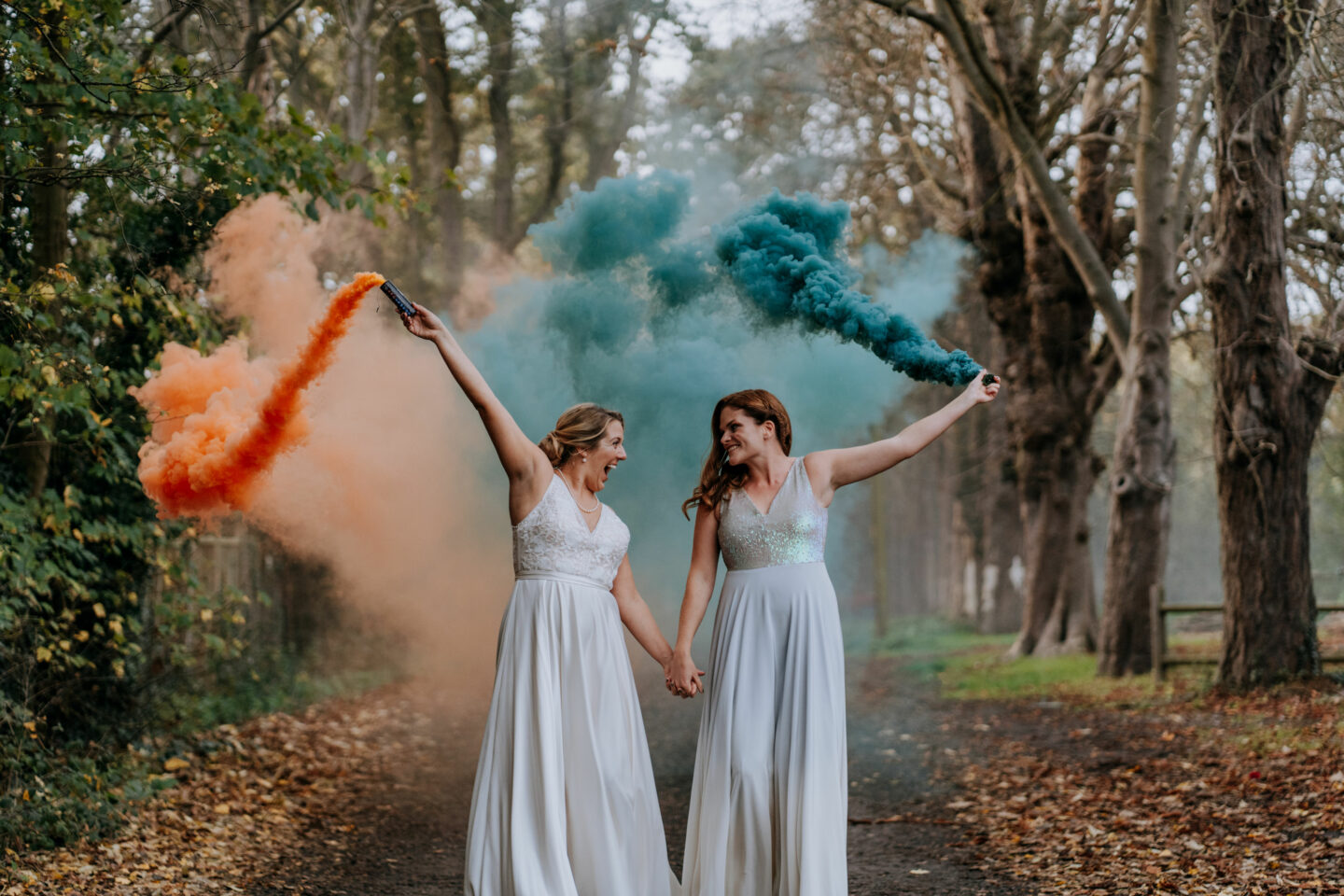 Who proposed to who and how?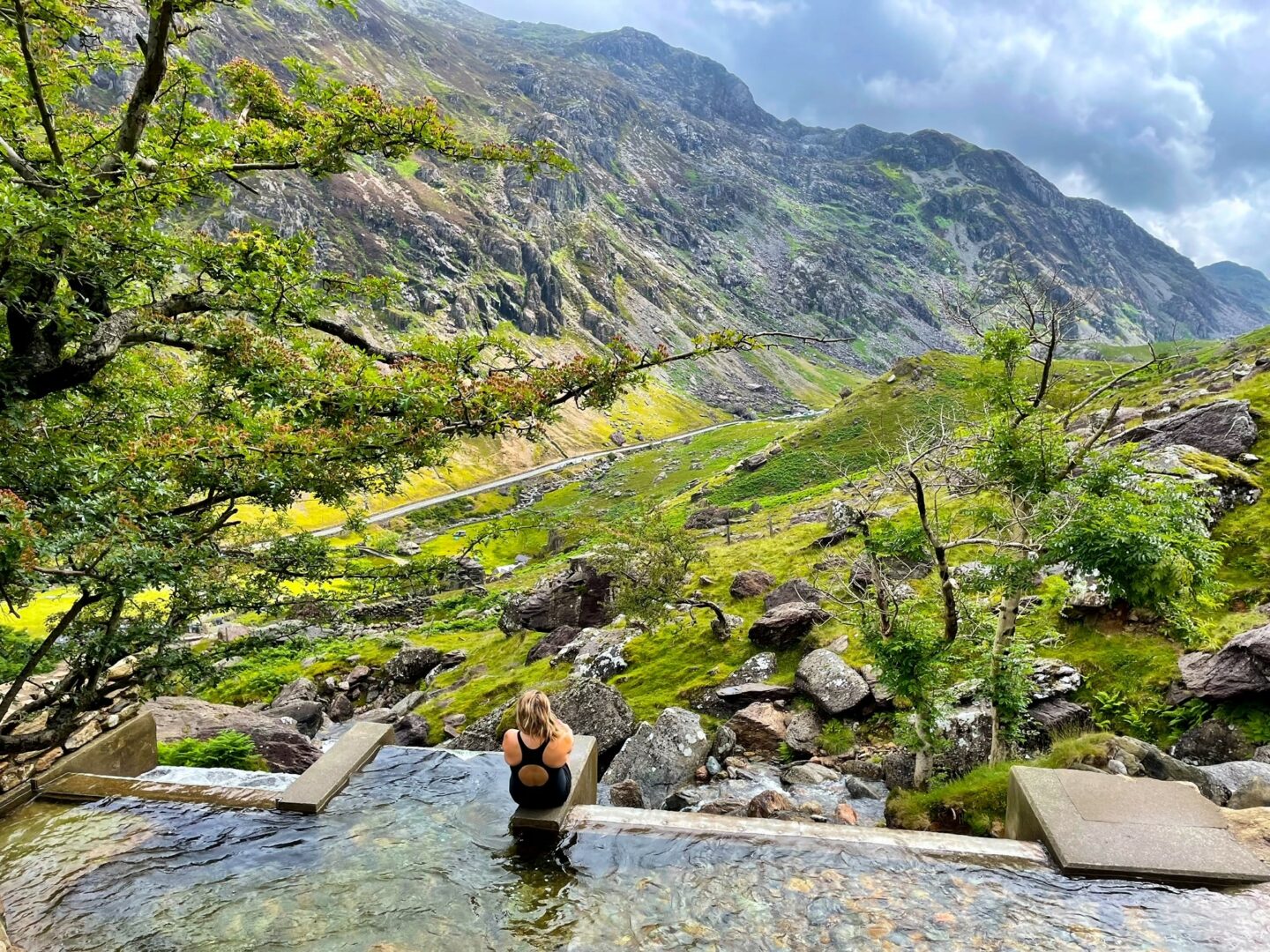 Ooooo Nat proposed, having bought a ring just before leaving Singapore. She popped the question whilst hiking through Snowdonia, in a freezing freshwater swimming pool overlooking the Welsh mountains. (I don't think I quite made it on one knee. It was so so cold, I could barely open my hand to present Lindsay with the ring that I had been carrying around with me for over a month.)
What was the theme of your big day?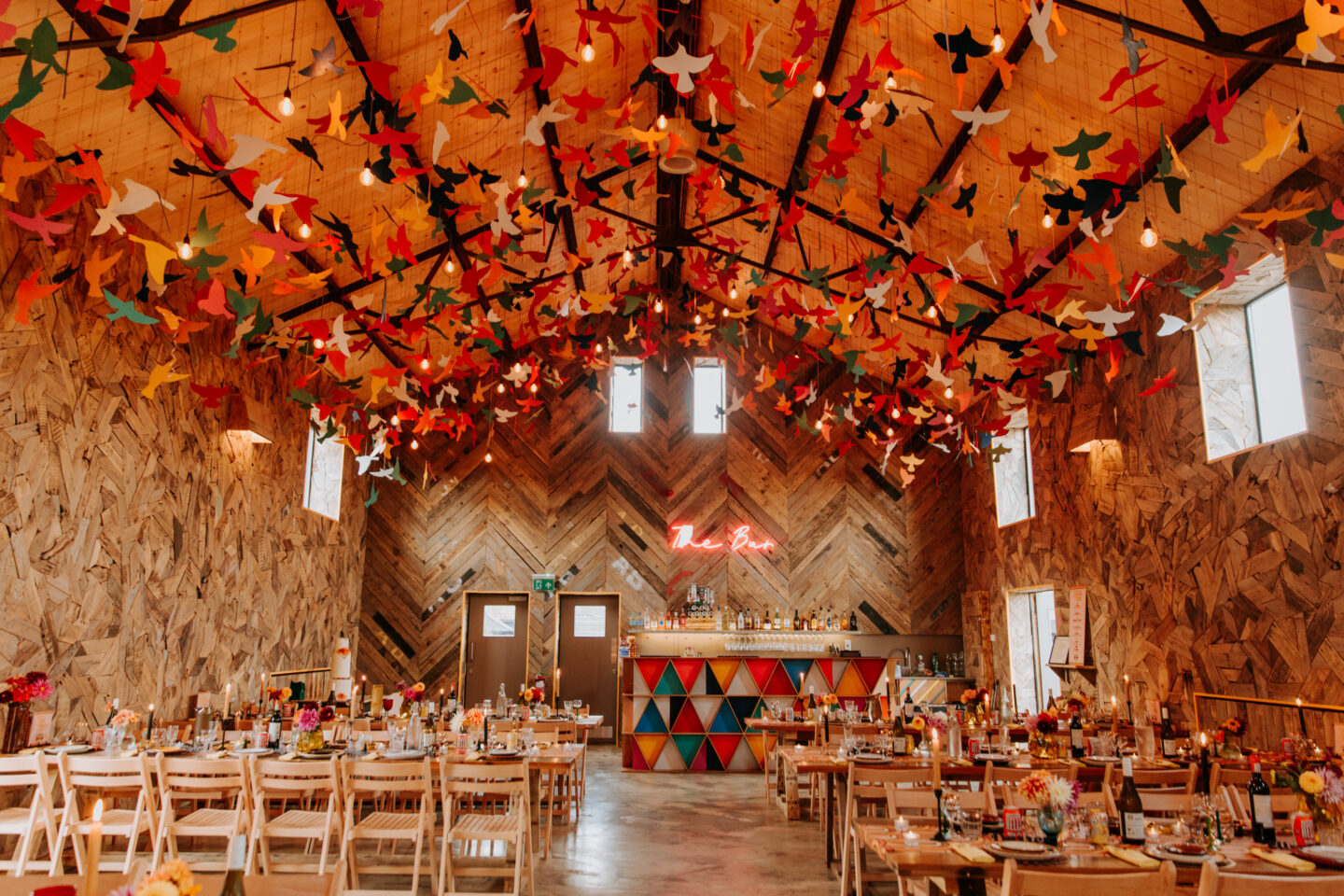 There were definitely a couple of things that we wanted to prioritise when we were planning. We knew we wanted the day to be fun and relaxed, and really feel like a celebration with all our favourite people. The first thing we booked after our venue was the band! They specialise in pop and soul medleys and mash-ups. Which had everyone up singing and happily dancing the night away.
We are also both veggie so knew we wanted to find some epic vegetarian catering which we found in Hackney Based Hogless Roast. Their vegan hog roast and mac & cheese were a huge crowd-pleaser with even the veggie sceptics heading back for seconds.
Our amazing venue was already bursting with personality and colour and so we definitely wanted all the styling and tables to match. This led to us actually starting our own wedding and prop hire business Disco Dining. After sourcing and collecting an amazing selection of vintage crockery and glassware and styling all our own tables and designing all our own stationery.
Who were your suppliers and who do you recommend?
We were super lucky with our suppliers, they all worked their socks off to help make our day fucking epic! Here is our list of superstar suppliers.
Venue: The Canary Shed
Styling Crockery & Glassware, Stationary: Disco Dining
Photographer: Lex Fleming
Catering: The Hogless Roast
Band: Truly Medley Deeply
Make-Up & Hair: Charlotte George
Nat's Dress: Lucy Can't Dance
Lindsay's Dress: Rock the Frock Pre-Loved Essex
Bride Squad Outfits: Lá Closet Multiway Dresses
Cake: Chloe Loves Cakes
Flowers Bouquets & Button Holes: Blooming Green
OTD Co-Ordination: Foil Events
What are your top tips for planning a lesbian wedding?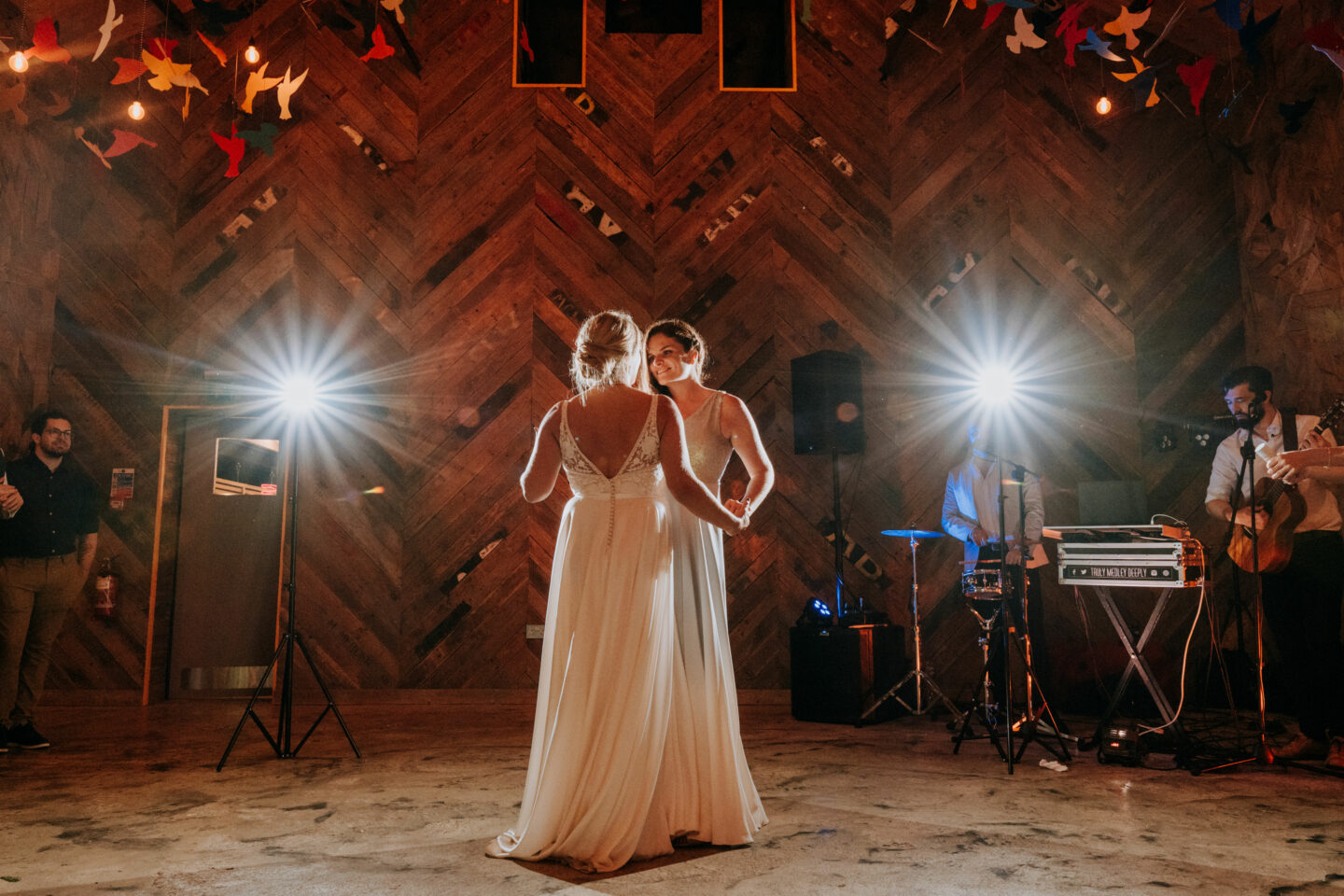 Sit down with your partner and decide the things you think are important to you both. Make sure the day is what you both want it to be. The biggest thing is to try not to get too caught up in what other people say you should do or have. Do what you want to do!
Instagram is a great way to search through and find suppliers that you might want to work with. Book calls with them and see if you get on and gel. It makes the whole planning process a lot easier if you are working with like-minded, easygoing people.
On the day itself make sure you do catch some special moments together. The whole day goes by in a flash so if you need 15 mins just to catch your breath and take a step back and take it all in. Just do it.
If you would like your wedding featured in this series. Please reach out to our team: info@nonchalantmagazine.com. Suppliers! hit us up too if you have any great couples, shoots or stories you would like us to feature.
Enjoy,
Team Nonchalant x
Last Updated on 7th August 2023 by Nonchalant Magazine