Beans we are all over them…
Let's face it, us Londoners are really getting passionate about those coffee beans. With this high demand, a lot of coffee cafes have been popping up all over the place. Let us guide you through this confusing and exciting time with our top coffee places in London.
Caravan
Location: Kings Cross (originally Exmouth Market)
Originally at Exmouth Market, these guys now have a big place in the new urbanised area near Kings Cross station. No matter what time it is this place is always buzzing. It's a big industrial building, which used to be a Victorian grain store. High ceilings, chunky wooden furniture and a big coffee bar make for a great atmosphere, the food is delicious too. They even roast their own beans on-site for all those well-made coffees with some A1 latte art.
The Cut Bar in The Young Vic
Location: Southwark
Situated within the Young Vic theatre this place is a bar in the evening when the plays are acted out. During the day however, it is more of a cafe with brunch/lunch being served. The patisseries are almost as good as the coffee….almost.
Federation Coffee
Location: Brixton
A small coffee shop in Brixton market, don't let the size of this place fool you though, the coffees throw their weight around, they are strong and delicious, take out and walk around the market on your coffee buzz.
Ozone Coffee Roasters
Location: Old Street
We've featured these guys before in our brunch post… so you already know how good this place is, right? Just kidding. These guys serve up some absolute seasonal delights with their menu. They roast their own beans on site (pictured on the right) and really do treat those beans with some well earned respect.
Grind
Locations: There's quite a few…take a deep breath before saying these, London Bridge, Shoreditch, Holborn, Soho, Covent Garden, Royal Exchange, Clerkenwell annnnd Exmouth Market-phew!
Grind. That's what they do. And since the first (of the now quickly expanding) Grind opened, they've been doing a lot of it. These guys know what they're doing, the food, coffee, cocktails…they're all on point. There's so many to choose from we are sure you will find one close to you, near work or home.
The Attendant
Locations: Fitzrovia and Shoreditch
The original in Fitzrovia was an old toilet, hence the name, its very small but still has a few features that make it seem like it hasn't lost any of it's original features. Old school green tiles as well as some toilet features. This might be a place where people used to shit but you wouldn't know that now. What isn't shit is the coffee. A lovely quirky little place.
Monmouth
Locations: Borough Market, Covent Garden
Guys, if you haven't heard of Monmouth, then you should stop professing to like coffee so much. The Monmouth Coffee Company has been around for 35 years. Yes 35, before all these bearded, tattooed people started making coffee were probably even born! The queues for this place can be lengthy (in both Borough and Covent Garden) but it's well worth the wait. They haven't been around for 35 years for no reason.
Four Corners
Location: Lower Marsh
A chilled, laid back coffee shop. This place plays its indie music loud. You can enjoy the atmosphere sitting amongst the donated travel books from all over the world. You get a free coffee too if you can take their Four Corners passport (their stamp card) and get a photo with it in a foreign country. As well as coffee they serve up sandwiches, soups and patisseries. Like the cup says (picture on the right) you will feel good after a coffee here.
The Book Club
Location: Shoreditch
Have a read of some of the signs hung on the wall, we found them quite humorous. You can also have a game of table tennis. During the day these guys serve up some good food and coffee, in the evening they know how to party. They serve up some good cocktails and put some good tunes on. If you like books don't come here expecting to find the next Muraukami.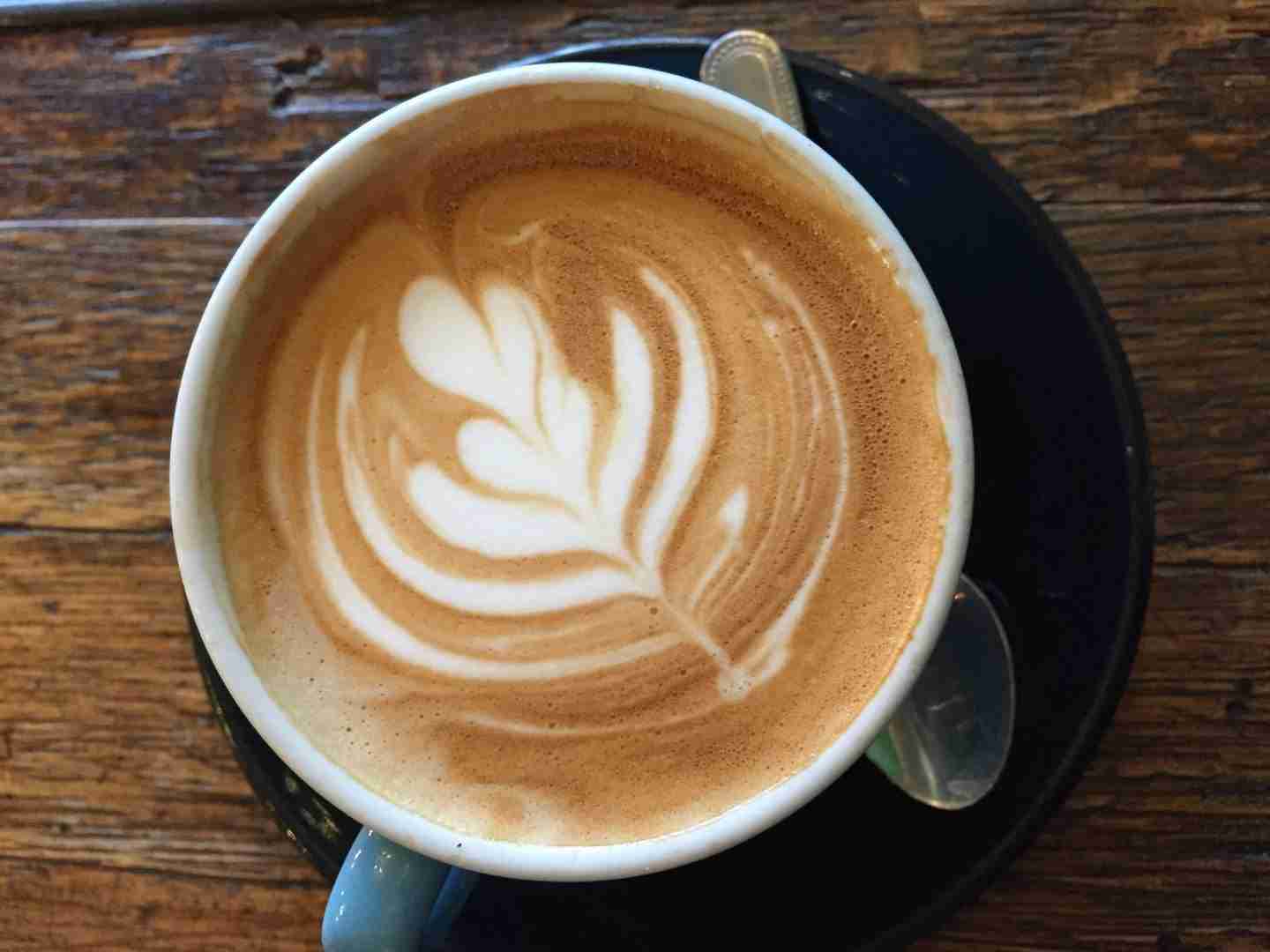 Grounded
Location: Whitechapel
The new kid on the block. It's good and busy though so it will be here to stay (we reckon) Look at that sexy looking coffee on the left….go on it wants you to drink it…oooooo.
Prufrock
Location: Leather Lane
These guys know about coffee. If you want a SCAE qualification then go here, they know their stuff. As if coffee wasn't enough for them they are now branching out into the world of tea. that's right watch this space, tea might be the new coffee, they've started treating the tea leaves like coffee beans and roasting them a little. Pioneering stuff you might say… anyway, enough of tea you came for coffee. Get it here, it's good, you won't be disappointed.
Scootercaffe
Location: Lower marsh
Yep, this place has a scooter in the window, a place with trinkets all over, exposed brick walls, mismatched chairs and tables, and a rickety, winding, metal staircase, careful of that white shirt and that golden brown coffee.
Sometimes they have a little cat sitting on its own seat downstairs. It all adds to the cosy feel. We could sit in the copier of the chairs for hours, you could be in Berlin or Paris in the late 30s.
Tap Coffee
Location: Wardour Street and Tottenham Court Road
The place on Wardour street has a bike outside on the sign. To carry this theme on the stamp card has a six seated tandem bike with the stamps being cycling Victorian men.
Stamps aside… this place is a great space. High ceilings, low lights, wooden furniture.
The decor is great but all this doesn't always make for coffee but here you the coffee speaks for itself. Sit here for ages and enjoy the atmosphere… oh, they also do some really good hot choc, you know, in case you get bored of the really good coffee….
Beany Green
Location: Another one where you will need a deep breath. Broadgate Circle, Portman Village, Little Venice, Regent's Place, Royal Festival Hall, Buckingham Palace Road
An Australian place that was a small window in Broadgate to begin with, it has now grown and has a few places dotted around London. Broadgate Circle is our personal favourite but don't let that stop you from checking out the others to find out which one is your favourite.
The guys are all pretty laid back no matter which one you go to but they're serious about their coffee.
Lantana
Location(s): Shoreditch, Fitzrovia, Camden
Delicious coffee and delicious food (especially their salads). Can't go wrong with these guys, the place is spacious and the staff are friendly, and the coffee, the coffee is good guys.
We hope you enjoy, and if you feel like we've unfairly missed one off the list – tell us asapo!
Nonchalant x
Last Updated on 20th November 2022 by Nonchalant Magazine