Baby it is cold outside! The nights are long and the winter lights are sparkling, that means it is time to snuggle down with your favourite streaming service and work your way through all your lesbian Christmas movie favourites. To help you sift though the sometimes daunting choice of movies available we have complied a list of our favourite queer female Christmas films so all you need to do is click and enjoy.
Happiest Season
To start us off, we have film that is fast becoming a fully fledged classic Christmas watch for all at Nonchalant HQ. Kirsten Stewart and Mackenzie Davis star in Happiest Season. This highly anticipated film with a whole load of star power and a big budget was all anyone talked about Christmas 2020. If that totally passed you by, check out our full review here.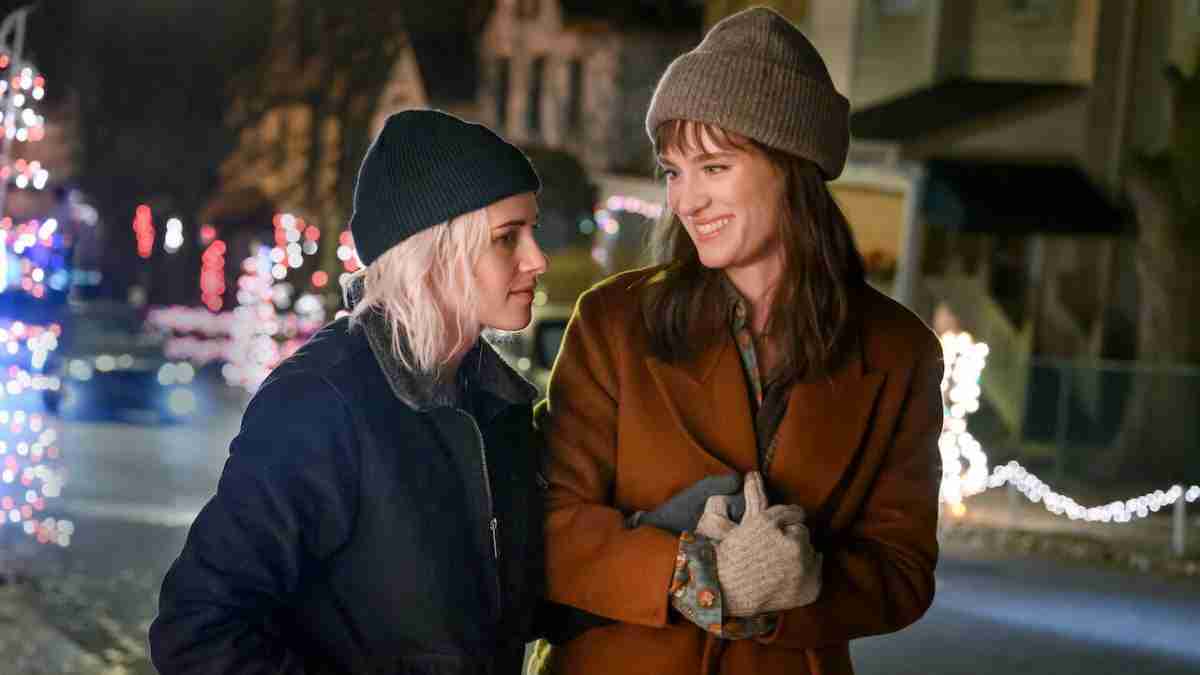 The story follows Harper (Mackenzie Davis) as she invites her girlfriend Abby (Kirsten Stewart) to her family's Christmas for the first time. Whilst Abby initially sees this as a perfect opportunity to get to know Harper's family and puts plans in place to propose, Harper fills her in on one slight issue: she's not out to her family and they must pretend to be friends for the entirety of the trip. What could possibly go wrong? We loved the characters and the relatable story, especially Harper and Abby trying to find some alone time in amongst the family Christmas. The script is filled with great jokes and (spoiler alert) there is a super Christmassy happy ending.
Small mention for Aubrey Plaza for a perfect performance as Riley, 'the one that got away'. Swoon.
Under the Christmas Tree
Under the Christmas Tree was Lifetime's first Christmas movie featuring a lesbian romance, and we are thrilled to say it didn't disappoint. Yes, it is a little cheesy and definitely a little predictable but gives all the Christmassy feels. The movie is wholesome, cheery and really delivers everything you expect from a Lifetime movie. The perfect complement to a cosy night in snuggled up with your favourite person and a big box of Quality Street.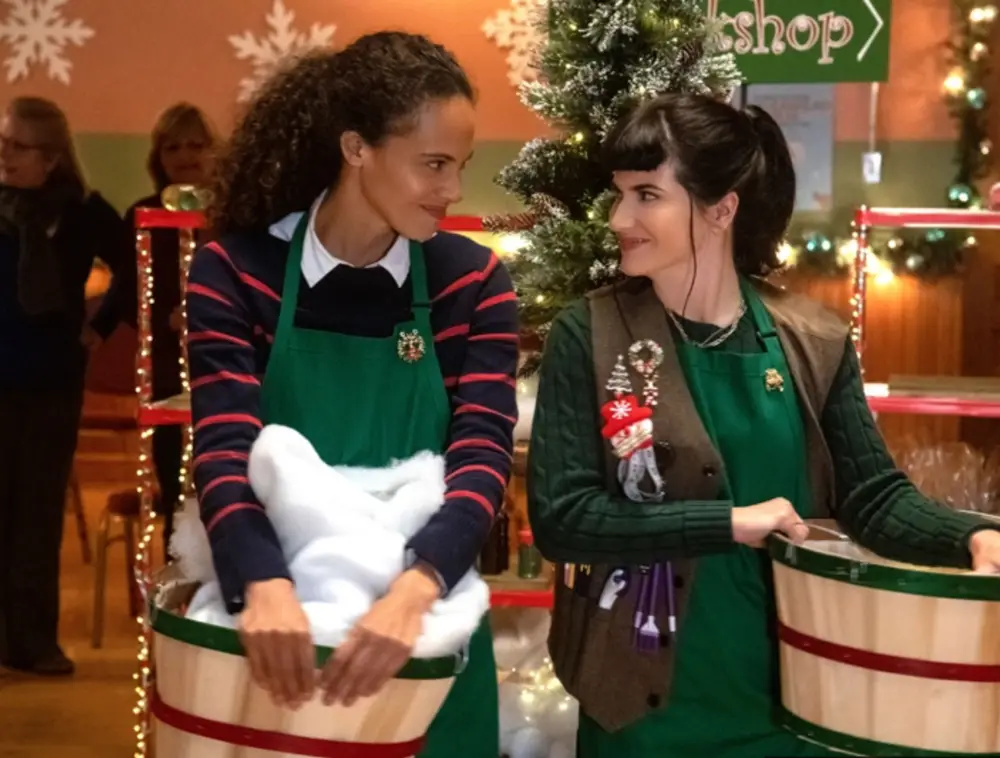 The film follows workaholic and marketing executive Alma (Elise Bauman) as she meets Charlie (Tattiawna Jones). Alma is on the hunt for the perfect Christmas tree for the Maine Governor's Holiday Celebration, which happens to be, wait for it, in Alma's backyard. Gasp. Of course all isn't totally plain sailing for the pair at the start of the movie as their two worlds collide, but soon both characters are looking pretty lovingly towards each other… We'll let you enjoy the rest.
A New York Christmas Wedding
There is something for everyone to enjoy in A New York Christmas Wedding. It holds it's own as a small budget, indie movie despite some shaky looking camera work. The story pivots around Jennifer (Nia Fairweather) as she is preparing for her wedding on Christmas Eve in New York City.
In what feels like a nod to Dicken's classic A Christmas Carol, Jennifer is payed a visit by her guardian angel just before the ceremony. He shows her what life could have been like if she hadn't denied her feelings for her childhood friend, Gabby (Adriana DeMeo). Prepare yourself for a lot of feels.
Stream on Netflix
Silent Night
Ok, this recommendation is a little rogue: it isn't entirely a lesbian focused movie and it is pretty dark. The reason it has ended up on our list as it is a rare British offering and the cast includes an excellent queer queer female couple. Plus, it is totally a totally nuts, genre bending story which includes Christmas with a side of apocalypse.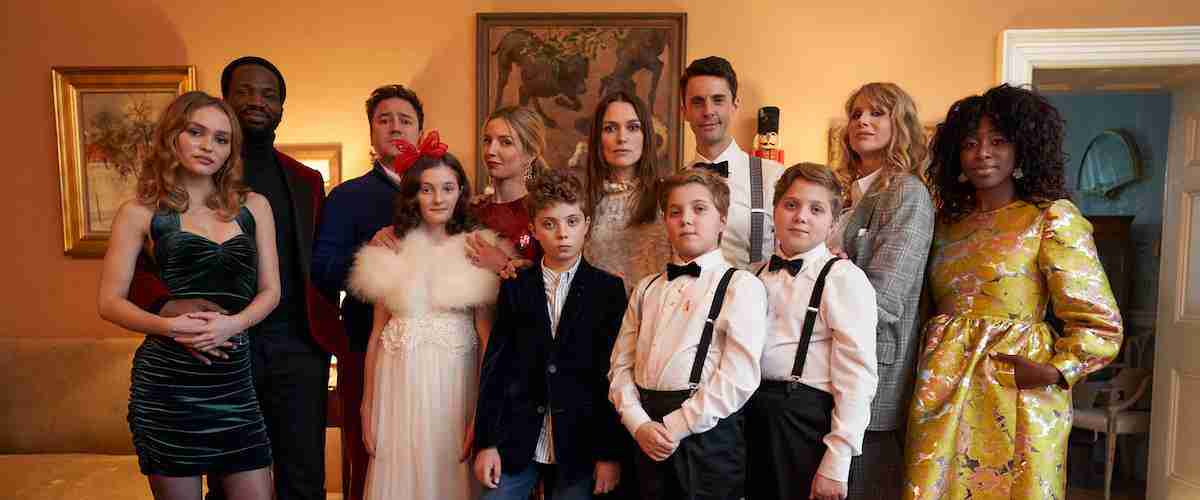 Nell (Keira Knightley), Simon (Matthew Goode) and their son Art (Roman Griffin Davis) are hosting their annual Christmas dinner for their old school friends and families. The movie is set in a beautiful English estate in the countryside. You get an insight into the politics that runs through any friendship group intermingling with the stresses of Christmas prep, but there are clues that something else is going on…. The viewer slowly learns that there is a huge toxic cloud is approaching the UK, that will wipe out everything in its path, meaning this will be the last ever time the group see each other.
The lesbian couple of the group are Bella (Lucy Punch) and Alex (Kirby Howell-Baptiste). Queer actress Lily-Rose Depp also features in the movie so this definitely has something for everyone.
Carol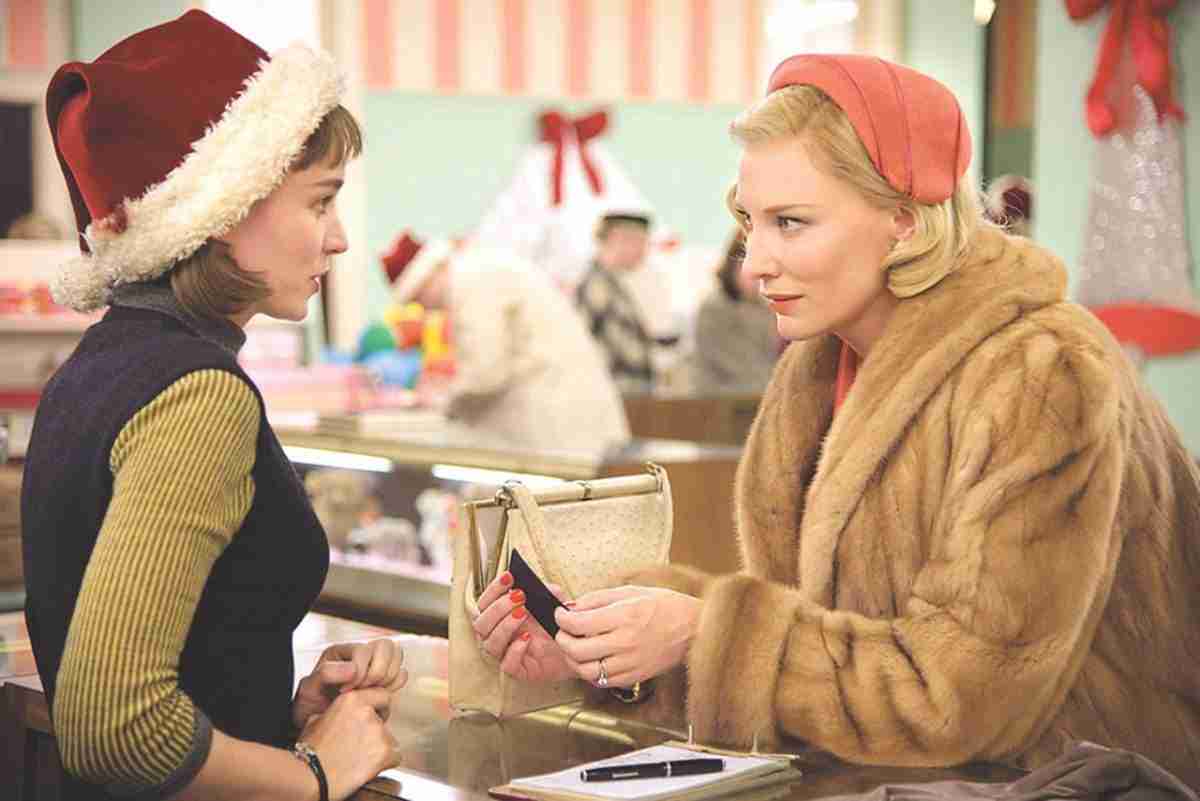 Cate Blanchett and Rooney Mara star in this beautifully elegant and exquisite drama set in 1950's New York. Carol (Cate Blanchett) plays an unhappy, divorcing woman who falls instantly for the beautiful, doe eyed, department store assistant Therese (Rooney Mara). The film follows the pair and their blossoming yet forbidden love. Sarah Paulson gives a great performance as Carol's easy-going former lover turned confidante, Abby. If you love Cate Blanchett as much as we do, go check out our reviews of some more of her best movies here.
Christmas at the Ranch
If you love a cheesy, easy watch, this is the Christmas movie for you. Christmas at the Ranch, by Tello Productions, (the same production company behind Season of Love and I Hate New Years), completes this trilogy of Christmassy queer female focused movies with this cowgirl rom-com.
The story follows Haleye (Laur Allen), who returns to her family ranch to try and save it from financial ruin. When she meets the ranch hand Kate (Amanda Righetti), the two get off on the wrong foot. However, as you can guess, they soon make up and end up falling for each other.
Admittedly there are no gold stars for the storyline – it's one we are all familiar with, but throw this on with a festive candle, and it's sure to give you all the feels!
Ghosting: The Spirit of Christmas
In Ghosting: The Spirit of Christmas, Jess (Aisha Dee) has the best date of her life with Ben (Kendrick Sampson), only to die in a car crash on her way home. Jess wakes up as a ghost and Ben thinks Jess is ghosting him after not receiving a reply to a string of messages.
The only people that can see and hear Jess her spirit are Ben, and her best friend Kara (Kimiko Glenn). Jess enlists Kara's help to find Ben and set the record straight. Kara and her relationship with her girlfriend Mae (Jazz Raycole) is a fantastic subplot of the movie.
Happy viewing and happy holidays, no matter what you celebrate!
Team Nonchalant x
Last Updated on 20th December 2022 by Nonchalant Magazine