Remember lockdown? Did you bake banana bread? Did you scroll to what felt like the end of Instagram? Did you….make a short film?  Yeahhhh neither did we (no shame, lockdown was hard), but the incredible brains behind new queer short film Aimee Victoria did exactly that.
Heads up: Some of our articles are sponsored and/or may contain sponsored links, meaning we get a commission if you decide to make a purchase through the links, at no cost to you. This is how we keep the Nonchalant magic alive. We only work with brands we truly love.
Written by award winning filmmaker Mikail Chowdhury and Hannah Harmison, Aimee Victoria follows two deaf queer women (Aimee and Victoria, who would've guessed?) who are feeling the weight of the 2020 lockdown on their relationship. #relatable. Aimee Victoria perfectly captures that gay yearning we all felt during lockdown, so much so that we even aww'd out loud multiple times whilst watching. The film is Chrystee Pharris' directorial debut after appearing in shows such as Scrubs, Passions, and Monogamy.
Natasha Ofili, who starred in Netflix's The Politician and The Multi, plays Aimee, one half of the #goals couple who scrambles to find the perfect thing to celebrate their first anniversary together. It's clear that she loves Victoria (played by Stephanie Nogueras from The Good Fight and Grimm) and wants to show her just how important she is.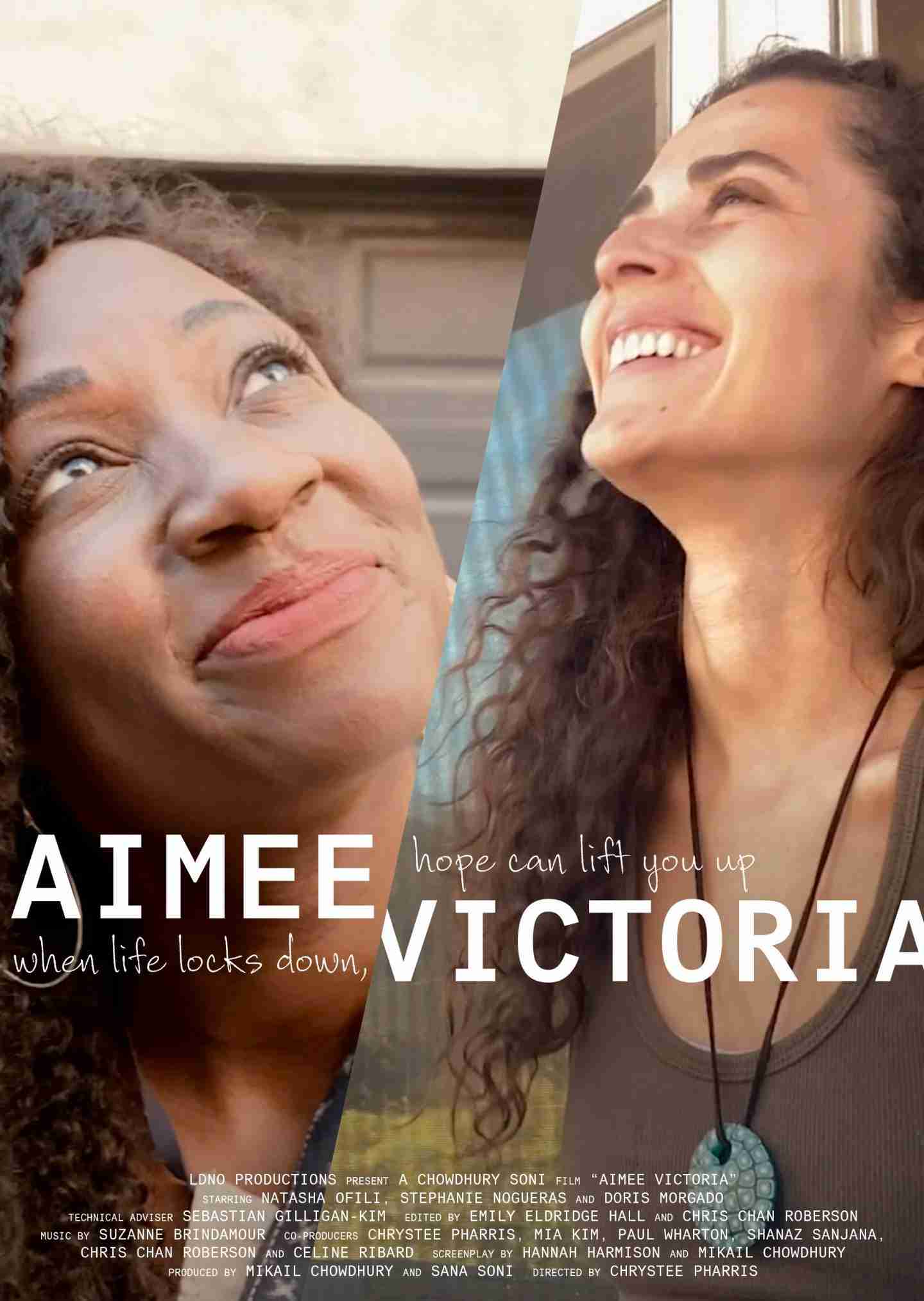 'When life locks you down, hope can lift you up'
This film shows the real sh*t- lockdown sucked and there's no romanticising it here. Instead, everyone who watches this can nod along and go 'yep, I feel that'. From longing through FaceTime calls to dancing outside each others houses, Aimee Victoria just gets it.  There are so many scenes anyone who lived through lockdown will recognise far too well- endless tubs of ice cream, doom scrolling on social media, and a ridiculous amount of crap that has taken to living on your bed. 
Lasting just under 10 minutes, this film is a massive win for the gays. Representation like this is something that is so desperately needed in our community and to see it in such a relatable light? Incred.
We had the pleasure of chatting to Mikail Chowdhury, one of the iconic minds behind Aimee Victoria. 
Buuuuuut, before we get into it, check out the trailer for Aimee Victoria below:
Chatting with Mikail Chowdhury re: Aimee Victoria
Reflecting on lockdown, Mikail explained how, 'at the start of lockdown, I was feeling quite down and forlorn and knew I just had to make something'. This attitude, which he calls his 'screw it let's do it attitude', led to the idea for a project to be made entirely remotely. 'We didn't want to film through Zoom (not that there's anything wrong with that) but we wanted it to feel as though it was filmed with multiple people in the room as films are 'usually' filmed.' He went on to explain the list of steps the crew had to go through to make this possible and honestly we still can't wrap our heads around most of it.
'We used an iPhone to film everything. We got some mics, tripods, softboxes, and would transport everything through an Uber. The Uber would pull up outside, open the boot of the car, the actor would sanitise everything and then put it in the boot and then it was off to the next actor- no one had to physically interact. Everything was done through Zoom or Google Hangouts, actors would have consultations with hair and makeup, as well as wardrobe, through Zoom by showing things they already had in their closet. We wanted you to not know that that's how it was filmed.'
And all of these unbelievable logistics certainly paid off. Aimee Victoria is an immersive short that completely wraps the audience up in its story and you'd literally never know it was filmed on an iPhone.
'I just had to
make

something'

This year saw the first deaf Oscar winner and Aimee Victoria features two deaf queer women of colour so we had a long discussion about representation and what perhaps the industry should be doing more of. 'I can't speak for the entire industry but we need to stop being afraid of talking about these issues and stop being scared to say that things need to improve. We are certainly moving in the right direction but it's moving slower than some people might think'.

We definitely had stand out favourite moments from the film and although it's hard to choose just one we thought we'd put Mikail on the spot and ask him for his fave, oops. 'The balcony scene. This scene initially looked very different and some quick changes had to be made but we aimed to film during golden hour so I think the lighting looks great and that's just a great scene overall.' We 100% agree.

Finally, we asked Mikail to leave us with some advice for anyone that wants to get into filmmaking. 'The number one thing is to just make a thing! Stop holding on to the rules that tell you how you should be doing it and just do it. Stop worrying, just get on and do it.'

Literally the best advice. And we've got your back too- head to our huge list of writing tips and resources to get the words flowing if writing's your thing. If it is, you should come and write for us 😉

And if you're looking for more gay films to sink your teeth into (honesty, who could blame you??), check out our list of lesbian films on Netflix and Amazon Prime. You're welcome.

Enjoy!

Team Nonchalant x

Last Updated on 24th March 2023 by Nonchalant Magazine