Okay, a bit of a risque article from us… but for one reason or another we've all needed to know the best hotels in London to suit our needs – whether you're trying to impress a new bird in your life, you fancy a bit of an outrageous city break to London, or you're treating your long term wifey to that well deserved, distraction free, naughty weekend away – if you fit in to any of those categories then this article is for you my friend!
From views across the city, to hot tubs and quirky extras, you'll find our top London hotels to have sex in below…enjoy.
1. The Exhibitionist Hotel | Kensington | £££
This hotel definitely had to be our number one listing, and in particular the "Drop Dead Gorgeous Splash Suite" which comes with your very own hot tub in the suite – whaaaaat. It definitely ticks the "show off" box if you're trying to impress the new gal in your life. This particular suite is £260-280 per night.
Book Here >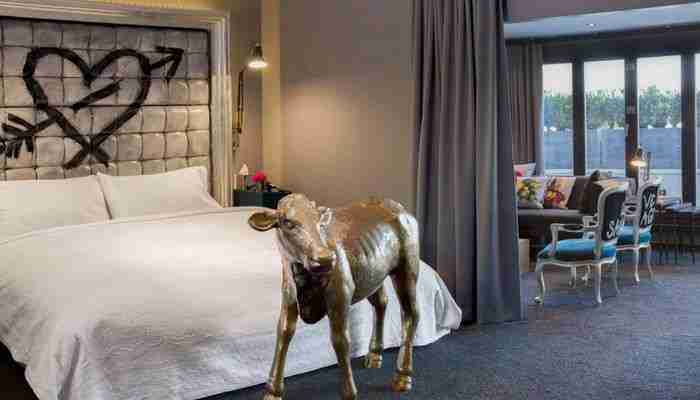 2. Dean Street Townhouse | Oxford Circus |£££
Now this one is EXPENSIVE but worth us putting on the list for you ballers out there. The Dean Street Townhouse is part of the Soho House group and boosts 39 gorgeous Georgian townhouse bedrooms. But if you wanna be pimp then you need to book the rooms with bath tubs – but we're talking £300+ per night.
3 . Blakes | Kensington | ££££
Extremely romantic with dramatic yet classy decor, Blakes is a definite winner to impress your date. Be sure to book the Luxury suite or above to guarantee a jaw dropping room, however…you'll have to say goodbye to £340+ per night….she better be worth it pal!
Book Here >
4. Townhall Hotel | Bethnal Green |££
For East Londoners the Townhall Hotel in Bethnal Green is exactly what you need to show the girl in question you've got taste. Not only are the bathrooms gorgeous with big baths and glass walls, you get a whole apartment to spread out in and play wifeys for the weekend. Apartments are approx £150+ a night.
Book Here >
5. Shangri La The Shard | London Bridge | ££££x 10
LOL. A joke entry from us on this one because it's so fucking expensive that if you're considering taking a girl here she better be Jennifer Lawrence. Shangri La provides the most incredible panoramic views of London and if you're rich enough to stay in one of the rooms then all we have to say is … take us please? The best rooms are £700-£1000+ per night. If you're sadly not that loaded then don't fret, you can still take your mrs up the shard (whey, couldn't resist) and see the gorgeous views of London for a fraction of the price – tickets for this are £25.95 per person.
Book Hotel Here >
6. The Hoxton Hotel | Shoreditch |£££
A classic Shoreditch trendy (yea, we said "trendy") hotel. It's a no thrills choice from us but the decor sets the mood for sure. Check out their 'Concept' rooms for something a little different. Plus you're in Shoreditch so you can pretend you're a pretentious hipster…win! All for £150-£230 per night.
Book Here >
7. The Zetter | Farringdon |£££
Ummm hello bathtub on the roof… perhaps a bit chilly, but who gives two fucks when you're sippin Nyetimber Classic from said bathtub like a legend yo. The Zetter has a selection of incredible rooftop rooms with outdoor bathtubs and panoramic views of the london skyline. Plus they regularly run discount deals so check back on the link below for great offers!
Book Here >
Enjoy all that sweet, sweet sex
Team NL X
Last Updated on 23rd November 2022 by Nonchalant Magazine