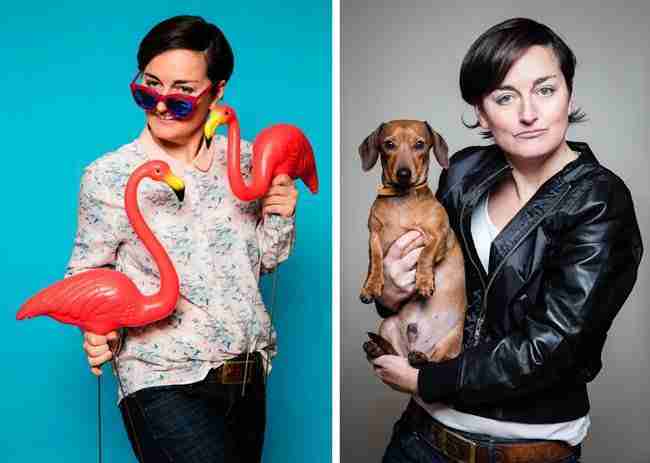 Heads up: Some of our articles are sponsored and/or may contain sponsored links, meaning we get a commission if you decide to make a purchase through the links, at no cost to you. This is how we keep the Nonchalant magic alive. We only work with brands we truly love.
We catch up with incredibly successful stand-up British lesbian comedian Zoe Lyons. Since becoming popular on the stand-up seen in 2004 Lyons has carried out international tours, won multiple awards and has appeared on programmes such as Celebrity MasterChef 2018 and Mock The Week (switswoo). With all of that under her belt, she was also featured in The Independent's tenth annual "Pink List" as one of the most influential lesbian and gay people in Britain – go on girl!
Don't worry ladies, you asked us for another legendary female role model, and we've delivered!
So what makes a multiple award-winning lesbian celeb tick? We find out below…
Related article: The Best Lesbian Comedians of All Time
1. So, where did it all start with your career in comedy and how did you find out you were

….well

, funny?
I really started performing when I was at University. I spent loads of time doing tiny parts in plays. I later went on to go to drama school in London and I was just drawn to the more comedic roles. It was what I liked doing. It wasn't until a few years after I left drama school that I even attempted Stand Up.
2. Did you always know you wanted to do Stand Up or did you have another career in mind?
I guess I wanted to be an actress early on but I soon began to realise that that was going to be a very tricky and frustrating path to follow. With Stand Up at least you can create your own work.
3. For any of our readers that would like to get in to Stand Up, what advice do you have for them and where should they start?
Go and see loads, see it live and see all different types of shows from professional to open mic nights. You will learn a lot from watching. Of course, you shouldn't copy off people's acts but through observing you can see what makes a good performance.
4. With regards to your 'S

tand Up

style' (if that's a thing) who do you base it on and who are your role models?
I don't base it on anyone, it is just exaggerated. My first real role model was the late great Robin Williams. He was a tremendous stand-up.
5. Who is your favourite comedian and why

?
It changes all the time. I was a really big fan of Louis CK. The allegations of sexual harassment kind of took the sheen of that.
6. What's the best heckle you've ever had and what was your response?
Someone once threw a scotch egg at me when I was on stage. I ate it of course.
7. What do you do if the audience doesn't laugh?
You have a couple of options. You can plough on, you can address it, or you can always just leave. I like to plough on.
8. Do you ever get bored of people asking you to tell them a joke as soon as they find out you're a comedian?
Yeap!
9. We won't ask you to tell a joke, but how would you describe your comedy to those that are new to it?
It is part topical, part stupid and quite animated. I am fairly physical on stage, I like clowning about.
10. Who is the best newcomer comedian you'd recommend we keep our eye on?
I have three for you – Masie Adams, Catherine Bohart and Sarah Keyworth are all brilliant.
11. What is your favourite comedy tv show?
I like a bit of proper old school. Faulty Towers and Black Adder are still two of my favourites. The writing was just so good.
12. If you were to describe yourself in one word, what would that word be?
Distracted.
13. You're extremely successful and have appeared in so many different venues and shows, what's been your favourite show and why?
I loved doing Masterchef this year, I had so much fun. I love food so I was very happy to spend loads of time cooking.
14. Out of all of the stars you've worked with, who's been your favourite, and

why?
I really enjoy Frank Skinner's company, he is a very very funny man.
Related article: Lesbian Comedians
15. You're a successfully married woman (we're all jealous), where did you meet your wife and what's the secret to a wonderful marriage?
We met on holiday, she was living in Holland and I was in London. We had a long-distance relationship for nearly two years. We have been together 20 years now. I don't think there is any secret, although my job means I am away a lot so I think we really look forward to spending time together because we miss each other. Also, you have to be able to make each other laugh.
16. Other than touring and generally smashing the comedy scene, what do you like to do in your spare time … if you have any spare time?
We go scuba diving, we try and go twice a year now. I love it and I get really excited about our next trips.
17. If you could choose a life motto, what would it be?
Try it, you might like it.
18. In one sentence, how would you sum up the internet?
Awesome wonderful dangerous chaos.
19. How do you feel about putting pineapple on pizza?
Never, never, never!
20. If you could use a magic telephone to call yourself at 15 years old, what would you say?
Buy shares in Apple.
21. Have you ever ventured out onto the London lesbian scene, if so what do you think?
Not for many, many years, I was a big clubber in the 90's but Trade and DTPM were my hangouts.
22. You previously lived in Brighton, what tips do you have for a city break to Brighton – what should we check out?
I live in Hove now, the "other" end of Brighton. Any trip to Brighton now should include a visit to the pier to spend your pennies, the Lanes to spend the big bucks and definitely delve into the Brighton food scene, it's getting better all the time.
23. Lastly, what's next in your super busy calendar and where can we see you perform?
I am on Tour all over the country into next year. All my dates can be found on my website www.zoelyons.co.uk. I also host a gig on the first Sunday of the month at Brighton Komedia called Bent Double. Hope to see you!! x
Thanks, Zoe, whadda babe!
Team Nonchalant x
If you liked this interview, why not have a read of our other interviews with inspiring queer women?
Last Updated on 28th September 2023 by Nonchalant Magazine