To start us off with our first wedding in this series to showcase lesbian weddings. We're starting off with our very own Creative Writer Jem. Jem and Sian created the most incredible festival-style wedding which we thoroughly enjoyed so we just had to share it with you all. Now, you might have already seen Jem and Sian in the news, because they had made national and international news for their wedding due to an unfortunate breakdown of their wedding bus in the morning. At the start of their wedding day, they had a coach that was escorting 20 wedding party guests that sadly broke down on the side of the road leaving them stranded. However, with a stroke of luck police just so happened to be passing by who epically saved the day and drove the brides to their wedding. Legends.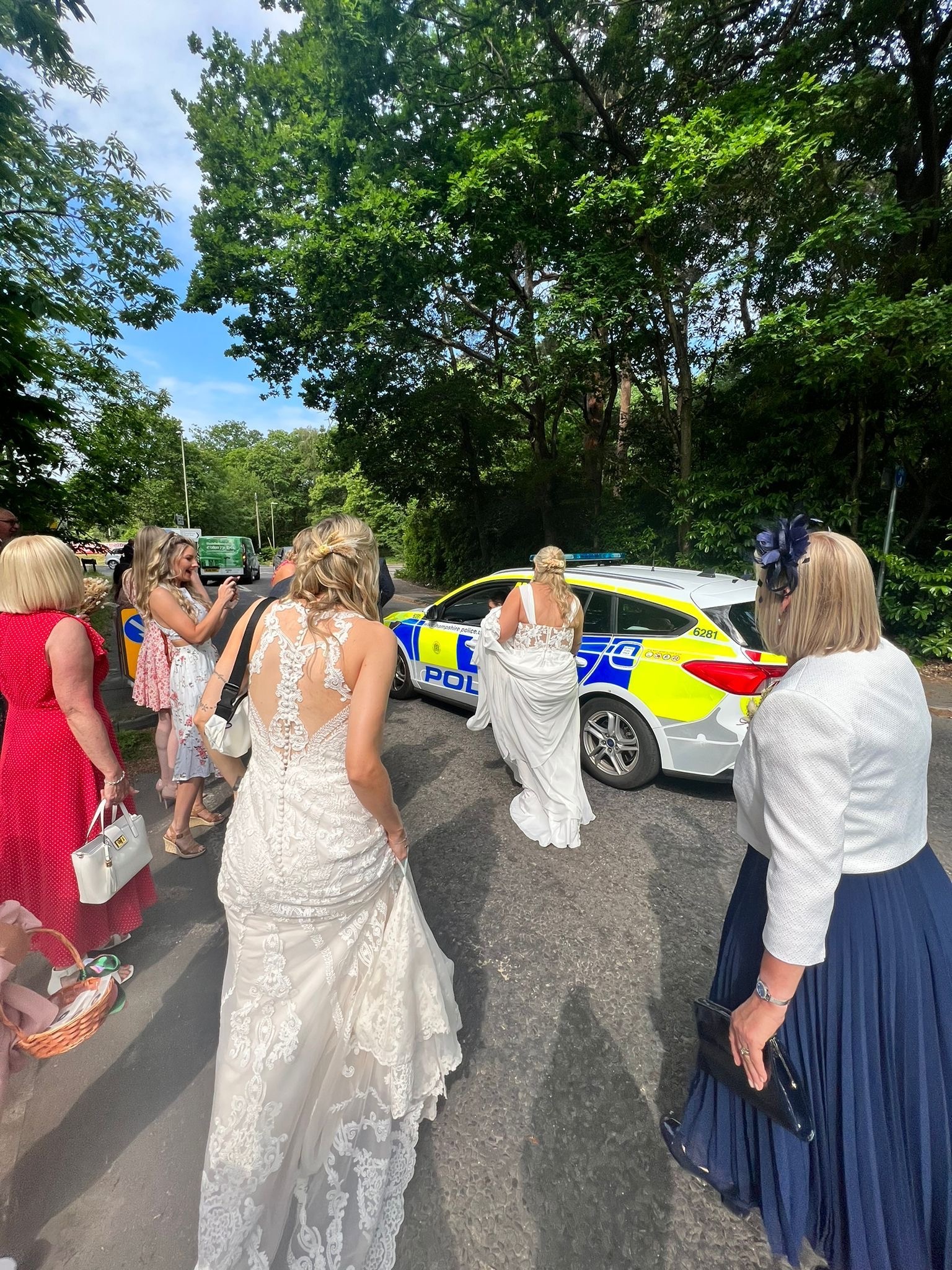 Jem and Sian have since been in the Daily Mail, BBC News, The Metro, and more… such a fun part of their day.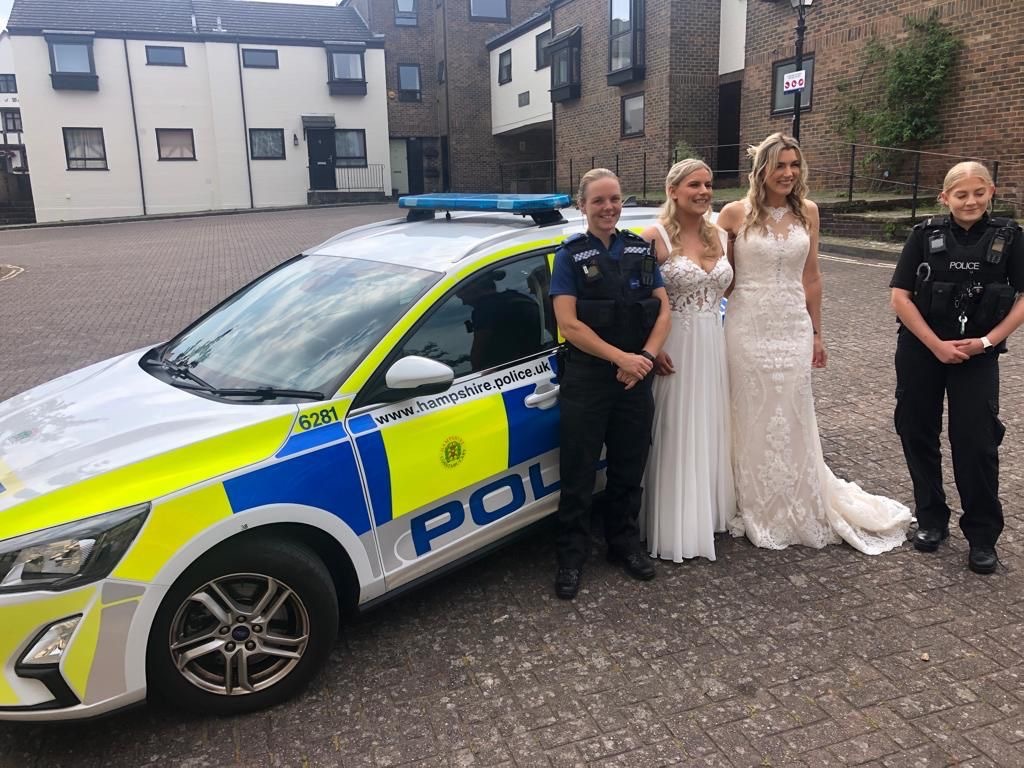 Read on to find out how they met and the details of their special day.
Tell us how you met.
We met in 2007 ish, whilst at the University of Plymouth. We had some mutual friends who introduced us and we exchanged MSN messenger details (who remembers a nudge?). We became pals and saw each other on nights out, after uni we stayed in touch but did not see each other again until the end of 2018. Sian came to visit me whilst I was living in London and we hit it off… the rest is history!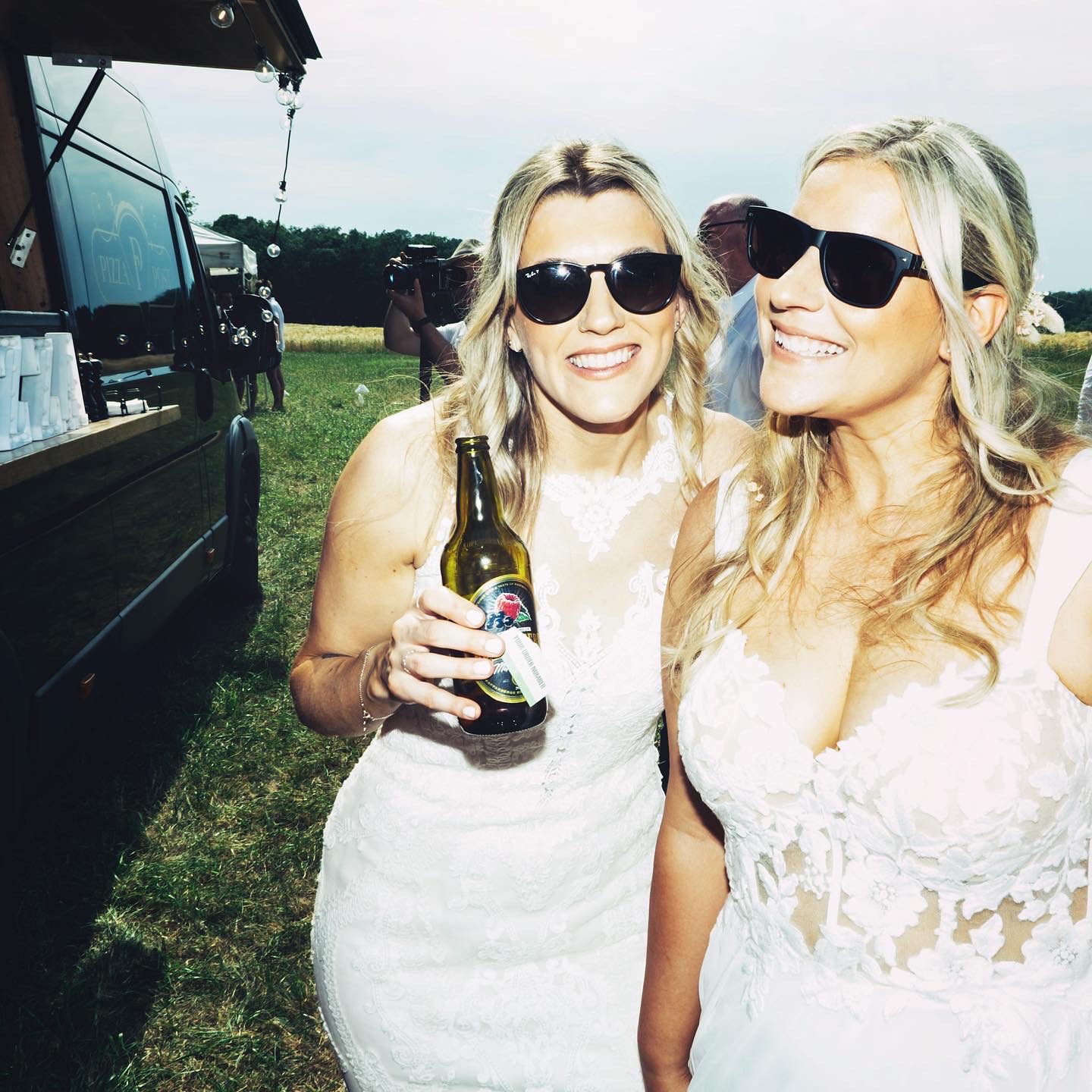 Who proposed to who and how?
Well, we didn't actually do any proposal. We spoke about getting married and shared ideas about what would be the most perfect wedding day. We had both been keen on a very non-traditional festival-style wedding, where we all just celebrate and party in the field, eating pizza, drinking and dancing! We decided to go and look at a venue, which at the time was just a muddy field. Ben, the owner, saw our vision and before we knew it we booked our date… then realised we were technically engaged!
What was the theme, colours and style of the day? 
We went all out to the festival and called it 'Forever Festival', everything was branded with our logo, even the toiletries we put in a little box and made a sign saying 'Forever Essentials'. The main colours were dark green, light pink and creams, which we felt reflected a summer festival theme. I designed the logo myself (@adesignjem) and our main aim was for guests to feel they were at a festival and that the day was about them, as well as us. We had welcome wristbands, individual thank you's, drinks, and snacks as well as a field full of garden games, beer pong, teepees, a VW DJ, a VW camper van booth, a laser clay pigeon shooting and a glitter station! We also had 40 hay bales for seating and 100m of bunting made by our talented friend Emily. Our wedding favours were bottle openers, some had small keys attached and one of these keys opened a locked box containing a bottle of champagne!
Who were your suppliers and who do you recommend?
Venue: Rural Wedding Company
Makeup: Dayna MUA 
Hairdresser: Faemiles.hair
Saxophonist: Lucy Sax
DJ: DJ Slippers the Split
Pizza: Pizza Post
Fish & Chips: KK Catering Fish and Chip Van
Laser Clay Shooting: Clazer
Haybales: Bales4Events
Ice Cream Stand: Traditional Ice Cream 
Photo Booth: Bus and Bug
Grazing Board: Grazy Days 
Design & Website: ADesignJem
Videographer: Hampton Films 
What are your top tips for planning a lesbian wedding?
Create some sort of spreadsheet, or list, with suppliers' names, contact details, and costs/deposits paid. It gets quite confusing as to what is due when and who has or has not been paid in full!-Create a wedding website. This allowed everyone to RSVP online, all the info was on there including a timeline of the day, plus it was kind to the environment! We also got everyone's email addresses and we were able to send out our thank you's within a week of the wedding.-Create a WhatsApp group, then print the QR code and put it around the venue. Ask everyone to share their photos and videos in there. We've had hundreds to browse through. Hire a videographer, we cannot wait to watch ours when it's created!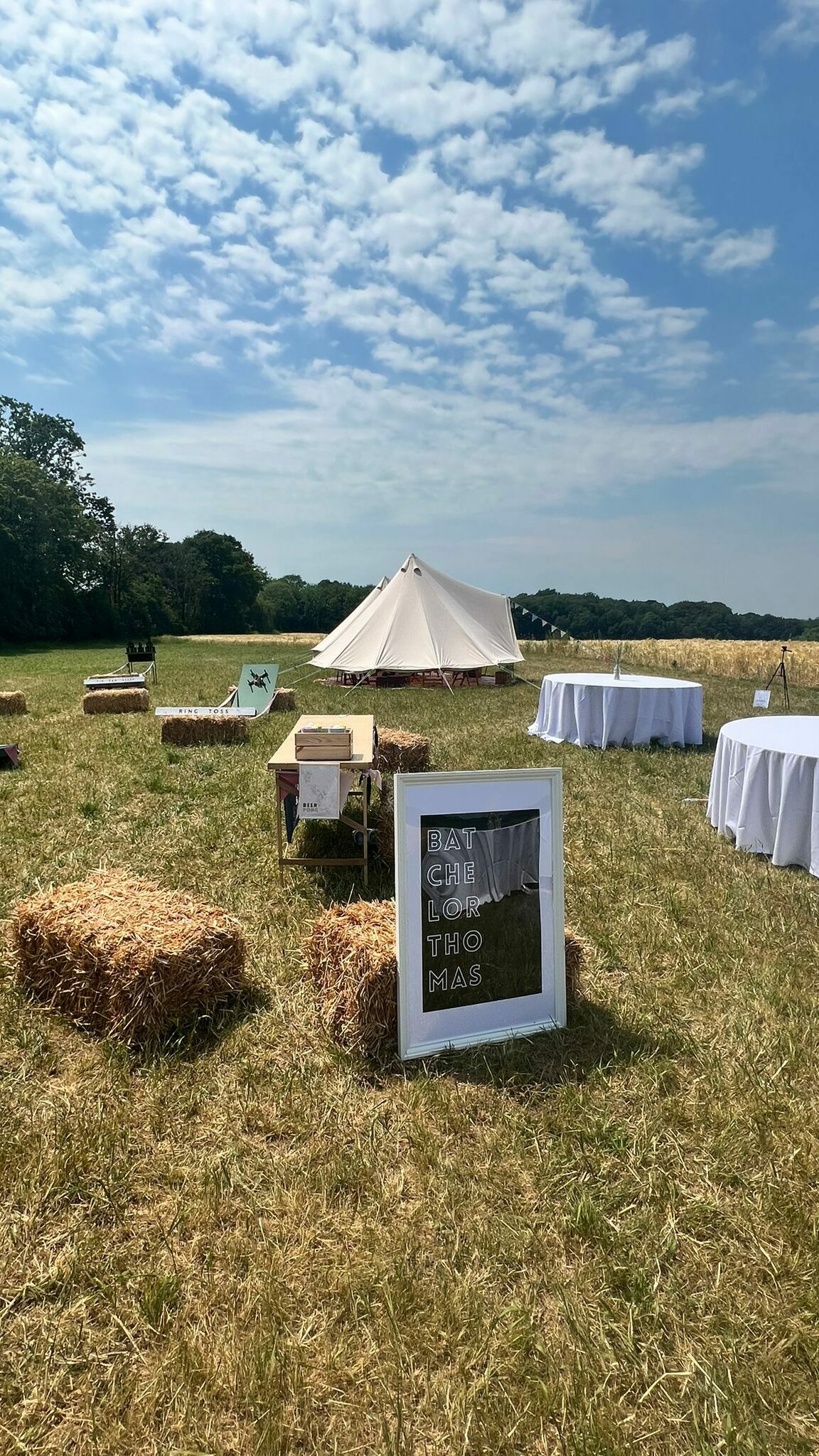 Every guest received a Forever Festival Wrist Band
If you would like your wedding featured in this series. Please reach out to our team: info@nonchalantmagazine.com
Enjoy,
Team Nonchalant x
Last Updated on 19th June 2023 by Nonchalant Magazine