We catch up with Katherine De Rozario (Insta: @katcutsme), one of London's most successful female hair stylists. Read all about her journey, including career advice, relationships and what's hot in the hair world right now.
Heads up: Some of our articles are sponsored and/or may contain sponsored links, meaning we get a commission if you decide to make a purchase through the links, at no cost to you. This is how we keep the Nonchalant magic alive. We only work with brands we truly love.
1. So, tell us a bit about yourself, how did you get into being a hairstylist?
I'm a London based freelance hair stylist, with 15 years of experience. I got into hairdressing mainly because my own curly hair had been such a nightmare growing up (lots of tears in the bathroom as a teenager!) I had one amazing cut, figured out how to style it and decided I needed to spread the good word!
2. For any of our readers that would like to get into being a hairstylist what advice would you give to them?
Find a reputable salon, get into their training programme and practice, practice, practice. It's such a visual, hands-on profession, your brain can learn what to do, but your hands take time to catch up. Use social media. Find stylists you admire and offer to assist them, watch and copy.
It's an art form so use all walks of life to inspire you and have confidence in yourself. You are never too young or old to start.
3. Did you ever have a plan B?
This is it! I originally went to drama school, I started doing hair in-between auditions and although I loved it, I very quickly realised that my destiny lay in the hair world.
I still have a huge passion for the theatre though and after a few glasses of wine don't need to be asked twice to break into (a bad) song and dance.
4. What's in and out at the moment for cuts and colour?
Looks are so bespoke at the moment, there's something out there for everyone. Having said that, there is a feel of locks going shorter and a modern take on the 80s is coming back. Fringes, heavy layers and texture.
The perm is starting to become popular again with more organic gentler options than in the past. Colour-wise, darker blondes and deep browns are very up to the minute. I'd love to see more coppers come into play too.
5. You seem very loved up tell us how you guys met?
At a five aside lesbian football tournament that a mutual friend organised. We were put on the same team. I'd never played football before, (I was like a Yorkshire terrier yapping at peoples feet – what I lacked in skill, I made up for in gusto!).
She, on the other hand practically won the game for us. We did another tournament together and then arranged to see a play at the Royal Court Theatre. A favourite of mine and as it turned out, hers too.
6. East London or West London?
East London. Much more my tribe.
7. Who are your role models and why?
My Aunt Bernie, best friend, confident and oracle all in one. If I can pass that love and support on to other people, I'd be happy. Business-wise, Josh Wood. He's changed the way we aesthetically experience and view hairdressing. The Atelier he has created more than a salon, it's a house, (quite literally), that allows artists the freedom to create and cultivate who they are within our industry.
8. Do you ever venture out to the lesbian scene? If so, where do you go and what do you think of it?
I do now and then. I think it's really important that we support the scene, which has changed a lot since I first moved to London in 1999.
I was a real Trash Palace and Ghetto girl (those of you reading this who remember those, hello comrades, those who don't or are too young, google it.) It's much more about club nights now that happen at regular intervals as opposed to a place that's open 24/7. I'd like to see more permanent bars opening (nb to self: open a lesbian bar?).
I have a lot of respect for anyone who is organising and providing events for the LGBTQ community, I think they're doing a great job providing a network and we can never have too much of it! I enjoy the Dalston Superstore, the HER girls are doing some great nights, the good old RVT and who can resist Sink The Pink!
9. If you could use a magic telephone to call yourself at 15 years old what would you say?
Avoid the low slung jeans and chain combo.
10. What's the best piece of advice you've ever been given?
Don't bleed before you're shot!
11. Talk us through your average day?
Up at 7.30am, I do stretching and strengthening exercises, hairdressing is so physical, my body gives up if I don't! I have to have breakfast, I'm known to get a bit of hanger (angry because I'm hungry).
If I'm in The Atelier, I'll head in for 10 o'clock, do emails and admin on my commute in and then spend the day with clients. I have an amazing eclectic clientele, so it's never boring!
My girlfriend and I have pretty jam-packed schedules, so I love us to have dinner together, it's a chance to check-in and laugh about our days! Usually eating out so neither of us has to cook.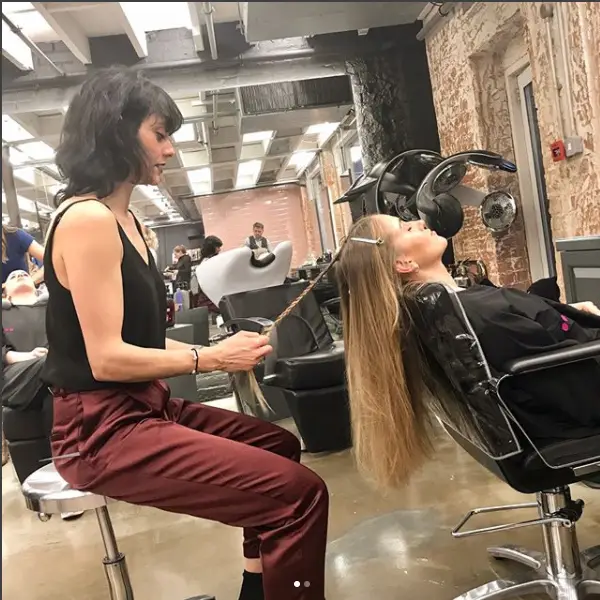 12. Who's your fave celeb hair at the moment?
I have to say Billie Piper, though I'm biased as I cut it, ha! We were getting rid of a lot of bleached damaged ends from a character she did. We went for a modern take on a shaggy style, heavily layered with a long grown out fringe. It's low maintenance, sexy and effortless. Great for those with slightly textured hair.
13. How can our readers book in with you?
You can find me at Josh Woods Atelier, call and book in with reception, I'd love to meet you! Or if it's for events, shows or weddings, DM me @katcutsme
14. What are your new year resolutions for 2018?
Do more LGBTQ wedding hair. To play my guitar more, not just when I'm drunk.
Thanks, Kat, we've all been there with the low slung jeans and chain combo….sadly 😉
Team Nonchalant x
If you liked this article and want to read more about inspiring lesbian women, why not check out the other interviews we have done?
Last Updated on 21st December 2022 by Nonchalant Magazine