There'll be gay birds all over The White Cliffs of Dover! This small, seaside town renowned for the famous song by Vera Lynn is gearing up to celebrate its fifth and fabulous Dover Pride on Saturday, August 26th, 2023. So, if you think you've missed pride this year, you're not too late.
This annual event, which saw over 1000 attendees last year, promises to transform the town centre into a vibrant rainbow of colours, sounds, and dancing. With two stages, a ticketed evening after-party, and an impressive lineup of performers, Dover Pride is set to be a day filled with inclusivity, self-expression, acceptance, and celebration.
Are you comin' down?
Why Dover Needs Pride
Pride events like Dover Pride play a crucial role in promoting inclusivity and acceptance within communities – especially smaller ones. They provide a platform for the LGBTQ+ community to express themselves freely, fostering a sense of belonging and support. For many attendees, Pride is not just a celebration but also an opportunity to connect with like-minded individuals, especially for those who may not have LGBTQ+ friends or family members.
As one attendee shared, "I came out last year, and all my friends are straight. Pride makes me feel like I'm not alone. I don't know where else I can meet others, so it's an opportunity for that too." Another person expressed "I think Dover Pride is extremely important. I've personally experienced many hate crimes in Dover, so I think the Dover community needs to be more educated."
By organising events like Dover Pride, the community aims to educate and create a more inclusive and accepting environment.
To fully understand the impact of Pride, it is crucial to explore the various components and activities that make up the event. Let's dive into what Dover Pride has in store for its fifth-year celebration.
The Day Begins
The day of Dover Pride kicks off at Maison Dieu Gardens, where participants can register on Eventbrite and gather on August 26th, between 9am and 10:30am.
From there, the march will proceed through the heart of Dover, from Maison Dieu Gardens to the market square and the Roman Lawn. Along the parade route, attendees can enjoy music, entertainment, and explore the vibrant makers' market free of charge.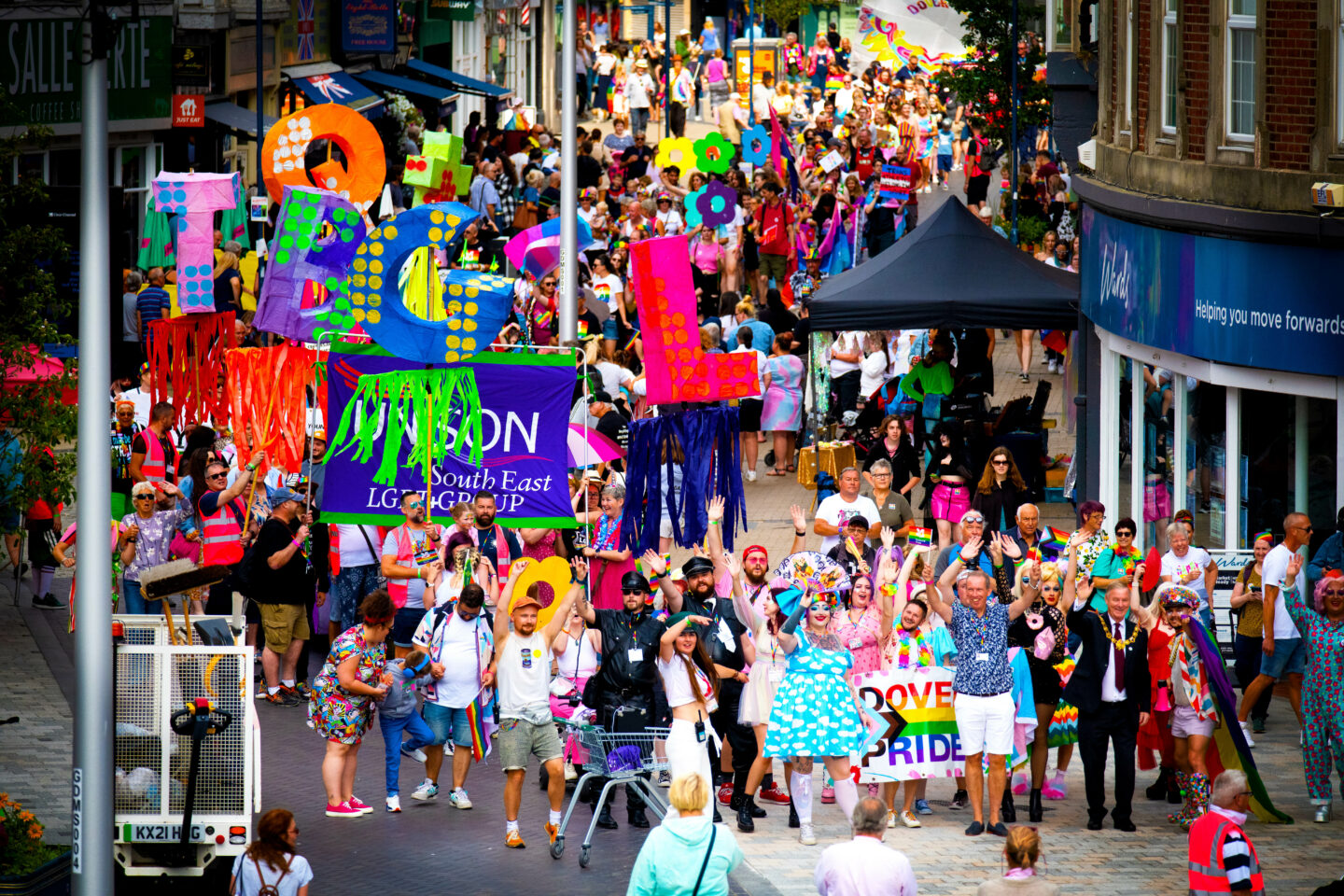 Dover's Bangin' Lineup
Dover Pride's fifth anniversary promises an unforgettable entertainment lineup that showcases the incredible talent within the LGBTQ+ community.
The day's festivities will be hosted by drag queens Miss Di Vour and The Diety, bringing their fabulous energy to the stage.
Returning to Dover Pride are Amrick Channa, known for his appearances on X-Factor and The Voice, and the mesmerising dance troupe Haus of Heels. TikTok sensation Sophia Stardust will also grace the stage, captivating the audience with her unique performances.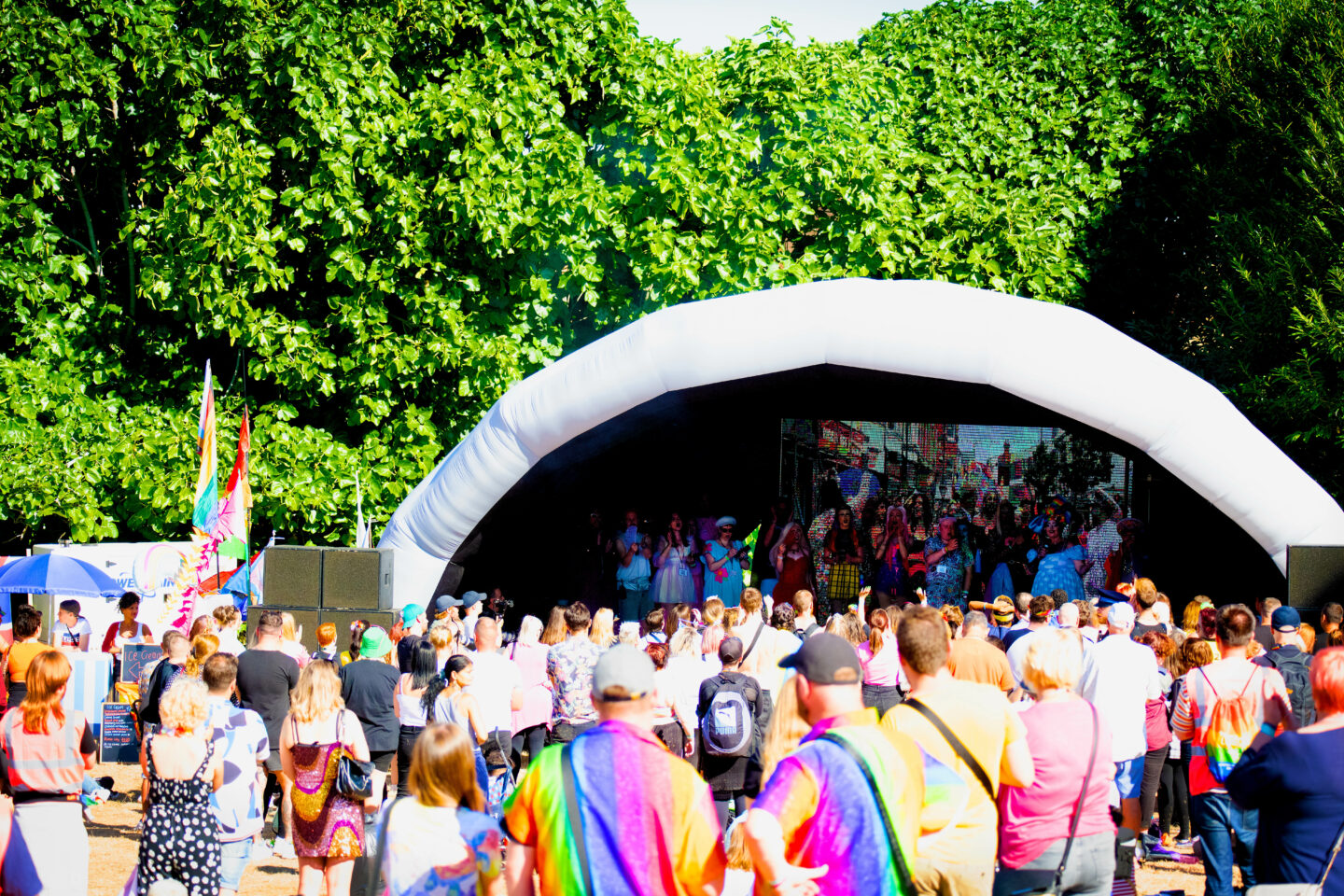 The entertainment continues with West End star and drag queen Tiana Biscuit, along with a whole host of local queens and performers, including Dover's very own Queer cabaret group, The Anxious Pickle Club. Miss Oatie T, Kent's youngest drag queen, will be returning to the stage, as well as well-loved local and Drag SOS star, Poppy Love. The performer list is truly impressive, showcasing the diverse talent within the LGBTQ+ community.
The event also includes a maker's market, providing a platform for local artists, artisans, and businesses to showcase their LGBTQ+ inclusive products and services. It's a great opportunity to support local talent while immersing yourself in the vibrant atmosphere of Dover Pride.
Supporting the Community
Dover Pride is not just a celebration, but a series of events aimed at raising awareness, and promoting support, self-worth, respect, courage, and visibility. The event wouldn't be possible without the support and contributions of generous sponsors and donors.
The main sponsor for Dover Pride is the Port of Dover, demonstrating their commitment to fostering an inclusive community. Other pride partners include Future Foundry and the National Education Union.
Dover Pride's Afterparties
Wanna keep partying? Dover Pride has afterparties galore.
The celebrations continue long after the march and main event. For those aged 14 and above, a ticketed after-party will take place from 7 pm to 10 pm at the Roman Lawn. Accompanied by an adult, attendees can enjoy an evening of entertainment and activities for a small fee of £5. Tickets can be bought here.
If you're seeking a more adult-oriented experience, the After Dark Party will be held at The Attic Bar and Nightclub. Entry is free before 10:30 pm, and a cover charge of £5 applies after.
Join the Community
To stay up to date with all things Dover Pride, be sure to follow their social media channels:
The importance of Pride cannot be stressed enough. They play a vital role in promoting visibility, understanding, and solidarity. Dover Pride serves as a platform for individuals to express themselves, connect with others, and highlight the challenges that still exist in the fight for equality.
So mark your calendars and join us on August 26th, 2023, as we parade the streets of Dover with pride, embracing the diversity that makes our community so beautiful. Let's stand together, united by love, acceptance, and the belief that everyone deserves to be celebrated for who they are.
Get your pride nails ready and we'll see you there,
Love, Team Nonchalant x
Last Updated on 10th August 2023 by Nonchalant Magazine