Sex toys are a multi-billion-dollar industry. And, with these adult products easily obtained through high-street stores and online, you may ask, "Are sex toys for everyone?" and "Are sex toys for me?". We've reached out to felly Nonchalant writers and readers and it seems that the answer to that question is yes and no. The reason is that sex toys have age restrictions (of course), are illegal in some places, and go against many cultures and religious beliefs. Not to mention, they just might not be your thang, and that's fine.
So, let's take a look at the burning question and talk about the reasons why sex toys may or may not be the right choice for you.
Who aren't sex toys for?
According to our outreach to our readers, apparently, sex toys aren't for people who have cultural and religious rules that deem sex toys as either illegal or a detriment to their soul.
That aside, we did discover that sex toys aren't for everyone with regard to your preference. They can be a lot of fun on your own, or in a relationship but they also are not a must, so it's important that you go with what you know you need and want, and don't allow society, or anyone to force you in to trying out sex toys if they really just aren't for you – that's okay!
What countries are sex toys illegal in?
A majority of the countries in which sex toys are illegal are also those that practice Islamic law. Those countries are Saudi Arabia, Iran, UAE, Malaysia, Maldives and Indonesia. Plus, the sale, purchase, and possession of sex toys are illegal in India, Vietnam, and Thailand. And although sex toys are also illegal in Cambodia, according to some anonymous readers, "there are always ways of getting hooked up".
For example, this Vice article describes how the subjects met with a back-alley sex toy dealer in order to obtain a battery-operated playmate. So, grab your trench coat and sunglasses and get ready to shop for illegal sex toys out of someone's trunk. Or, a better idea may be to simply not break the law, and end up imprisoned for owning a sexually explicit item – yikes, just come see us in London instead – we've got you.
Sex toys are illegal in some areas of the USA too
Okay, so it may not be illegal to own a sex toy, but it is illegal to sell any item in Alabama that is "primarily for the stimulation of human genital organs" in order to protect public morality according to the 1998 Anti-Obscenity Enforcement Act. So, in a pinch, you may get by with a massager, electric toothbrush (minty fresh) or similar items.
Further, in the states of Alabama and Georgia as well as parts of Texas, Maine, and New Mexico, it is illegal to sell any products that fall under the category of obscene. Honestly, we believe items considered obscene are going to vary from person to person, therefore isn't something that is cut and dry nor should be enforceable by law.
But, Georgia folks and travellers, there is hope. There is an exception to the law that states you can purchase a sex toy if it's primarily used medically or scientifically, educationally, legislatively, or for law enforcement purposes. Law enforcement? Imagine being beaten into submission by a dildo as you are out protesting on behalf of a civil matter. Sounds fun, where do we sign up?
Religious Beliefs and Sex Toys
While some religious beliefs are strictly against sex toys for example, Baptist and Muslim, some religions have stepped out from behind the pulpit and tried to bring sex toys into the mainstream. For example, an entire line of sex toys has been created around religious symbols, just in case you don't feel comfortable confessing to last night's solo session in the shower and need to feel closer to your creator.
Further, one Christian woman has created a sex toy website for married couples who want to add a little spice to their relationship. But, as we searched in vain for a Kosher sex toy site we read about, we were met with a "Forbidden" error, like someone just knew we had been naughty girls (always). Additionally, we found more Orthodox Jewish, Christian, and even Muslim sites that had been abandoned. Or, have they been banished and forbidden by a greater power?
Either way, if you feel comfortable in your sexuality and believe that what you do behind closed doors isn't a non-stop ticket into the hell-fires, it's more than okay to use an adult plaything. However, if you have any doubts whatsoever, that's okay too. Your personal and spiritual comfort is what is important.
Moving on…
Are sex toys right for me?
In order to discover if sex toys are right for you, ask yourself the following questions:
Are you slightly bored with your current sex life and want to explore your sexual preferences?
Are your fingers exhausted and unable to take another solo session? (lol).
Do you enjoy the stress relief and health benefits of an orgasm?
Are you interested in exploring your body, sexuality, and different orgasmic options, including using a glass dildo?
Do you get horny and aren't partnered? Or similarly, are you partnered but are experiencing the dreaded Lesbian Bed Death?
Do you NOT have any irrational fears of things that make buzzing sounds?
Did you answer yes to all of these questions? Then, the answer is a resounding yes, sex toys are right for you. So, what are you waiting for? It's time to shop in the adult section. But, if you're not quite sure where or how to get started, read on till the end and we will provide you with some beginner's sex toy tips.
Related Article: Best Sex Toys for Lesbians
All the single ladies
Let's face it, dating isn't easy. Therefore, if you are alone and seeking the comfort of human companionship, by all means, seek out your soulmate. But, if you are looking for the stress relief of orgasm, owning a sex toy or even sexy handcuffs can add a new dimension to your self-exploration. This will keep you safe from sexually transmitted infections, dating site weirdos, and that one person who refuses to leave your apartment the morning after.
Singles also benefit from buying sex toys as it saves money on bad dates, allows you to keep any New Year vows of celibacy, and enables you to learn about your own body and what is pleasurable to you. After all, you can't have a fulfilling intimate relationship with someone else if you have no idea what gets your motor running.
Lesbian Bed Death … AKA Fizzling Couples
If you're in a committed relationship and find that your weekends consist of watching Netflix and engaging in monotonous, vanilla sex, OR no sex AT ALL – very common in long-term lesbian relationships. Then maybe it's time to add a third party to your bedroom activities. And, no, we are not referring to another human (this time anyway) but a sex toy. Even the simple act of discussing your sexual fantasies with your partner can stoke a fizzling fire.
Therefore, sit down, grab a glass of wine and a laptop and discuss the things you'd like to try together while taking a peek through some sex toy websites. Or, search for lingerie or sex toy shops in your area and embark on an exciting shopping trip together. That way, you can actually see and touch the products and determine if the item or product is desirable to you both.
Divorcees, Widowers and Mature Folks
Sex toys aren't designed strictly for the younger crowd nor do they have an age limit. So, if you find yourself single again after a lengthy marriage or you're perpetually single, you should definitely buy sex toys. For instance, there are climax creams that benefit post-menopausal women and go perfectly with clitoral stimulators and other sex toys.
Plus, you can find vibrators and dildos for penetration as well as a variety of masturbation toys for the more experimental among us like lifelike dolls! So, just because you're older doesn't mean you shouldn't reap the heart-healthy and blood-pressure-lowering benefits of a good, old-fashioned orgasm.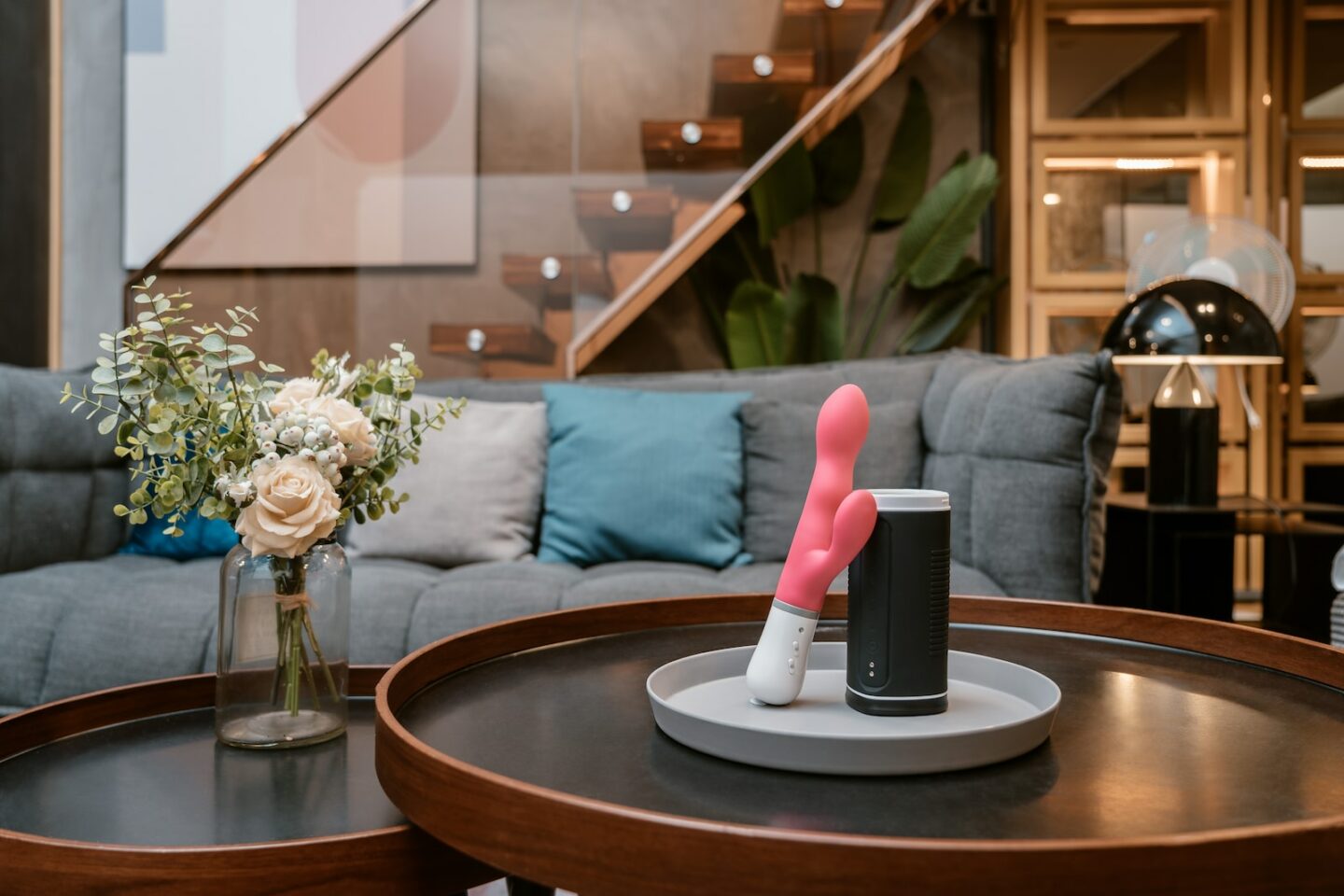 I Want to Buy a Sex Toy, Where Do I Start?
If you want to buy a sex toy and have no idea where to start, simply head over to our article on the best lesbian sex toys. There are also incredible shops out there, our personal suggestion would be Shhh – which is a women-owned sex shop – aimed at women and non-binary folk.
Or, ask your close friends if they have any suggestions as to where they shop for adult products. Finally, many lingerie shops and adult product boutiques exist all over the UK and US. Contrary to popular belief, not all of them are triple-X rated and frequented by men in trench coats and hats slinking into back rooms for $5 peep shows.
Sex Toys for Beginners
Once you find a place to shop for sex toys, you may ask for suggestions on the best sex toys for beginners. And, we happen to have some suggestions for you. First, if you are a female wanting to purchase your first sex toy, we would suggest a simple bullet vibrator, clitoral stimulator or modest vibrator for penetration. Here's some options below.
Finally, if you are a couple looking to spice things up between the sheets, you can start with an edible lotion, a fun, adult game, or a strap-on. This might feel like a big purchase if you're new to sex toys as a couple, but they really aren't as extreme as they sound. Plus there are so many amazing strap-on designs out there. Check out the ones below that we recommend for first-timers.
So, no matter if you're single, divorced, widowed, young, or old, sex toys can be for everyone! Just be sure it's legal in your country and state and jives well with your cultural and religious beliefs.
Enjoy,

Team Nonchalant x
Last Updated on 8th September 2023 by Nonchalant Magazine